A Debut Novel for a Rutgers Medical Student
Grace Ibitamuno Obienu juggles three passions: medicine, community health and writing fiction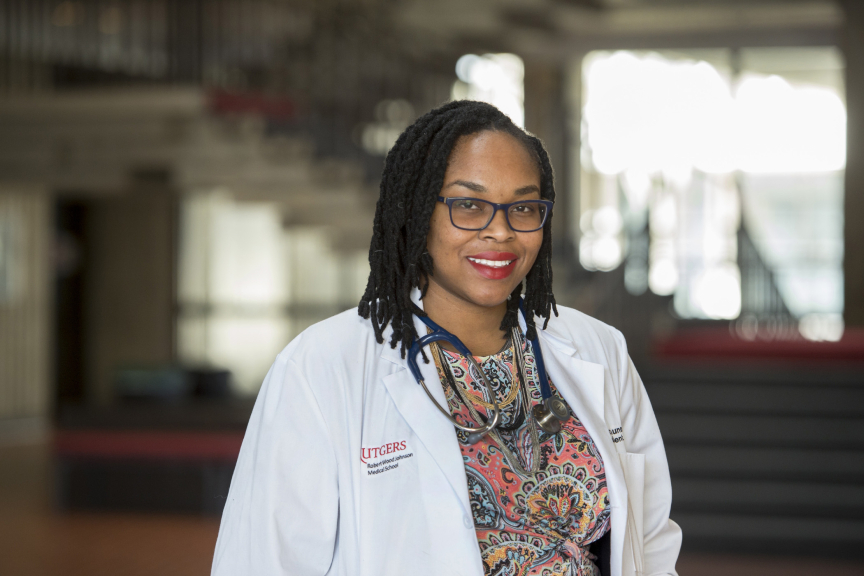 'I write because I have to. That's how I reach outside of myself, my world. It's my voice.'

 

– Grace Ibitamuno Obienu
Grace Ibitamuno Obienu has had a busy few years. In 2014, she got married. The following year she had a baby and was accepted into an M.D./Ph.D program at Rutgers. She started medical school in August 2016, and a few months later her debut novel was published.
"I wrote the book four years ago – a little each day on my lunch break over six months – while I worked at a lab in Maryland," says Obienu, 28, who attends Robert Wood Johnson Medical School and is taking coursework toward a Ph.D. in epidemiology at Rutgers' School of Public Health. "Getting it published is a dream coming to fruition."
Her book, Not Yet Beautiful (Electio Publishing 2016), tells the story of Lola, a 19-year old survivor of trafficking and exploitation. The idea for the novel came to her at a writer's conference and was solidified by the documentary, Half the Sky, a sweeping narrative about the oppression of women and girls in the developing world. Obienu was infuriated that this modern-day form of slavery still exists, affecting more than 20 million victims worldwide.
"I wanted to use my writing to  be a voice for those people," Obienu says. "The book is fiction, but I did a great deal of research on how it happens, how people are treated."
Obienu, who grew up in Maryland but lived in Nigeria from age 7 through high school, started writing short stories as a child. "As far back as I can remember, I've had stories spinning around in my head," she says. "Writing is the way I reflect on the things I observe and learn."
She wrote fiction throughout high school. Returning to the U.S. for college, she took writing courses at Marymount University in Arlington, Va., but majored in biology. Working her way through college and taking loans to stay afloat, she saw a science career as a more pragmatic choice, perhaps influenced by her parents who both work in the business sector in Nigeria.      
Becoming a bench scientist in a lab, however, wasn't for her. "My roots are in Nigeria, and I'm familiar with the issues facing the health care system. There's so much work that needs to be done, there and everywhere," Obienu says. "As a doctor, I want to be able to take care of patients one on one, but I also want to be part of work that takes care of the community."
She chose Rutgers for the strength of its M.D./Ph.D program, which, for most students, involves six to eight years of study. "I'm shooting for the lower end," says Obienu, who completed two public health courses the summer before medical school and plans to do the same this summer.
If that isn't enough, she's also begun working on a sequel to her book. By the end of Not Yet Beautiful, Lola, who, as a young girl, was bought from an orphanage in Nigeria and sold into the sex trade in northeastern U.S., has come a long way in overcoming her trauma. "The message of the book is one of hope and redemption in the midst of great pain," she says.
But there's more to unfold for Lola, and Obienu plans to expand the portrait of a secondary character, Lola's friend, Deja, whose depth took her by surprise. 
How does she balance it all? "Badly, I tell people," says Obienu, who lives in Somerset. For example, on the day in December when her book was released, there wasn't much time for celebration. "I picked up my son up from day care, made dinner and studied for an exam."
But she wouldn't trade her passions for anything. Even though cutting back on writing might be the logical choice, "I write because I have to," Obienu says. "That's how I reach outside of myself, my world. It's my voice." 
---
For media inquiries, contact Carla Cantor at 848-932-0555 or ccantor@ucm.rutgers.edu