Three of Chinwe Mercy Izegbu's six siblings were diagnosed with sickle cell disease during her childhood. She knew the strain it put on her parents and the excruciating pain felt by her two sisters and brother. It was an agony she never wanted her family to go through. So, before she got married, Izegbu and her husband underwent genetic testing to avoid having their children experience the same.
But when her youngest child, Julia, was diagnosed with the disease at the age of 2, Izegbu, who was a carrier of the sickle cell gene, found out that the test result indicating that her husband wasn't a carrier was wrong. Her young daughter would have to live with the chronic lifelong genetic red blood disorder that can lead to strokes, infections and serious pain.
The revelation led to a change in Izegbu's career path from business to health care. This month, she is completing her Doctor of Nursing Practice (DNP) from Rutgers School of Nursing, more than a decade after Julia died at age 13.
"During her time with us, Julia was very clever and saw a future I could not have imagined," said Izegbu, whose goal is to help those with chronic diseases like her daughter. "I remember her asking me, 'Mom, what do children like me do when they get sick if they don't have a mom like you? "This question kept me searching for answers long after Julia's passing."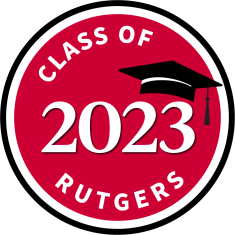 Izegbu found her calling in nursing following an incident when Julia was 3 years old and admitted to the hospital during a sickle cell crisis. Julia needed an intravenous line for an infusion. Izegbu offered to hold her daughter during the procedure, but a medical resident said it was unnecessary. He said Julia would be wrapped in a pediatric medical papoose and escorted Izegbu out of the room.
"I could hear her crying and screaming," said Izegbu, who eventually walked into the room and picked up her daughter. "I heard equipment crashing to the floor, trays flying, increased chatter from residents, and my little girl kicking, screaming, scratching and biting after wiggling her way out of the papoose."
Overwhelmed with fear of the unknown, Izegbu, a college graduate with a degree in business administration and accounting, vowed to leave her job in business for a future in health care. "The words of Mahatma Gandhi rang in my ear," she said. "Be the change you want to see in the world."
The next day, Izegbu reached out to Muhlenberg School of Nursing in Plainfield and started an application to become a nurse. She earned an associate degree in nursing and worked at Muhlenberg Regional Medical Center until it closed in 2008. She then earned her Master of Science degree in nursing from the former University of Medicine and Dentistry in 2013 and decided to go as far as she could by earning a DNP – a degree earned by only 1.2 percent of nurses and 14 percent of nurse practitioners.
"I look back and I don't know how I did it," said Izegbu, 56, who started on her journey to become a nurse because she wanted to be the advocate for mothers and children she could not find for Julia. "I had a full-time job and three young children, but it was something I knew I needed to do."
Over the next decade, life overall was good for Izegbu, her husband and three children. She was pursuing a master's degree at Rutgers and working at University Hospital in Newark. Julia was thriving and life seemed stable, she said.
But then on November 10, 2012, after the two came home from dinner with friends, Julia told her mother she was very dizzy. Izegbu picked her up, put her on the bed and almost immediately Julia started to have seizures and became unresponsive. Izegbu called 911 and started to do CPR. Julia never regained consciousness and died the next day.
"My soul wept, for only I knew what I have lost," Izegbu wrote in an email to Peri Kamalakar, a pediatric hematologist/oncologist at RWJBarnabas Health who directed the Valerie Fund Children's Center for Cancer and Blood Disorders and cared for Julia. "I lost a kindred spirit. I lost the one soul that could look at me and know what I was thinking. I lost my baby, my sunshine, my angel girl."
Out of my tragedy came a priceless gift, a life of service to others.

Chinwe Mercy Izegbu
Today, Izegbu works as an advanced practice nurse at Hackensack Meridian JFK Medical Center in Edison and has a strong background in acute care, critical care, emergency medicine, family medicine and the management of chronic illness. She volunteers with the medical mission of the Christian organization Wailing Women Worldwide USA to offer integrated medical care that will improve the quality of life for individuals, families and communities in underserved African communities.
"Chinwe's lived experience as a mother and nurse practitioner coupled with her passion to help others has made her the compassionate, caring, nurse practitioner she is today," said Sharon Anderson, associate dean of Advanced Nursing Practice at Rutgers School of Nursing. "I see this part of her life, earning her DNP degree and continuing her nursing career, as a wonderful and exciting beginning and have no doubt she will continue to motivate others with her infectious smile."
Despite the death of her child and the subsequent breakup of her 24-year marriage, Izegbu believes that Julia was a catalyst for her becoming a nurse. "Out of my tragedy came a priceless gift, a life of service to others."