When Sushil Dayal was managing student performances at Livingston Theater Company, he never imagined he would use the same skills one day as executive in charge of production for The Daily Show. From putting together a budget to hiring a team to working with union contracts, Dayal says his experience with the Rutgers theater organization kicked off his career.
"It laid the foundation for where I am today. Putting a show together every day in the studio is a lot like what we did at the Livingston Theater Company (LTC)," says Dayal, who graduated in 2009 with an economics degree from Livingston College. "There are so many things that transferred from the LTC, so many skills."
From TV studios to Broadway stages, Rutgers alumni find the Livingston Theater Company is a formidable training ground for their careers. After roughly 80 productions, the theater is celebrating its 25th anniversary this year. LTC, as many call it, is a university-wide performing arts organization run completely by students who serve as performers, directors, designers, stage crew, musicians and business managers. 
Founder Jason Goldstein decided on his first day at Rutgers in 1998 to start a theater company on the Livingston campus. "I think the deans and everyone were surprised that a freshman would attempt this, but were supportive of the idea," Goldstein recalls.
At age 9, Goldstein began producing shows in his parents' basement; by 14, he was raising money and renting buildings for performances. When he held the first LTC meeting 25 years ago, 80 students showed up.
"People asked, 'What show are we doing?' and I said, 'We're not doing a show. We're going to build an established thing that could last forever. We're going to figure out our stakeholders, figure out our funding, figure out where we're going to do shows and think about the business of it. That's how we'll be around for 25 years or more.' And it worked," Goldstein says.
Goldstein chose Livingston because he believed the arts could enliven the campus. "I always thought it was the gem of the university," says Goldstein, who graduated in 2002 with an individualized major in theatrical business and communication. In 2005, he earned a Rutgers MBA in entrepreneurship and marketing.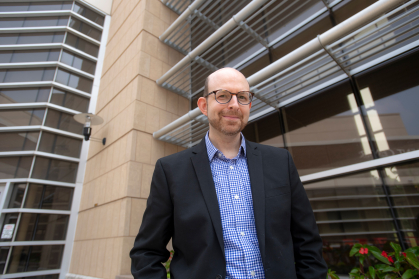 LTC alumni bring valuable skills to the workplace because the theater has a collaborative culture where everyone pitches in to help, says Goldstein. "There's something in the water, there's something about working at LTC. It's very interdisciplinary," he says. "The type of people who come out of LTC have this secret sauce, this je ne sais quoi spark or something. And I noticed that, when they go into all walks of life and all different industries, they bring a certain kind of energy to it."
Dayal thought he would pursue a career in business as others in his family had. But, as a freshman, he visited a Rutgers student activities fair, stopped at the LTC table and became the theater's marketing director. Over four years, Dayal would serve as production manager and administrative manager. "Very quickly with LTC, I realized I had a knack for putting together a production, and this was probably better suited for me than doing something in finance," says Dayal, 36, of Jersey City. During interviews for his first jobs after college, Dayal highlighted his experience with LTC. Before moving to The Daily Show, he worked at MTV, Comedy Central and Paramount.
Sarah Boyle is the artistic director of Random Farms Kids' Theater in Elmsford, N.Y. and credits LTC for her ability to work in theater full time. "As I look back, I see (LTC) as a space where we were allowed to learn among our peers at our own speed, and we were able to make mistakes safely," she says. "I started my time at LTC as someone who was interested in theater, and I walked away thinking maybe I could pursue this as a full-time job, post college, and I'm glad that my experience with the company led me in that direction."
When she enrolled at Rutgers, Boyle wanted to be a biology teacher. She switched her major multiple times, graduating in 2012 with a psychology degree. Joining LTC and Cabaret Theater at Rutgers pushed Boyle's love of theater and dance to the forefront. "I gave my soul, all my free time, to those two companies," says Boyle, 32, of New Rochelle, N.Y. "These extracurricular activities really set me on a trajectory to pursue something that I didn't think was possible. So much of what I use now I learned outside of the classroom."
Goldstein, 43, of East Brunswick, says he has been to every LTC performance. He owns BookTix, an online ticketing system for schools and community theaters, and relishes hiring LTC alums at his business.
Sushil and Boyle have returned for LTC performances too. "The institutional knowledge has been passed down, and everything always gets a little better," says Boyle.
Goldstein, Dayal and Boyle joined 150 others to celebrate LTC's 25th anniversary during a gala in May in New Brunswick.
"It was a very surreal moment because I was like, 'I can't believe this is the company that laid the foundation for where I am today,'" Dayal says. "It's not like I'm thinking about LTC every day I do this job. It's just ingrained in me."