Crossroads Premieres Paul Robeson at NBPAC's Grand Opening, Lion King Actor to Star
Creative Director Marshall Jones discusses Rutgers' connections throughout theatre company's history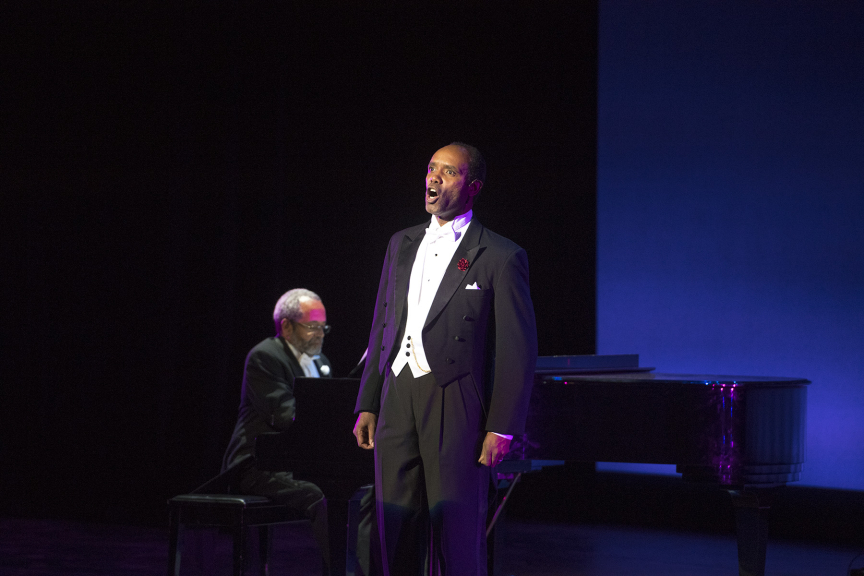 [quote:1:left:75]]
Paul Robeson – a play examining the life of the famous scholar, athlete, entertainer and activist who graduated from Rutgers 100 years ago – will be the first production of the upcoming season of the Crossroads Theatre Company as well as Crossroads' first play in the new New Brunswick Performing Arts Center (NBPAC).
The play by Phillip Hayes Dean will run through Sept. 15 at the  Arthur Laurents Theatre in NBPAC. Veteran actor Nathaniel Stampley Jr., known for his role as Mufasa in Broadway's The Lion King as well as roles in The Color Purple, Cats and Porgy and Bess, plays the leading role.
"With the centennial celebration of Robeson's graduation from Rutgers, opening with this performance in its new home felt very fitting," said Marshall Jones, head of the BA theater program at the Mason Gross School of the Arts at Rutgers–New Brunswick and creative director for the Crossroads Theatre Company. "If we didn't have Robeson, we wouldn't have Martin Luther King Jr. or Barack Obama. Robeson took a stance for what he believed in even though it went against the grain, and his work towards civil rights will be highlighted during this performance."
Crossroads Theatre Company was founded in 1978 by Rutgers alumni Lee Richardson and Ricardo Khan, with a commitment to producing literary works that examine the African-American experience. The theater first debuted Paul Robeson in 1983 with leading man Avery Brooks, who later taught at the Mason Gross School of the Arts where Jones was his student. Now that Jones is directing his own rendition of the play, he says the Rutgers connections have come full circle. 
"We continually hire our students and alumni. We have Liz Nelson as scenic designer, Timothy Cook as our lighting designer and Kayla Votopek as our associate producer, and they are all Rutgers graduates," said Jones, a 1985 Rutgers graduate. "This play put Crossroads on the map back in 1983 before it went on to be performed on Broadway. It is only fitting to be back here debuting at the grand opening of the new NBPAC, and to top it off we have also enlisted the play's original choreographer."
Jones's creative vision for Paul Robeson will touch on Robeson's early years, including his first few days at Rutgers, his tryouts for the Glee club and his performance on the football team. It will also include stories from his days at law school at Columbia University and his time in London during the production of Showboat. The show's pivotal moment portrays Robeson's 1956 testimony before the House Committee on Un-American Activities.
Jones said audiences will learn about Robeson's personal battles, which he himself learned while researching Robeson's life for his rendition of the play.
"I realized how alone he was as a pioneer of the modern civil rights movement. Dr. King had his church's support and support from the NAACP, but Robeson was by himself, carrying the weight of social justice," Jones said. 
In 1999, Crossroads Theatre Company became the first African-American theater to receive the Tony Award for Outstanding Regional Theatre. Jones said many companies highlight the lives of African-Americans during Black History Month in February, but Crossroads does it year-round.  
"I love what a frequent audience member told me after leaving one of the many shows he's attended, and that is that he learns something new after every single show and that he has a better understanding of his neighbors. If we can help our audiences understand each other, we can make the world a better place," Jones said. 
---
This year marks the centennial anniversary of Robeson's graduation from Rutgers College in 1919. In recognition, the Rutgers community is hosting a year-long celebration featuring lectures, performances, art exhibitions and more. Learn more about the celebration by visiting robeson100.rutgers.edu or by following #Robeson100.