Creating Medical Devices to Help People, Families
Rutgers senior Brooke McClarren, a biomedical engineering major, will pursue a master's degree this fall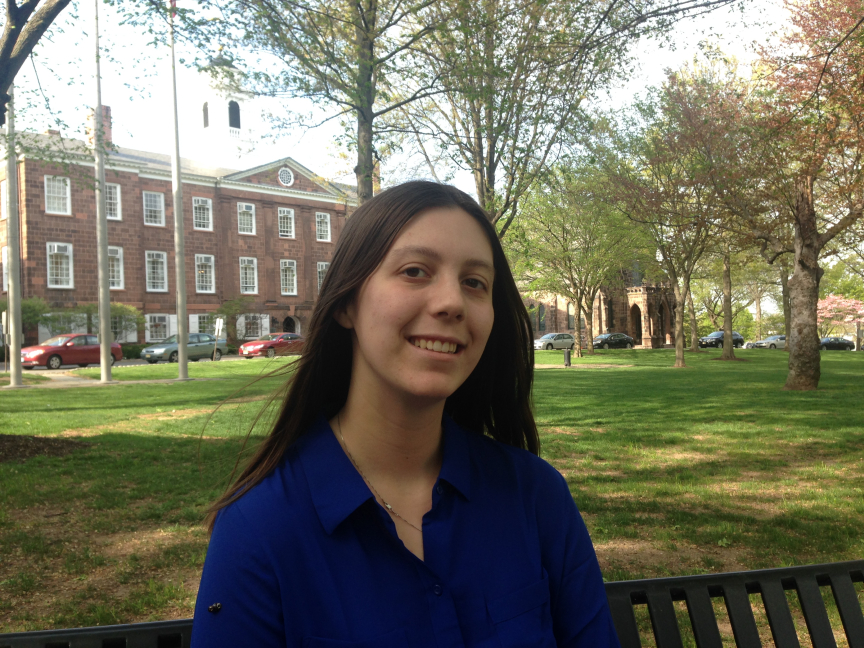 'We've gotten to the point where we can live for a very long time, but I believe there has to be more of a focus on improving the quality of life. Being able to improve medical devices or create new ones seems exciting and helpful to society. If someone's injured, it's not just that person who's affected. It's the family and sometimes the entire community.'

– Brooke McClarren
When she was younger, Brooke McClarren looked up to her father, a systems engineer, who helped care for elderly, largely homebound neighbors who needed a helping hand in her hometown of Bridgewater.
McClarren, a senior biomedical engineering major at Rutgers, recalls visiting them with her dad when she was 11.
"Two recliners were basically the only furniture they had. They had cans of food in little stacks in the living room. The wife couldn't get out of her chair without assistance. The air was just stale," McClarren recalled. "But they were nice people, happy to have visitors. One of them would give me and my 8-year-old brother a piece of candy every visit. It just seemed like they were stuck in the apartment and if we hadn't stopped by, no one might."
The visits stayed with her. Inspired by her father's example, McClarren volunteered during two summers in high school, at Raritan Health & Extended Care Center in Raritan, where she interacted with residents suffering from Alzheimer's disease, dementia and other ailments.
Today, McClarren, 21, who graduates this month, wants to continue helping people, their families and the community. This fall she will stay on at Rutgers' School of Engineering, to pursue a master's degree in biomedical engineering. "We've gotten to the point where we can live for a very long time, but I believe there has to be more of a focus on improving the quality of life," McClarren said. "Being able to improve medical devices or create new ones seems exciting and helpful to society. If someone's injured, it's not just that person who's affected. It's the family and sometimes the entire community."
McClarren is off to an early start in her chosen field, having performed lots of research at Rutgers. This month, she begins a paid summer internship at Ethicon, a subsidiary of Johnson & Johnson, and will work 20 hours a week there during the school year. She anticipates working with sutures and bandages and testing products.
McClarren became interested in engineering in eighth grade after attending an event on academic majors at Raritan Valley Community College in Branchburg. Subsequently, a PSE&G manager gave her a tour of a local PSE&G facility. Then McClarren joined the robotics team at Bridgewater-Raritan High School, where calculus became her favorite class.
During her freshman year at Rutgers, McClarren participated in the inaugural Reilly Douglass Engineering Living-Learning Community. She lived with other women engineering students, made plenty of friends and received lots of support from faculty mentors.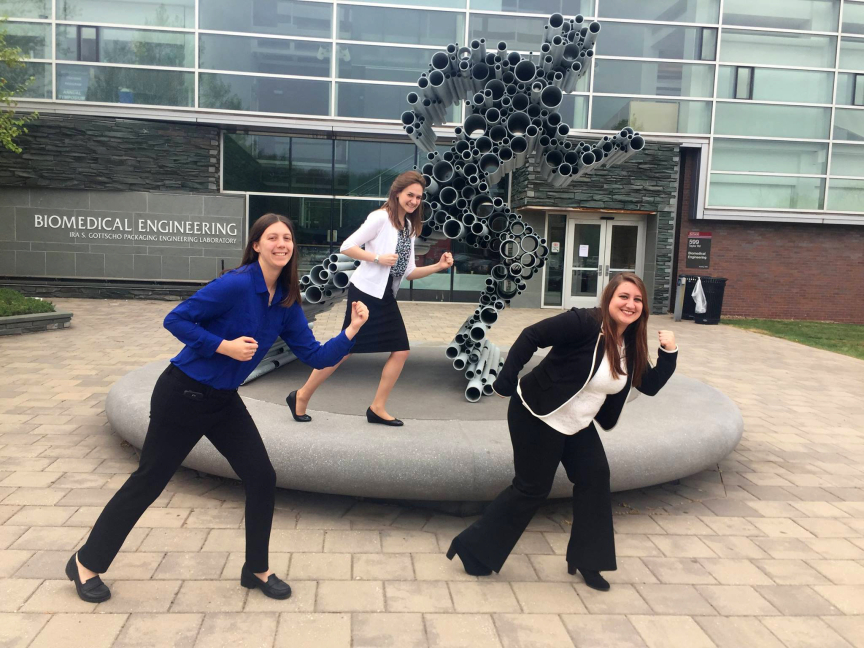 McClarren also engaged in peer-to-peer mentoring and outreach events at Douglass Residential College aimed at encouraging women to participate and stay in STEM (science, technology, engineering and mathematics) education and get academic support. She and her friends stayed together and now live off campus.
"I joined Rutgers in a community, so I felt I had a home within a home," she said. "I didn't feel isolated as a woman in STEM. That year helped define how comfortable I felt in classes – and at Rutgers."
At Rutgers, McClarren has earned accolades. She's in the Biomedical Engineering Honors Academy, a two-year research program. She's also a James J. Slade Scholar in an honors program that includes writing a thesis. She has received $5,500 in research grants from the NASA New Jersey Space Grant Consortium and $6,000 in Douglass STEM Summer Research stipends. She's presented posters on her research, including at the 2015 Biomedical Engineering Society conference in Florida.
As a freshman, McClarren conducted research with Lisa C. Klein, a professor in the Department of Materials Science and Engineering, assessing the potency of solar cells made from household objects.  Later, she worked with Klein on another project: researching nanoimprint lithography of melting gels – an energy-efficient way to make nanopatterns in glass.
"Brooke had a great attitude about research, always optimistic that things would, maybe if they didn't work the first time, work the next time," Klein said. "She is very mature, knows what she wants to accomplish and I know she's going to do great things."
Two summers ago, McClarren began research with Ronke Olabisi, an assistant professor in the Department of Biomedical Engineering. McClarren studied how adult human stem cells can be turned into different types of cells through mechanical stimulation, such as stretching and vibration. The research is the basis of her thesis for the Slade honors program and her master's degree. Slade scholars prepare study plans under the guidance of a three-member faculty committee and the Honors Committee of the School of Engineering.
For her senior design project at the School of Engineering, McClarren is on a team that's fine-tuning a gait simulator for Stryker Orthopaedics. The simulator, which approximates how people walk, will help improve strength testing of "external fixators." These medical devices are used to stabilize and align broken leg and other bones.
"She's organized. Brooke has an intuitive approach to research and comes up with some remarkably elegant solutions to research problems. She's got a very calm demeanor. She's well-liked by her peers – and she's very good at finding opportunities and making the most of them," Olabisi said. "That's not something that you always see undergraduates do."