Course on Mediterranean Lifestyle Feeds Mind and Body
You wake up after a good night's sleep and take a leisurely stroll downtown. Meet close friends for a sunny, al fresco lunch of local cheeses, grilled fish and fresh fruit. Amble back to your room for an afternoon nap.
Sound like the recipe for a perfect day off?
For many Greeks, it is simply a typical day.
And what we can learn from their lives, and how we can adapt it to our own, is the point of "Lifestyles of the Mediterranean," taught by Labros Sidossis, a distinguished professor and chair of the Department of Kinesiology and Health in the School of Arts and Sciences.
Offered again this January during the Winter Session by the Office of Summer and Winter Sessions, part of Rutgers Division of Continuing Studies, the popular course whisks students away on a two-week trip to Greece. There, they study nutrition and culture, try new foods and visit historical sites. They return home with 3 credits.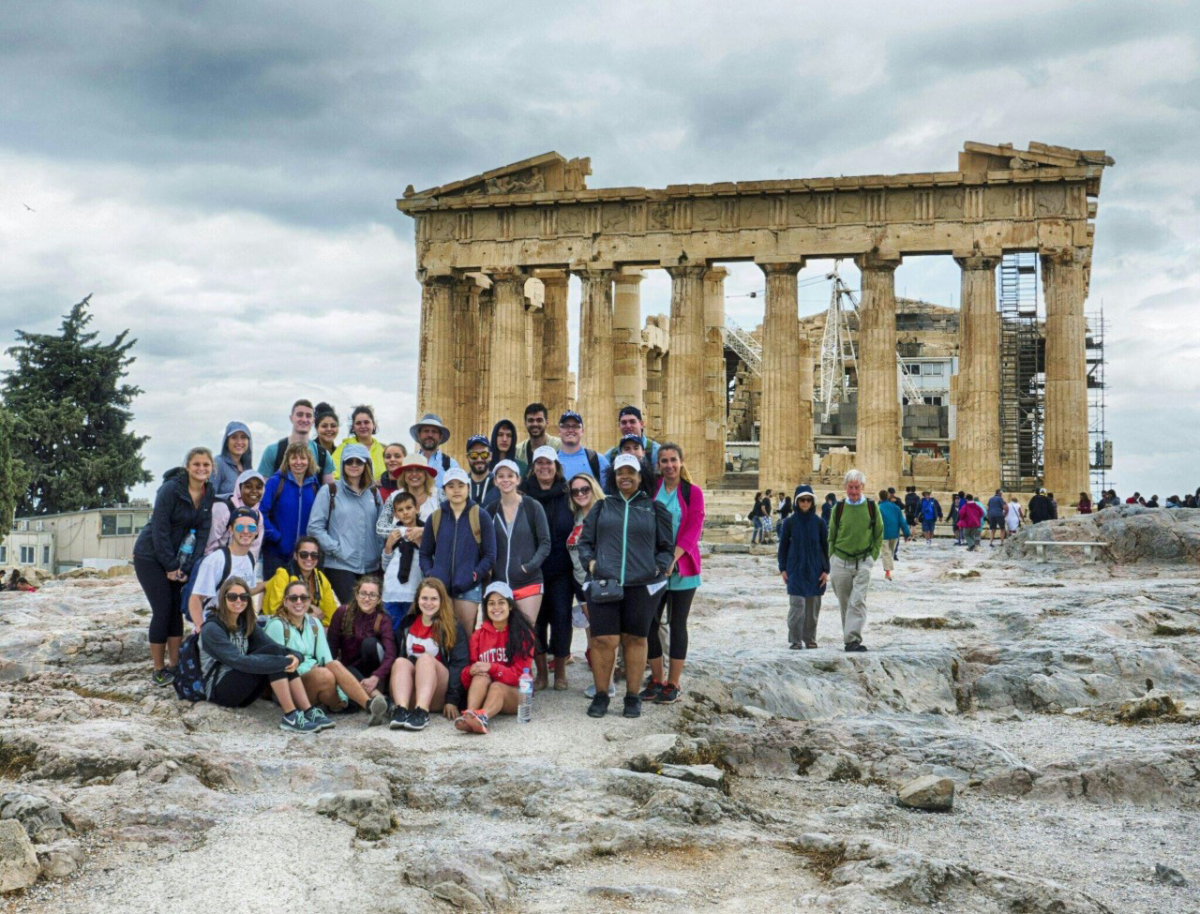 (Photo courtesy of Labros Sidossis)
---
And, perhaps, the urge to incorporate some of this unhurried lifestyle into their own harried lives.
"I've been working in this particular field for about 25 years," says Sidossis, who is also a professor of medicine at the Robert Wood Johnson Medical School. "A large number of clinical studies show that the Mediterranean diet is really effective in preventing, and in some cases treating, diabetes, high blood pressure and other diseases of our time."
The diet's fundamentals are easy to grasp. Olive oil instead of butter, and herbs and spices instead of salt. Fresh fruits, vegetables and legumes. More fish than meat, and plenty of water. Wine, too, but in moderation.
But there's more to it than just substituting a lamb gyro for that fast-food burger.
"The course is called 'Lifestyles of the Mediterranean,' not 'Diet of the Mediterranean,'" Sidossis points out. "Changing your eating habits is not enough. You need to incorporate other things – sleep patterns, physical activity and, maybe most important, the way you socialize… All of this lowers stress."
Students say the change was an adjustment, and a welcome one.
"It's just a much more relaxed way of being," marvels Shaniya Wilson-Harper, a 2018 Rutgers grad with a degree in human resources management. "We're all so busy working – at home, I can't recall the last time we cooked together and ate at the table as a family. In Greece, though, it is an everyday thing. And it's funny, but while I was there, I didn't feel stressed at all."
"There, you're just more focused on daily living," adds Priscilla Santana, a senior majoring in exercise science through the Department of Kinesiology and Health. "Nothing is rushed. Here, you are like 'I've got to get in an hour at the gym." There, people get their physical activity naturally, from walking around town or doing manual labor. They eat right, and then they have a little siesta."
It is an intensive course – "The students work about 10 hours a day," Sidossis says. But that learning takes a variety of forms.
Visits to the Parthenon or the Acropolis may incorporate lessons on classic Greek ideals of balance and moderation. Tours of vineyards and olive groves illustrate principles of organic agriculture. Meals out might include a peek inside the kitchen, to see how dishes are prepared. Trips to fishing villages introduce local families who share the stories and lessons of their lives.
It's an immersive, hands-on experience. And that's the point. 
"It's a lot of work to put them together, but experiential courses like this allow the student to get out of a New Brunswick classroom and learn in a different, interactive format," says Barbara Rusen, assistant director, Office of Summer and Winter Sessions, Division of Continuing Studies.
"That's very appealing," she says. "And studying abroad, they're able to increase their cultural skills, their communication skills. They're able to develop personal skills like adapting to new situations and problem solving. They come back and they talk about just how eye-opening it was."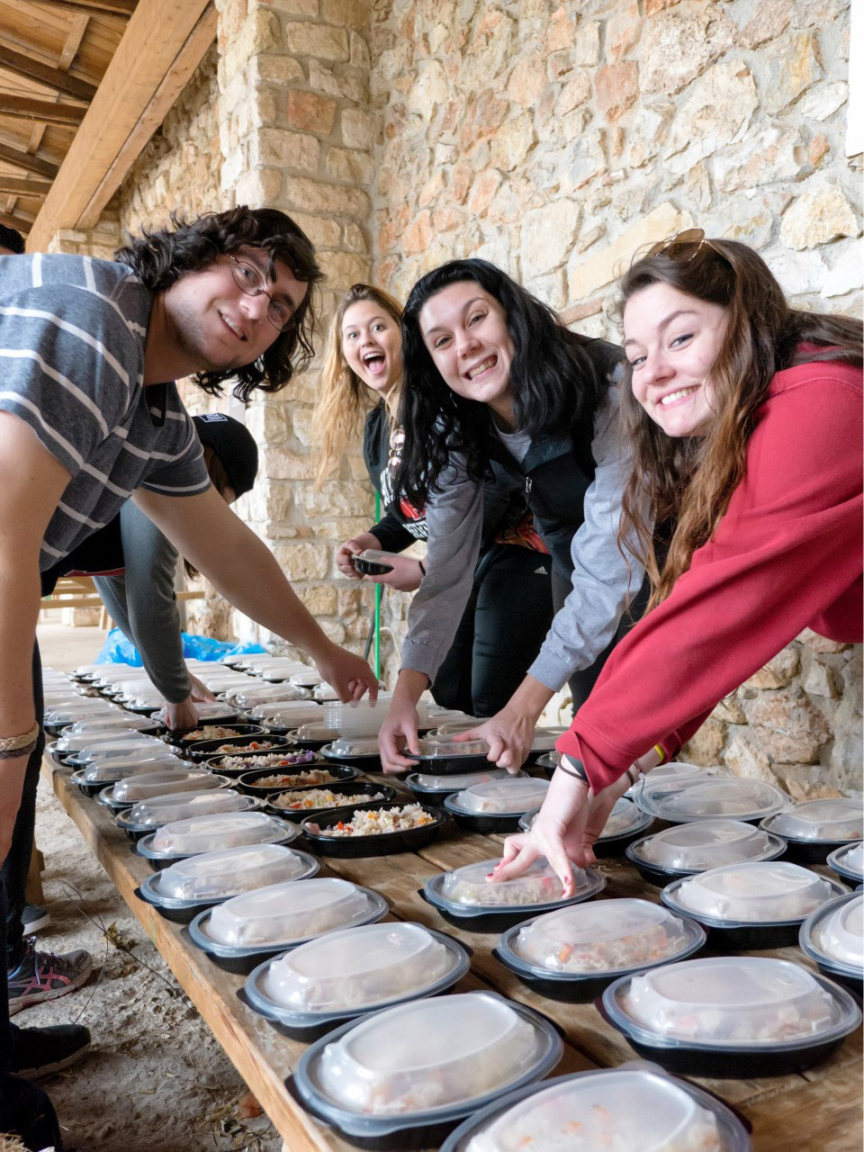 Students agree, saying that while some of the changes they've since made have been small, others have been more important, if less visible.
"I've really incorporated olive oil into my lifestyle," says Wilson-Harper. "But, you know, this was also my first trip outside the country, and just being able to witness the beauty of the planet – it really humbled me. I realized how privileged I am, and came back with such a better mindset. Those are things I never would have gotten just out of a book."
"Since I came back, I've made some of the foods I tried there," says Santana. "And I'm definitely living by that Mediterranean-diet idea of balance, moderation and variety. But basically, I'm just so happy I went. It was my first trip to Europe, and to be able to do this, to be exposed to a different culture – it's the best experience I ever had. There really is a whole different world out there."
Although Sidossis hopes that students pursuing careers in the health field will incorporate what they've learned into their work ("We need to think about health in a much more holistic way"), he says there are lessons in the Mediterranean lifestyle for everyone.
"Socialization is the key," he says. "Stress levels are lower there, because people spend time with others. You don't eat in your car; you sit down with friends and family, and talk about your problems, your issues."