Robert Johnson, dean of Rutgers' two medical schools, received the inoculation along with high-risk health care workers
Robert Johnson, dean of Rutgers' two medical schools, was among the first people in New Jersey to receive the vaccine against COVID-19 on a historic day in the fight against a virus that has crippled the nation since last spring.
Johnson, dean of Rutgers New Jersey Medical School (NJMS) and interim dean of Rutgers Robert Wood Johnson Medical School (RWJMS), received the vaccine during the opening of University Hospital's COVID-19 Vaccine Clinic in Newark as the state began administering Pfizer-BioNTech inoculations on Tuesday to frontline workers.
"This vaccination is one of the most important steps we can take to protect us from the devastations of COVID-19," Johnson said. "At this historic time, Rutgers New Jersey Medical School and University Hospital are united to fight the spread of this virus. I'm confident that by working together, we can significantly reduce the spread of COVID-19 in our communities."
The vaccine received emergency use authorization by the Food and Drug Administration on Dec. 11.
Anticipating the pending shipment of the vaccine from Pfizer, University Hospital created the vaccine clinic at Rutgers NJMS adjacent to the hospital. Staffed and structured with guidance from state and federal health officials, the clinic has the potential to administer at least 600 vaccinations daily.
In New Jersey, the initial allocation of vaccines during the first phase will be to those serving in paid and unpaid positions in health care settings as well as residents of long-term care facilities. The second phase, which will prioritize essential workers, will begin in early 2021.
Justin Sambol, a physician and senior associate dean for clinical affairs and assistant professor at Rutgers NJMS, and Charles Farmer, emergency room physician and assistant professor at Rutgers NJMS, were also among the first health care workers in the state to receive the vaccine.
"This is a day we have been waiting nearly a year for, and while we know this isn't the end, we are witnessing, at the least, a glimmer of hope at the end of the tunnel," said Gov. Phil Murphy. "Without question, we are still in for several hard months and we are going to face stiff headwinds from this second wave, but now our heroic frontline health care workers can begin to take care of their fellow New Jerseyans with a higher degree of confidence in their own protection."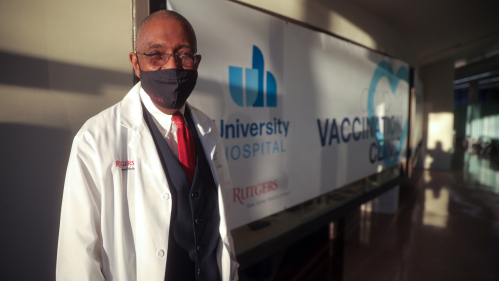 Murphy attended the first vaccinations along with New Jersey commissioner of health Judith Persichilli and University Hospital president and chief executive officer Shereef Elnahal.
"University Hospital has had a central role in battling the COVID-19 virus both in Newark and throughout the Garden State. With an effective vaccine now available, the hospital will continue its leadership in this pandemic, by first vaccinating our frontline health care heroes through Operation Warp Speed," Elnahal said. "Widespread vaccination is the most effective step to helping life return to a new normal, and we applaud those members of our workforce for being the first to roll up their sleeves."
Six acute care hospitals across the state – AtlantiCare Regional Medical Center, Cooper University Hospital, Hackensack University Medical Center, Morristown Medical Center, University Hospital and Robert Wood Johnson University Hospital, the principal teaching hospital of Rutgers Robert Wood Johnson Medical School – are receiving doses this week of the Pfizer-BioNTech vaccine.
Barry H. Ostrowsky, president and chief executive officer of RWJBarnabas Health, Rutgers' health care system partner, said frontline workers have been selflessly and tirelessly caring for the communities it serves.
"We're profoundly grateful to be able to offer our health care heroes this vaccine, which will keep them safe and protect their families and their patients," Ostrowsky said.
By the end of the week, vaccines should be available at an additional 47 acute care hospitals that can manage the Pfizer-BioNTech vaccine, which requires ultra-cold chain storage. While acute care hospitals will be the only points of dispensing during the first week of vaccine availability, the network will expand to additional sites like Federally Qualified Health Centers, local health departments, county sites, urgent care clinics, and pharmacies in December, pending vaccine availability. 
Rutgers has helped lead the national response to COVID-19 through development of the first coronavirus saliva test at Rutgers' RUCDR Infinite Biologics, which partnered with Spectrum Solutions and Accurate Diagnostic labs. The saliva test received FDA emergency use authorization in April.
Rutgers also has played a leadership role through NJMS's service as a trial site for Moderna's COVID-19 vaccine and Rutgers Robert Wood Johnson Medical School's service as a clinical trial site for Johnson & Johnson's vaccine candidate; through a Rutgers faculty member's co-leadership of the investigation of a safe and affordable medium to transport coronavirus samples for testing; through a coronavirus therapeutic clinical trial; and through Rutgers' launch of one of the nation's largest studies of healthcare workers exposed to the coronavirus.
See how Rutgers is making a difference during the COVID-19 crisis.