A 40-year-old woman with congestive heart failure having shortness of breath, a middle-aged man worried about unusual weight loss, a 75-year-old woman concerned about her elevated blood pressure and a 45-year-old man with brain lymphoma testing positive for COVID-19, all needed to see their doctors.
But instead of going to their physicians' offices for medical checkups, these patients, and thousands of others throughout New Jersey, are staying at home during the COVID-19 global pandemic and using computers, smartphones and tablets to receive much-needed medical care.
"I think there has been a need for telehealth services even before the coronavirus emergency started,'' said Frank Sonnenberg, a professor of medicine at Robert Wood Johnson Medical School and chief medical informatics officer at RWJBarnabas Health Rutgers Medical Group, who is among hundreds of physicians connected to Rutgers Biomedical and Health Sciences now offering telehealth services to patients. "It's much better than a phone call because it allows us to see the patient and it keeps them at home and away from a hospital or doctor's office at a time when we want to stop the spread of this virus."
Since mid-March, telehealth services have been ramping up as a way for hundreds of physicians and health care providers at New Jersey Medical School (NJMS), Robert Wood Johnson Medical School, Rutgers Cancer Institute of New Jersey, the School of Nursing, University Behavioral Health Care, Student Health Services and the Eric B. Chandler Health Center, connect with patients, treat illnesses and manage patients with chronic disease while following social distancing guidelines and sheltering at home. The Rutgers School of Dental Medicine began offering patients the opportunity this week to schedule a virtual visit to consult with dentists and other specialists about potential treatment options.
And although doctors admit that it takes some getting used to, and might not be the same as a face-to-face visit, it is a very good substitute for both health care providers and patients. 
"Telemedicine is vitally important to keep healthy patients home and also maintain our patients with chronic medical conditions, allowing them to practice social distancing if their condition does not warrant more intensive hospital care,'' said Alfonso Waller, associate professor of medicine and director of cardiac imaging at NJMS. "This can free up emergency departments and hospital beds during this pandemic to focus on patients with COVID-19."
Dr. Sonnenberg is such a caring and thoughtful person who spends a lot of time with you, and I was afraid that a telemedicine visit would take that away, but it didn't. Not at all. 

– Charles Babich, patient
Doctors and other health care providers say these online consultations can prevent patients' conditions from worsening, which could force them to utilize inpatient or emergency department services at a time when emergency departments are overloaded and hospital beds – during this health care crisis – are at a premium.
The telehealth online platform allows patients to connect with doctors using a browser on their computers or other devices with cameras and microphones without having to download software or create an account. The data is encrypted and HIPAA compliant to protect patients' confidential health information.
The doctors, nurses and health care providers involved in the new online telehealth services are reaching out to patients scheduled for office visits before COVID-19 and offering them this video-conferencing alternative. They are getting help from medical school students who had their hospital clinical rotations canceled because of the virus.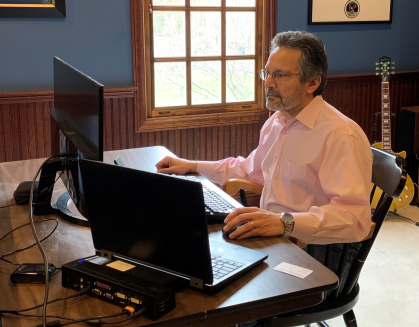 Charles Babich, Sonnenberg's patient for the past 25 years, visits the doctor's New Brunswick office twice a year, mostly to have his weight and blood pressure monitored. The Princeton resident, who is on medication, didn't want to miss his biannual visit despite the pandemic and decided to open up his MacBook and do it remotely. 
Before his appointment with Sonnenberg, Babich videoconferenced with a medical school student who recorded Babich's blood pressure and weight, vitals that are usually taken in the doctor's office. For this visit, Babich used a blood pressure cuff and scale he had at home. 
"Dr. Sonnenberg is such a caring and thoughtful person who spends a lot of time with you, and I was afraid that a telemedicine visit would take that away," Babich said. "But it didn't, not at all, and I felt very comforted that I didn't have to venture into a place where I could pick something up and put my health at risk." 
 
Andrew Evens, associate director for clinical services and director of the lymphoma program at Rutgers Cancer Institute of New Jersey, said the Cancer Institute started offering telemedicine services to patients last year using a different platform but increased its outreach to more patients from throughout the state since the coronavirus pandemic surfaced.
"We have patients coming to Rutgers Cancer Institute who drive long distances for care and we thought we could help streamline the process when we first started offering the service," said Evens. "Now as we try to keep patients at home and safe, we can use this to manage care and give them the assurances that they need." 
While telemedicine is not new, according to doctors who point out that physicians have been using the phone to communicate with patients for the past 50 years, internet capability has made it easier to videoconference with patients and provides an even more personal connection.
It has also become a more viable option since the federal government lifted restrictions on telemedicine services for seniors on Medicare in response to COVID-19. Additionally, Gov. Phil Murphy became one of a number of governors throughout the country to expand access to telemedicine during this emergency as a way to treat everyday illness, manage chronic health conditions and make diagnoses without risking the health of patients or health care providers.
"If there is any silver lining to this public health crisis, it is that connecting with our patients through telemedicine will become much more common and seamless," said Evens.