A Conversation With Rutgers President Jonathan Holloway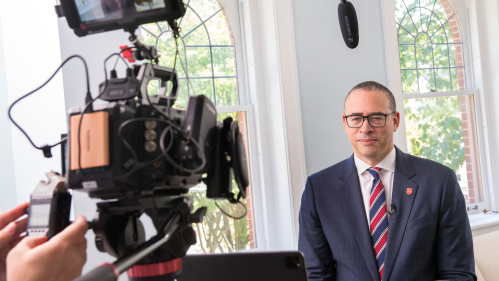 A Conversation With Jonathan Holloway
Rutgers University President Jonathan Holloway began his tenure as the university's 21st president on July 1 amid unprecedented, intersecting crises: a global pandemic and a global racial reckoning.
"I am proud that I now have the privilege and the responsibility to lead an institution that is committed to making the world better while also opening its doors to that world," Holloway said on his first day at Rutgers. He told the university community he will be focusing much of his initial energy on the repair and rebuilding required by COVID-19 and the fight for social justice calling us to work toward a country that lives up to the aspirations of our founding documents.
As he prepared to begin his new role, Holloway talked with Rutgers Today about his initial goals, his vision for nurturing a "beloved community" at the university, the difficult and disappointing decision regarding the fall semester, and meeting and helping students in an era of physical distancing.
At Rutgers, we talk a lot about community and family. What does the concept of a university community mean to you? 
When I think of university communities – in fact, I used this phrase in my introduction to Rutgers back in January – I referred to a university as a beloved community. Some may find that a bit precious, but I absolutely don't. Not at all. A community is a complex organism and if it's really healthy and working well, the different aspects of that community, of that family, are helping one another. They're informing one another. They know who is doing what and they're taking care to make sure these various tasks are being taken care of.
So, when I think about a university as a community, what I'm talking about is not just undergraduates, not just graduate and professional students, not just faculty and researchers, not just administrators; I'm thinking about the people who are driving us around, who are cleaning up the spaces in which we live our lives, who are making sure that we're well fed. Everybody is part of this community—all these people together are necessary if Rutgers is going to be smoothly operating and efficient and successful.
When you think of a family not everybody is doing the exact same thing all the same time. We're all doing different kinds of things. A university is like that. Rutgers is like that. But I think institutions too often don't recognize their own complexity, don't recognize all the different people in their family that are key to making it successful.
I want our community to act in that way, to act in recognizing one another.
I want our community to be excited about seeing one another. This is what's going to make Rutgers that much more special.
What were the factors that led to your decision on fall instruction?
When it came to fall instruction, I felt compelled to make the decision that I made led by one major factor—the health and safety of the community. We are seeing every day new unsettling information about the spread of COVID-19. Universities are not set up to socially isolate people. They are designed to bring people together in close proximity. When we think about housing on the New Brunswick campus alone, we know that we can only house a small portion of the population we normally would house. Right there, it made it almost impossible to say we're going to be in person for all of instruction.
So, we need to find ways for all of our faculty to be prepared for a single type of instruction. I know as a professor trying to manage three different ways to try and run a class is almost an impossible task. So, we're trying to be mindful of the pedagogical practice of the university. We're trying to be mindful of the health and safety of our students, and we're absolutely trying to mindful of the health and safety of the staff and faculty. Too many times, people leave them out of the equation. Well, we need to make sure that the staff and faculty are going to be healthy and feel safe. So all of these things together are the sources of the decision that I felt was really the only decision that I could make.
What is your message to those who are disappointed about plans for the fall?
I know this decision is a disappointment to many people—it's a disappointment to me. I mean, I didn't take the job to sit in my living room by myself to talk through video monitors to people. I took the job to be out on campus walking around and meeting people and learning from them and watching them perform and watching them act and discover and learn.
This is a tremendous disappointment to everybody—there's no getting around that fact. But I really believe that we if we aren't mindful of the health and safety issues in this moment—the fact is, we won't know what to do to mitigate the risks to the system. If we're not mindful of this right now, it will be so much more difficult to come back. It'll take that much longer.
And, I'm with you with the disappointment.  Believe me, this is not—by any stretch of my imagination—what I would have liked to do as one of my first decisions as your president.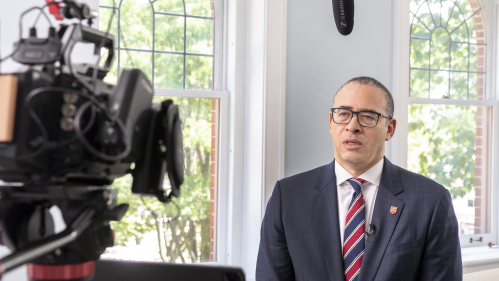 Is there a life lesson in this moment of crisis?
There's a life lesson for every one of us. We are in uncharted territory, no doubt about it. But there are some basic things that we can keep in mind. In dealing with an issue like this, listen to the scientists. Listen to facts. Listen to what public health officials are recommending. For the young people watching, know that you are not immortal. You may feel like that now, but soon enough you won't feel that way, I promise you.
The life lesson really is, in every moment of disappointing challenge, you have an option. You can choose to be mired in your anger and frustration and disappointment or commit yourself to finding an opportunity in that moment.
And, again, I'm disappointed but I'm absolutely committed to finding the opportunities in this moment to learn how to do things better through remote education, to learn how to make sure the university is set up in the best possible way for when it returns to 100 percent, to discover at a somewhat different pace what makes Rutgers special. I know most of it is what is found in the people, but there are other aspects I need to learn.
There are lots of opportunities in this moment, even if they are sometimes hard to see.
During this challenging time, what are your main goals for your first few months at Rutgers?
It's no surprise that the presidency I thought I was walking into has changed. At first, I was a bit sad about that for purely selfish reasons. And then I realized, what a marvelous opportunity we have right now. We have an opportunity to really understand how we can best rise to challenges and best address the needs that are being expressed out in society.
For me, my first couple of months, then, are about listening and observing and watching how Rutgers already conducts itself. How does it address emergencies? How does it address these really complex social problems that are bedeviling society. And, as I look and learn and process, then I'll be in the place where I can start offering my insights, my suggestions.

There's going to be changes that are informed by my own lived experiences, my professional 30 years in higher education, but also changes that are informed by listening to different aspects of the Rutgers community and saying, "That idea over there that people haven't been listening to for whatever reason, I hear it, and I see it, and I want to incorporate it into our strategy on how to move forward."
Given the health and safety guidelines due to COVID-19, how will you get to know students across Rutgers?
When I began to map my transition for assuming the presidency, I had two trips planned in April, and two trips planned in May, altogether about three weeks' worth of visits on the different campuses and in Trenton. Well, there was no way for that to happen. One of the greatest disappointments of that rescheduling is that I was planning at every chancellor-led unit, each campus, to meet with students. I mean, I love meeting with students. They are so interesting and challenging and exciting and earnest and frustrating and teachable and all of those things together.
This is what excited me about being a teacher in the first place at a university. So, this has been a challenge for me.
I've got a lot of Webex video conferences already set up. It's what we're going to have to be OK with for the time being. But I made it clear that I wanted to meet all different combinations of students, because there's not just one type of Rutgers student that comes in with one way of being.
I want to meet them and I want them to know that when we're on the other side of this moment that they can expect me to be available to them. I want to foster that expectation—through video conferences for now—but I want them to know that I am here for them.
You've donated personally to the Scarlet Promise Grants program, designed to help students in need, and you've committed another $125,000 in presidential discretionary funds. What drove those decisions?
When I was in transition, getting ready to take on this awesome responsibility, I was spending a lot of time trying to understand how Rutgers was navigating these challenges, especially with COVID and how that was exposing the financial frailty of many different people and financial insecurity.
It struck me then that I needed to do something to contribute to solving the problem in very immediate, material ways, not just through my leadership but through something more personal. And so I was talking with the people managing my transition, asking, "What can I do? What program is out there that Rutgers may already have? What thing exists that is designed to help students in need, that is designed to maybe bridge someone's financial situation, so they can attend Rutgers?"
And, they all said the Scarlet Promise Grants is where you need to focus your energy.
So for me, it was important that I signal from a personal level my literal investment in Rutgers. So, that's where the idea for the $75,000 donation came to mind. And then, you know I also function as the head of the community, and I have discretionary funds at my availability, and this seems like a strategic way—not just a nice way, but a strategic way—to make it clear how we are going to signal our priorities.
We want to make sure that Rutgers students have the opportunity just to be students. That is, not hungry students, not students trying to figure out if they can afford to buy a book, or eat a meal, or tend to some family emergency. I want them to be students.
That's the idea behind the fundraising campaign as well: Let's make a big major statement in this moment of crisis for people about how we care about them as individuals, we care about their place structurally in society, we want to facilitate their success. That's what this is about.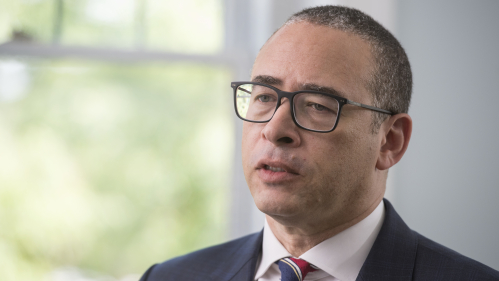 How will your core beliefs guide your leadership of Rutgers?
When I think of the landscape of a president's world, it's filled with incredibly wonderful moments, thrilling moments, exciting moments—but also ones of really difficult decisions. The way I view my approach to those decisions is to rely on my core beliefs. And more than anything else I believe that I'm not going to require other people to make difficult decisions that I'm not willing to make myself.
I believe in leading by example. I believe in managing a team with great integrity. I believe in being completely honest with people. I believe in being unvarnished but not cruelly unvarnished—you need to be sympathetic, of course, to the situation, but I believe in being direct. I think people just prosper in clarity. And that's what I'm going to try to provide in every difficult situation.
There are going to be times when I have to do things that I personally don't like but for any variety of reasons—whether it's fiscal or political or social, or whatever it might be—I may believe that is actually the right thing for Rutgers, even though I might cringe about it.
That's just my job. And it's my job to be open about that, too—and I will be.