Coming Face to Face With War
Geography student Ariel Otruba travels to Georgia to examine the Russo-Georgian War's cultural impact firsthand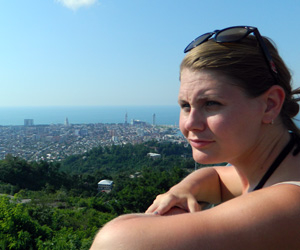 "A rural orchard farmer can wake up one morning to find a fence has been built right through his property. Or a Georgian who tries to retrieve firewood on the other side of a fence can be arrested for crossing the border." 

 

– Ariel Otruba
For Ariel Otruba, a Rutgers doctoral student in geography, researching the Russian occupation of Georgia's separatist territories from the sidelines wasn't enough.
To understand the impact on everyday life in villages affected by the occupation along the South Ossetian Administrative Boundary Line, she wanted to experience it. So Otruba applied for pre-dissertation travel funds through the Graduate School-New Brunswick and spent the past summer in Georgia's capital city, Tbilisi, to learn the language and get to know the people.
Six years after Russian forces entered Abkhazia and South Ossetia – Georgia's separatist region that makes up about 20 percent of its entire area – they still occupy these regions.
When Otruba visited Georgia the first time in 2011, she learned about how the continued presence of Russian forces disrupted and complicated the lives of everyday people.
Upon her return to the U.S., she researched the ongoing effects of the war in the villages. "That was when I learned that Russian forces were building fences along the separatist territories [as makeshift borders], which impeded agricultural practices and access to water ... and just made everyday life that much more difficult,'' Otruba said.

Otruba admits that this is the kind of information that could be gleaned from newspaper articles or reports.  But a more personal involvement would help her produce a more effective dissertation on the plight of villagers in conflict-affected communities.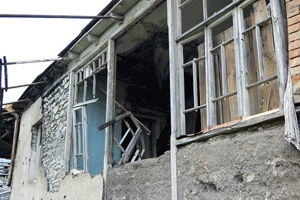 "I met a Georgian man whose aunt was killed in her home during the 2008 war. He described the event with such powerful emotion, and, having witnessed that, I felt compelled to learn more about the conditions in the village," Otruba said. "I want my research to capture these nuances and complexities, the way emotion and meaning is infused in the language that people use to describe the conflict and the issues that I'm studying."
Otruba opted to live with a host family instead of in hotels that can be impersonal or culturally sterile. She found the luxuries she enjoyed in the U.S – hot water, electricity and television – readily available in Tbilisi but limited in rural villages near the contested regions occupied by Russian and South Ossetian forces.
"The occupying forces build fences to isolate the South Ossetia region from the rest of Georgia," Otruba said.  "A rural orchard farmer can wake up one morning to find a fence has been built right through his property. Or a Georgian who tries to retrieve firewood on the other side of a fence can be arrested for crossing the border."
Georgians can seek out help from the European Union Monitoring Mission (EUMM), a task force focused on resolving these situations—or they can pay a fine imposed by the South Ossetian government and be released.
Otruba's own host sister understands the looming presence of the occupation.
"In 2008, my host sister lived in one of the villages on the periphery of war," Otruba said. "She was out of town the day the Russians stormed through the country on tanks. She begged people to give her a ride home so she could check on her mother."
No one would dare drive into the conflict, so her host sister trekked for miles on foot to ensure her mother's safety. Once there, she and her mother hid under their house "to protect themselves from the shelling as the Russian tanks pushed near her village."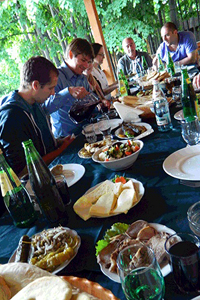 Otruba sought other ways to interact with the locals. She volunteered at a summer camp for Georgian teens under the U.S. Embassy's American Corners program, a program designed to bring American culture and information to citizens of other countries. She went on shopping excursions in the capital and even participated in a Georgian supra – a traditional feast that celebrate health, spirituality and prosperity.
"Georgians greatly value family and food, and they are incredibly hospitable and friendly," Otruba said. "I think these close relationships help make their hardship so much more bearable, notably economic hardship," Otruba said.
Joanna Regulska, vice president for international and global affairs, who served as mentor for the project, believes Otruba's research "will make an important contribution to how we resolve and manage these types of conflicts globally."
Media Contact: Carissa Sestito, 848-932-3092, csestito@gaiacenters.rutgers.edu