To Combat Gang Violence in Sweden, Rutgers Fosters Law Enforcement Relationships Spanning the Atlantic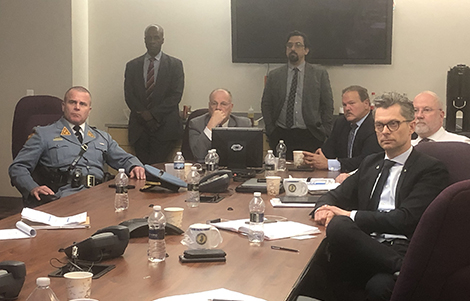 "Through the Miller Center, we are bringing decades worth of law enforcement, intelligence and security expertise to communities around the globe who need to adapt to evolving threats and security challenges."

 

- Elie Honig, executive director, Rutgers Institute for Secure Communities
Rutgers University is helping the Swedish National Police build relationships with U.S. law enforcement agencies that will help Sweden and other European countries fight organized crime, gun violence and domestic extremism.
The partnership is led by the Miller Center for Community Protection and Resilience, which is part of the Rutgers Institute for Secure Communities (RISC) and a joint venture of Rutgers–New Brunswick's Eagleton Institute of Politics and Rutgers Law School. This week, the Miller Center is convening a series of high-level meetings between leaders of the Swedish National Police, New Jersey State Police, New York Police Department and U.S. Department of Homeland Security.
The Miller Center assists communities, city, state and national governments in developing programs to protect vulnerable populations and prevent violence associated with organized crime and extremist groups. Swedish government leaders contacted the Miller Center for help with an increase in gang violence.
Elie Honig, executive director of the Rutgers Institute for Secure Communities, said, "Through the Miller Center, we are bringing decades worth of law enforcement, intelligence and security expertise to communities around the globe who need to adapt to evolving threats and security challenges."
John Farmer, executive director of the Miller Center, said "The Miller Center, whose work began in response to the increase in extremist violence directed at vulnerable communities in Europe and the United States, has provided assistance to areas as different from each other as Brussels, Belgium and Whitefish, Montana, and to communities as diverse as the Muslim community in Mollenbeeck, Belgium and the Jewish community in Whitefish.  The Center is committed to assisting those communities and law enforcement in working together to enhance public safety.  As has been true in other areas, I am certain that officials here will learn as much from our Swedish partners as they learn from us." 
Paul Goldenberg, senior fellow at the Miller Center, said, "Today's modern policing services are taking on the role as agents of social change through their actions and groundbreaking community policing efforts. Police are the visible extension of government's interests in protecting its people and communities. Through our program, the transnational policing community is working together to share best practices and lessons learned so they have the opportunity address these issues in more informed and effective ways."
"Since its inception in 2006, the New Jersey Regional Operations and Intelligence Center (ROIC) has not only become an essential component of New Jersey's homeland security and law enforcement missions, it has expanded to combat the opioid crisis with cutting-edge programs like the Drug Monitoring Initiative, which is designed to identify regional drug trends and quickly notify the public of potentially lethal batches of narcotics in order to save lives," said Colonel Patrick Callahan of the New Jersey State Police. "The ROIC has cultivated strong partnerships with federal, state, county and local law enforcement in addition to private sector stakeholders, greatly enhancing New Jersey's ability to prevent and combat crime. Sweden's law enforcement community will without question benefit from the intelligence-led policing, analysis, and information sharing that fusion centers promote."
Swedish National Police Commissioner Jan Everson said, "Thanks to the Rutgers University Miller Center for Community Protection and Resilience for giving us the opportunity to meet with our fellow law enforcement colleagues at the New Jersey State Police.  We recognized that we have many common challenges concerning extremism, organized crime and gang violence.  We are going to share best practices, lessons learned, and engaging in collaborative research in these critical areas.   We look forward to continuing our work with Rutgers University and New Jersey State Police in a long-term relationship."
The Swedish National Police contacted the Miller Center in spring 2018 for a series of meetings with agencies including the Swedish Defense University, Ministry of Justice and Civil Contingencies Agency to discuss the social challenges faced by Sweden's law enforcement and the country's existing programs to address those challenges. The Rutgers team provided information on training programs that build collaborations between communities and law enforcement, including programs that the Miller Center has developed for other European and American cities and countries.