Lori Scott-Pickens, director of community outreach at Rutgers School of Criminal Justice, and Peter Guarnaccia, professor of human ecology, were presented Clement A. Price Human Dignity Awards by the Committee to Advance Our Common Purposes (CACP) to honor their community service at the Beloved Community Celebration  in the Honors College courtyard at Rutgers-New Brunswick.
"Taking time to recognize members of our community in this way each year speaks loudly and clearly about our values," said President Jonathan Holloway. "The work that today's honorees are doing to build a beloved community at Rutgers is so important."
Recipients of the 2022 Beloved Community and Arts Awards were also announced at the inaugural event designed to recognize the university's commitment to promoting and practicing diversity, inclusion, equity and access. 
"Your acts of leadership, your service to our mission and values, your advancement to the call for diversity, equity and inclusion are, simply put, inspiring," added Holloway. "Today's honorees make me so proud to say that 'this is what excellence looks like.'"
Price, who died in 2014, was a revered voice, the official City Historian of Newark, a renowned scholar of African American history and a Board of Governor's Distinguished Service Professor at Rutgers-Newark.  A former CACP chair, he was the founding director of the Price Institute on Ethnicity, Culture and the Modern Experience, which was named posthumously in his honor.
"It is not an exaggeration to say that I, along with so many of our colleagues, I literally think about Clem every day as we pursue the path of equitable justice in his home city of Newark," said Rutgers-Newark Chancellor Nancy Cantor. "I believe Clem would have been particularly excited to participate in today's event as he personified the meaning of beloved community."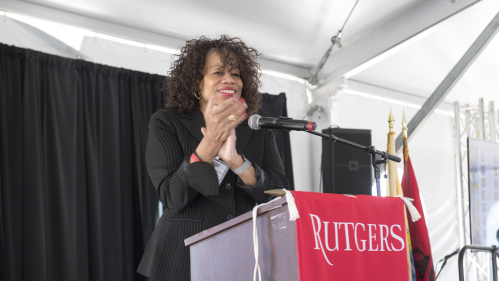 Born and raised in Newark, Scott-Pickens was recognized for addressing social issues through policies and programs impacting underserved communities and for guiding students toward community-engaged work. She has an extensive background in community organizing at the local, state and national levels. Scott-Pickens plays an integral role in many of her home city's nonprofit organizations, including the  Newark Public Safety Collaborative, which empowers citizens, law enforcement and community activists to collaboratively analyze data to inform policing. 
The School of Environmental and Biological Sciences' Guarnaccia was celebrated for his work and long-term service to Rutgers and beyond in support of healthy communities and for teaching students to broaden their understanding of themselves and the populations that they serve. The former faculty director of Project L/EARN, a research training program in mental health research for underrepresented undergraduates at Rutgers, he currently serves as the Faculty Director of an international service-learning program on Community Health in Oaxaca, Mexico.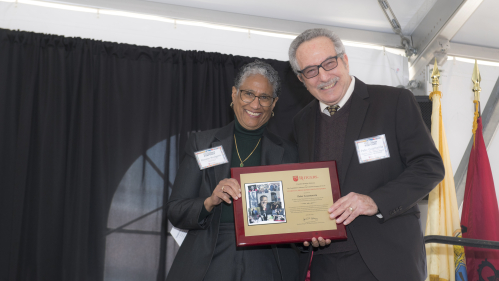 The Beloved Community Awards recognize students, faculty, staff or groups throughout the university who most exemplify the aims of our beloved community, one in which all members are working together and are heard, respected and valued. Inaugural recipients are:
Jimmy Camacho (Rutgers-Newark)

Tue Ho (Rutgers-Camden)

Natalie Moore-Bembry (Rutgers-New Brunswick)

Sarah Shobut (Rutgers-Newark)

Christina Strasburger (Rutgers-Newark)

James West (Rutgers-New Brunswick)

The Institute For Families Youth and Community Development Team (Rutgers-New Brunswick)

Rutgers Health Service Corps & Rutgers Biomedical and Health Sciences VAX Corps (RBHS)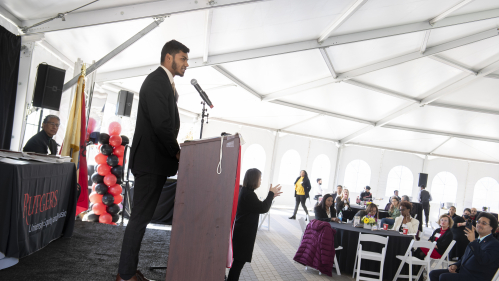 Winners of The Beloved Community Arts Project, which encouraged Rutgers students to submit expressions that engage community through word, performance, or artistic mark, were also celebrated:

Visual arts/film
Lily Beck (Rutgers-Camden)

Emma Broggi (Rutgers-New Brunswick)

Tehyla McLeod (Rutgers-New Brunswick)

Ria Monga (Rutgers-New Brunswick)
Literary arts
Miriam Jaffe (Rutgers-New Brunswick)

Zeyue Li (Rutgers-New Brunswick)

Emmanuella Macri (Rutgers-New Brunswick)

Emma Wu (Rutgers-Camden)
Performing arts
Johnson Adesoye (Rutgers-Newark)

Luke Ferrel (Rutgers-New Brunswick)

Ryan Hemnarine (Rutgers-Newark)
CACP is the longest standing universitywide committee focused on diversity and inclusion. Its vision is to sustain and nurture a civil, compassionate, intellectually honest and inclusive academic community that is respectful and fosters dialogue and interaction between those with differing views and belief systems.