Classics Student Wins Rutgers' 10th Gates Cambridge Scholarship in 11 Years
Michael Antosiewicz's "burning passions" include ancient Latin and American history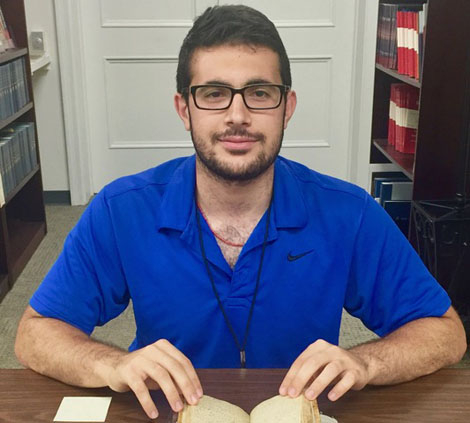 As he began his senior year at Rutgers University-New Brunswick, Michael Antosiewicz began looking for graduate scholarships or fellowships. He sought the advice of Arthur D. Casciato, director of the Office of Distinguished Fellowships.
"He told me, 'Maybe you should apply for a Gates,'" Antosiewicz said. "I had heard of the Gates Scholarship, but I didn't think I had a chance, frankly. I told him I was interested in a Fulbright and he said, 'Yeah, fine, but you really should apply for a Gates.'"
"It would have been very difficult to miss that Michael would make a competitive candidate for any number of national fellowships, no matter how prestigious," Casciato said. "But the Gates Cambridge seemed an especially snug fit given its emphasis on intellectual acuity and potential for leadership, both of which this thoroughly admirable young man possesses a'plenty."
Antosiewicz applied and received a Facebook notification from the Gates Cambridge Trust in early February saying the 2018 class would be announced first thing the next morning.
"They're in England, so 'first thing' meant really early," Antosiewicz said. "I stayed up until 2 a.m. with my laptop open in my lap, waiting. Finally, I fell asleep. Then, when I woke up about 6 a.m., I saw the email. The subject line said, 'DECISION,' which was ominous. The first line said 'Thank you for interviewing,' – even more ominous. The third line said, 'You have received a Gates Cambridge Scholarship.'"
The Gates Cambridge Trust selects about 40 Gates Scholars every year from the United States. Antosiewicz's scholarship is the 10th Gates Cambridge Scholarship awarded to a Rutgers student in the past 11 years, and the 11th overall.
Antosiewicz, a double major in classics and history in the School of Arts and Sciences, is a passionate student of cultural history. A native of Ridgewood, New Jersey, he thought of majoring in biology when he arrived at Rutgers, but eventually was seduced – there is no better word for it – by Latin. He had taken Latin in high school and took his first Latin class at Rutgers to meet a language requirement. But this class, taught by Jay Fisher, was unique. His first work was with Plautus, a Latin comic playwright from the third century B.C.E., whose language differed markedly from the language Antosiewicz had studied in high school, which came from a later period of Roman history. "For the first time, I could recognize a variety of linguistic negotiations," he said. "The language featured 'accretions,' as Jay Fisher said. I was immediately fascinated with this concept."
This deep dive into language led Antosiewicz to pursue cultural history – and to study Greek, which opened up still more windows on the classical world. He fired questions at Fisher about the parts of Latin grammar and syntax, and now remembers Fisher's "superhuman patience."
Through it all, he kept "a burning passion for American history." Antosiewicz doesn't know exactly what he will do after his time at the University of Cambridge, but he hopes he can find a Ph.D. program that allows him to study the classical tradition, especially in American history. T.J. Jackson Lears, who taught Antosiewicz in two seminars, isn't surprised at that ambition. "He came to class with a full panoply of classical learning," Lears said. "He could talk about Aristotle and Plato, but without the slightest bit of pretension. He wore his learning lightly, asked the most intelligent questions and wasn't afraid to confess his ignorance about a new topic."
"Michael has so many passions," said Jennifer Jones, a professor of history and dean of the School of Arts and Sciences honors program, who was Antosiewicz's faculty mentor in that program. "The breadth and depth of Michael's intellectual curiosity is remarkable. He's just on fire."