Center for Islamic Life Chair Recognized for Building Bridges Between Jewish and Muslim Women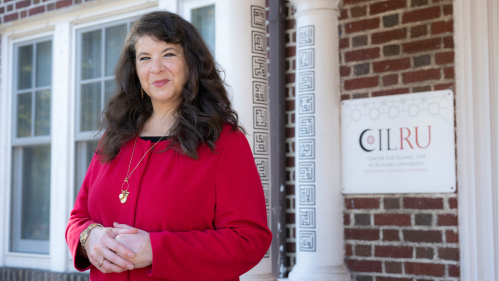 Atiya Aftab is cofounder of the interfaith organization Sisterhood of Salaam Shalom
Atiya Aftab, chair of the Center for Islamic Life at Rutgers who helped launch an organization that brings together Muslim and Jewish women, isn't giving up hope that there can be lasting peace in the Middle East.
Aftab, an alumna and lecturer, recently received two coveted awards – the Terris in Pacem Peace and Freedom Award as well as the Rabbi Mark H. Tannenbaum Award for Advancement of Interreligious Understanding – recognizing her work through the Sisterhood of Salaam Shalom, which brings Muslim and Jewish together to meet around the country.
The two honors, one created by a Catholic diocese and the other named for a prominent Jewish human-rights activist, put her in the company of John F. Kennedy, Martin Luther King, Saint Teresa of Calcutta and Lech Walesa, the former democratically elected president of Poland. They come at a time when the Sisterhood's work could not be more relevant, Aftab believes.
"The new reality [of war in the Middle East] is just one chapter of a larger story, and the painful violence brings those realities to life," says Aftab, chair emerita of the organization she cofounded.
She hosted the first Sisterhood meeting in her South Brunswick living room with cofounder Sheryl Olitzky in 2010 and recalls the electricity in the room was palpable at the time.
"We were talking on top of each other, not able to get over how much we shared: our experiences as women and minorities, eating differently than Christian women eat, issues of modesty. And I thought to myself – when do we have these opportunities to talk about these things?"
Today, there are more than 150 Sisterhood chapters across the United States, Canada and England, as well as 10 youth chapters. Members learn about each other's culture and traditions while building lasting relationships and participating in community service projects, among other hands-on activities.
They will come together this fall at the Sisterhood's East Coast Conference, scheduled for Nov. 18 and 19, at Rutgers.
Aftab, who teaches in the Department of Political Science and the Middle Eastern Studies program in the School of Arts and Sciences at Rutgers University-New Brunswick, describes the Sisterhood as a lay-founded grassroots organization that enables women to come to the table to talk about the role of faith in their lives.
"We create brave spaces where we can actually discuss issues that we might not otherwise discuss: How does your Jewishness affect your lives? What do these Muslim customs mean? We give a human face to our faith," she says.
A member of the Islamic Society of Central Jersey, Aftab cofounded the New Jersey Muslim Lawyers' Association and was a longtime member of the New Jersey Supreme Court Committee on Minority Concerns.
Her Rutgers ties run deep: Aftab received her Bachelor of Arts degree from Rutgers-New Brunswick, majoring in political science, and her juris doctor degree from Rutgers Law School.
All three of her children are also Rutgers graduates.
Aftab sees the awards as a validation of her years of work.
"I was overwhelmed when I heard about it," she says. "I was very humbled. Ultimately, it gives that stamp of approval to the work we're doing. I feel very grateful to have that platform."
The Tanenbaum Foundation, the source of the Sisterhood's most recent recognition, works to promote individuals and groups that help counter extremism and violence in armed conflicts, among other goals. Former United Nations Secretary-General Ban Ki-Moon is one of the award's previous recipients.
Sara Shenker of West Windsor, a practicing psychologist who received her bachelor of art's degree from Douglass Residential College in 1999, learned of the Sisterhood's mission and found herself intrigued by its philosophy.
After attending a Sisterhood presentation at her congregation, Beth El Synagogue in East Windsor, Shenker joined a Princeton-area chapter with 10 Jewish and 10 Muslim women, mostly, like herself, moms of young children.
The new friends bonded over talk of throwing baby showers, getting kids into college and honoring their respective religious traditions. Together, they attended synagogue and visited a mosque.
Although the meetings dwindled once the pandemic hit, "the organization is more important now than ever," Shenker says in reference to the outbreak of war between Israel and Hamas.
"I don't think a lasting peace will come solely with negotiation by politicians sitting across tables in boardrooms," she adds. "It's not a bad place to start, but it's not a good place to stop, either. An enduring peace will come with children playing together as friends."
Aftab recognizes that the ongoing events in the Middle East are putting relationships to the test.
"For the most part, I am pleased that we are weathering the storm and affirming our values – that dialogue leads to peace and that violence is never a solution," she says.
She said she understands that some people may feel the need to walk away from their relationships with their Muslim or Jewish sisters right now.
"But those relationships with a stronger foundation see the humanity in each other's groups,'' she said. "We hope most of us will stay at the table, and that we will continue our conversations and model how we can dialogue over differences."