Celebrating the Class of 2019

Meet Rutgers University graduates who have left their mark on this institution and are poised to pursue their passions after commencement. These students are exemplars of this diverse and engaging academic community. We celebrate their achievements and look forward to the bright futures ahead. Here are some of their stories.
Debilitating Illness Doesn't Stop Med School Graduate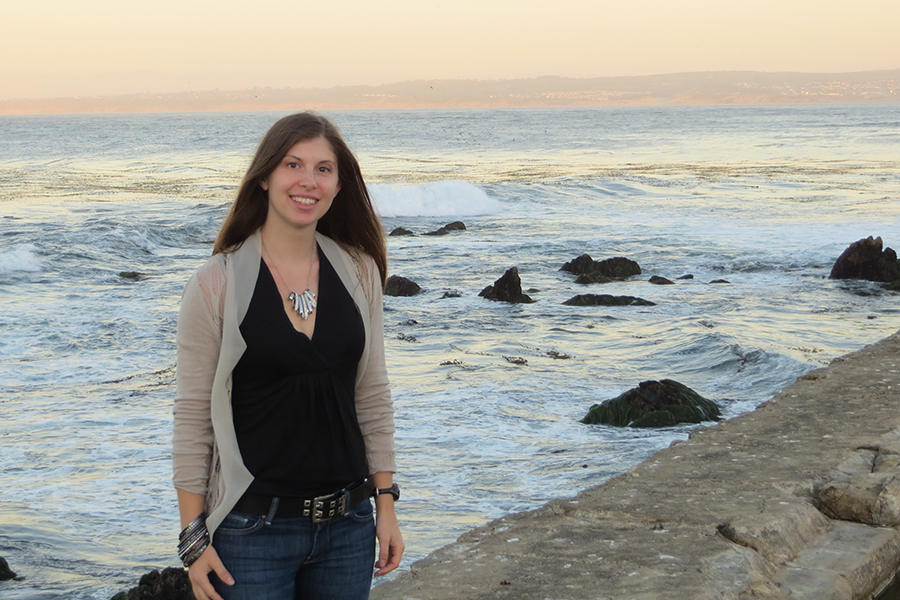 Jill Konowich was in the middle of working on her M.D./Ph.D at Rutgers New Jersey Medical School (NJMS) when extreme pain started shooting up her right leg. She had been training for a half marathon with her fiancé, and suddenly, she couldn't even walk.
Within two weeks of getting married on September 27, 2013, Konowich was in a wheelchair.
It would take six months before she received a diagnosis for her condition – complex regional pain syndrome (CRPS), an autoimmune disease that causes such excruciating pain that it is ranked worse than childbirth, amputation and cancer.
"It just started taking over my body very quickly," says Konowich, who took a yearlong medical leave of absence from school. "I couldn't shower. I couldn't move."
Despite the debilitating pain, Konowich never gave up on her medical career. "I had moments where I tried to imagine what else I could do with my life, but I really didn't want to do anything else," she says. "This is what I've always wanted to do."
After seeing Daniel Richman at the Hospital for Special Surgery in New York and starting infusion treatment, Konowich was able to defend her dissertation and return to medical school. Yet because she was still struggling, Richman, a 1986 NJMS graduate, suspected something else was wrong and sent her to a neurologist.
In 2016, she was diagnosed with Lyme disease and chronic inflammatory demyelinating polyneuropathy (CIDP), a neurological disorder characterized by progressive weakness and impaired sensory function in the legs and arms.
Golf Program Tees Up Student Veterans for Success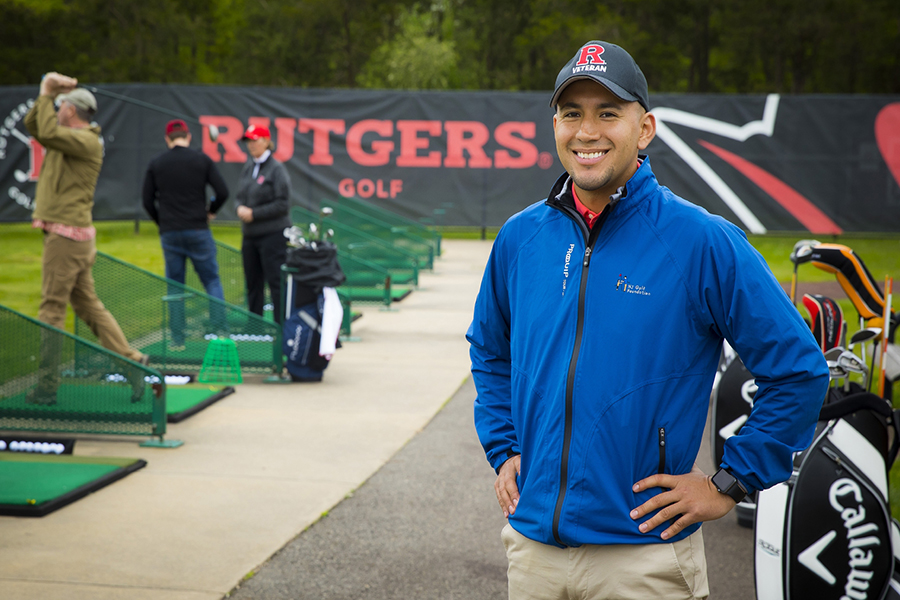 When Jose Sagal needed an outlet to deal with the challenges of transitioning from life in the military to college at Rutgers, he found it on the golf course.
Sagal considered his time getting out of the classroom and onto the range so valuable, he was inspired to start a golf program for other student veterans. Now, after completing his master's degree in global sportsbBusiness, he will be working to expand the program he started through a fellowship with the New Jersey PGA.
"I'm thrilled,'' Sagal said about being chosen, "but I know that I have a strong responsibility in my hands to do this the right way so that others can benefit. It's a huge responsibility to make the program as best as possible."
As an undergraduate, Sagal started working for the Office of Veteran and Military Programs and Services at Rutgers, where he served as a recreation series program coordinator.
That is where he met Bryan Adams, the assistant director in the office who supported Sagal's idea to launch a program at the Rutgers University Golf Course for student veterans.
Another Army vet – a sniper wounded in Iraq during his three years – Adams's started a recreation program that offered hiking, biking, tubing down the Delaware, kayaking and skiing. When Jose approached him with the idea of adding, Adams' reaction was, "Let's do it.''
"I told Bryan when I presented the idea that the outdoor adventures are fun, but asked what additional skills we are learning that we can take when we graduate?'' Sagal said. "With golf, you can play with clients, with your boss; there's the networking aspect."
Inspired by PGA HOPE (Helping Our Patriots Everywhere), the students receive weekly golf instruction from PGA Professionals, while developing networking skills to enhance their career prospects after graduation. The program, a 12-month paid position, is expected to expand through Sagal's work as a PGA fellow.
His primary responsibilities as a PGA WORKS Fellow will be to support programs that include the New Jersey Golf Foundation Golf Classic, PGA HOPE chapter programming, Golf in Schools, PGA Junior League, and Drive Chip and Putt.
Inspired by Nurses Who Cared for Her, Grad Wants to Help Others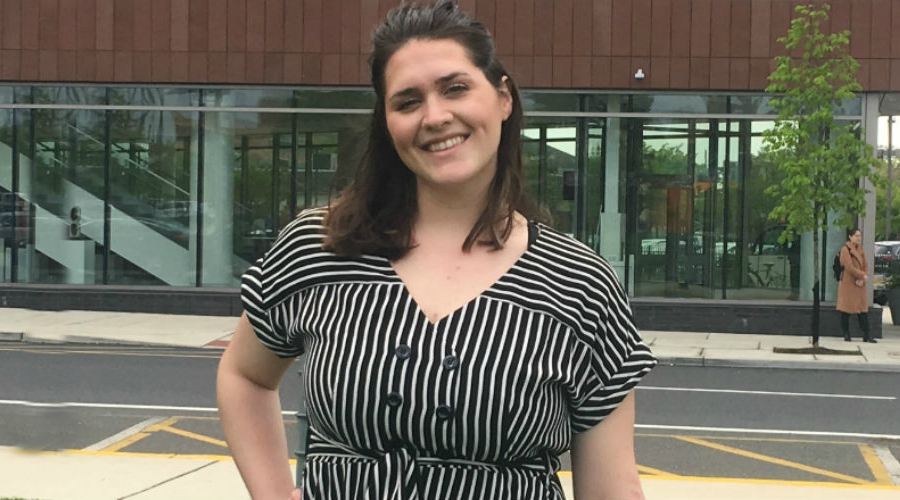 Inspired by nurses who cared for her when she was a patient, Rutgers University‒Camden nursing student Brooke Trigiani is fulfilling a dream to take care of others.
As a child, Trigiani was unable to participate in activities with friends in ways that she wished she could because she was born with severely flat feet. She couldn't finish a mile run for gym class, and wasn't able to participate in most sports. Just walking on flat surfaces could cause crippling pain.
Often, she just endured the pain, saying to herself, "my feet are flat, plenty of people have it."
She would push herself to do activities until the pain was unbearable. One day, when she was about 12 years old, she spent the day with a family friend walking on the boardwalk at the shore, but by the evening, the pain was too intense for her to walk any farther. "On the outside I looked completely functional, but my feet were incapable of providing me any support," says Trigiani.
Determined to live an active life despite her health issues, she joined the cross-country team at Moorestown High School. "I was trying to convince myself the pain was in my head, and that my deformity wouldn't interfere with my physical capabilities," says Trigiani. "I was proven quite wrong."
Read more about Brooke Trigiani
Rutgers Doctoral Candidate Humanizes Public Policy
To understand Shilpa Viswanath's career trajectory, one has only to look back into her childhood – a dinner table filled with conversations around ongoing government policies, organized strikes and the importance of labor unions. Add to that a front-row seat to the drastic transformation of a city in the midst of an information technology boom and its consequent impact on the economic, social, political and cultural fabric of local communities.
Viswanath's father worked for the state government in India, while her mother, a sociology and industrial relations professor, was a union member of the Bangalore University College Teachers Association, striking often for teachers' wage security. Meanwhile, the city she grew up in, Bengaluru, was evolving into the Silicon Valley of India. "As a young adult, I grew up believing that if you want to change the world, you could do so via public policy," says the 35-year-old who will graduate this week with a Ph.D. from the School of Public Affairs and Administration at Rutgers University-Newark.
During her five years working toward her doctoral degree in public administration, Viswanath focused on understanding the role of local government employees through a legal and constitutional analysis. During her yearlong fellowship at the Center on Law, Inequality and Metropolitan Equity at Rutgers Law School in early 2016, she learned about the crisis in Atlantic City where the state government had intervened to prevent a potential bankruptcy.
The city entered into a state receivership – which gives the state the power to oust locally elected officials and take complete control in running the municipality in ways it sees fit. "The precariousness of local government employees during state takeovers is something that shocked me," she says.
An Advocate for the Rights of Incarcerated People in New Jersey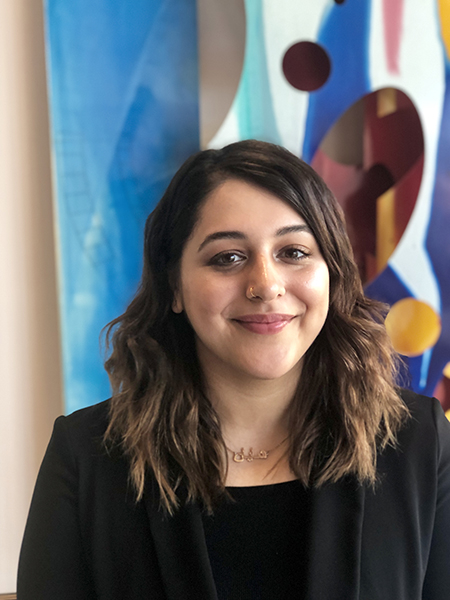 Shayan Mirzahaidar says she chose Rutgers Law School in Newark because of its "incredibly strong reputation for public interest and student-led activism" something she embraced, by working for the rights of incarcerated people and by being an active member of the National Lawyers Guild.
While in law school, Mirzahaidar worked to get incarcerated people mental health and medical treatment, accommodations for their disabilities, and protections if they were transgender, through the Legal Aid Society's Prisoners' Rights Project.
She also advocated through the Rutgers Constitutional Rights Clinic, where she worked on a case to enforce a settlement agreement between a group of incarcerated people and prison officials.
"My team fought for the rights of incarcerated people in New Jersey's prison system, which taught me about the nuances of state and federal civil procedure, client interviewing, and working in a tightly knit team," she said. "We even visited our putative clients in prison each week and drafted a full complaint from scratch."
In addition, Mirzahaidar participated in advocacy work through the National Lawyers Guild – organizing a drive for students to write to incarcerated people, protesting the Kavanaugh confirmation, enlisting the student government to condemn investment in private prisons, and urging the governor to provide free legal counsel to immigrants facing deportation.
Read more about Shayan Mirzahaidar
Rutgers-Newark Grad Who Fled Syrian Civil War Completes Long-Sought Degree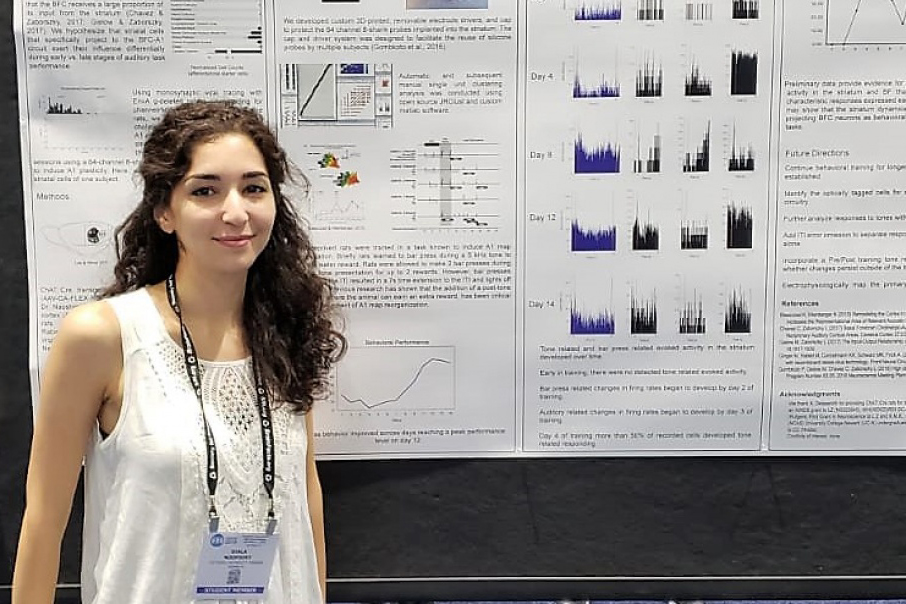 During high school in her native Syria, Diala Noofoory grew passionate about neuroscience and hoped to study it in college, only to find a dearth of programs in her country. She pressed her family to find a neuroscience program abroad but met with resistance: They supported her ambition and encouraged her to pursue her educational dreams but preferred that she stay local.
"Attempting to travel and study abroad as a woman meant battling cultural norms that existed around me," she says. "My English was excellent, and so instead I attended the University of Damascus at age 18 to study English and Linguistics, just to get going."
She took classes on and off between 2007 and 2011 while also focusing on family obligations, but her degree would have to wait as civil war broke out in 2011 and Noofoory and other family members fled Syria the following year, originally moving to Cairo and then Lebanon.
Her studies on hold, she came to the U.S. in 2014 and settled in New Brunswick, NJ, with her then fiancé, who was a graduate student at Rutgers–New Brunswick.
In 2017, at age 28 and having transferred her college credits from Syria, Noofoory finally went after her dream by enrolling as a junior at RU-N, majoring in psychology with a minor in neuroscience. She immediately began working as an undergraduate research assistant in the lab of Professor Laszlo Zaborszky, of the Center for Molecular and Behavioral Neuroscience (CMBN), who studies the neural circuitry that cholinergic cells develop in the basal forebrain, whose destruction plays a central role in the onset of Alzheimer's Disease (AD).
Read more about Diala Noofoory
Rutgers-Camden Grad Works to Improve Communities in South Jersey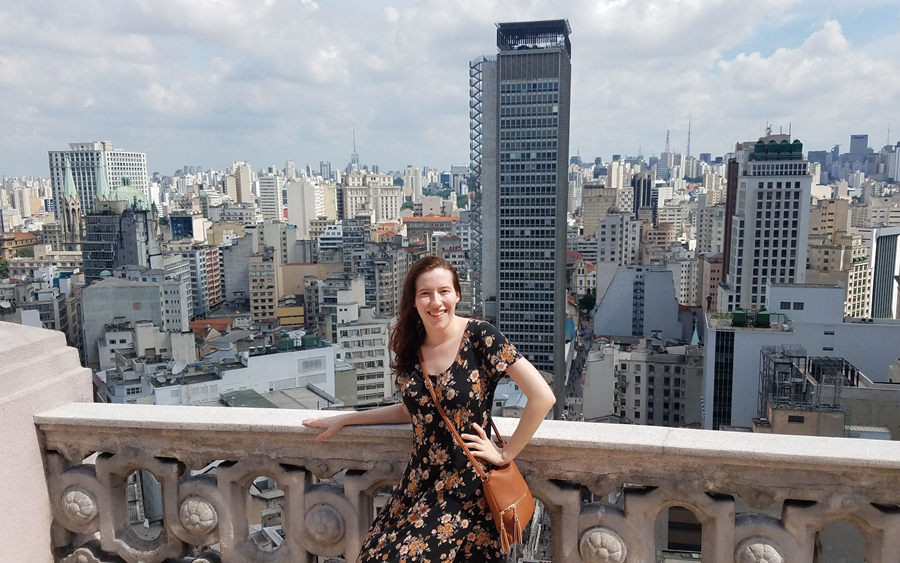 For much of Sarah Filippi-Field's youth, she rarely traveled outside of her hometown of Vineland.
"It was a major event even to visit Pennsylvania," recalls the graduating urban studies and community development major at Rutgers University–Camden.
Those days are but a distant memory now, as Filippi-Field has grown to become a well-versed authority on South Jersey communities – both through her studies, as well as in her active role serving as a program assistant for the Senator Walter Rand Institute for Public Affairs at Rutgers-Camden for the past four years.
Just as importantly, the Rutgers–Camden Honors College student learned to step outside her comfort zone and take advantage of the academic, career, and social opportunities that came her way.
Upon graduating summa cum laude with a perfect 4.0 GPA, she will go way outside the comforts of home – and the country, for that matter – when she pursues a master's degree in public policy degree while on a German Academic Exchange Service scholarship at the Willy Brandt School of Public Policy at the University of Erfurt.
Read more about Sarah Filippi-Field
Son of Immigrants Fights for Social Justice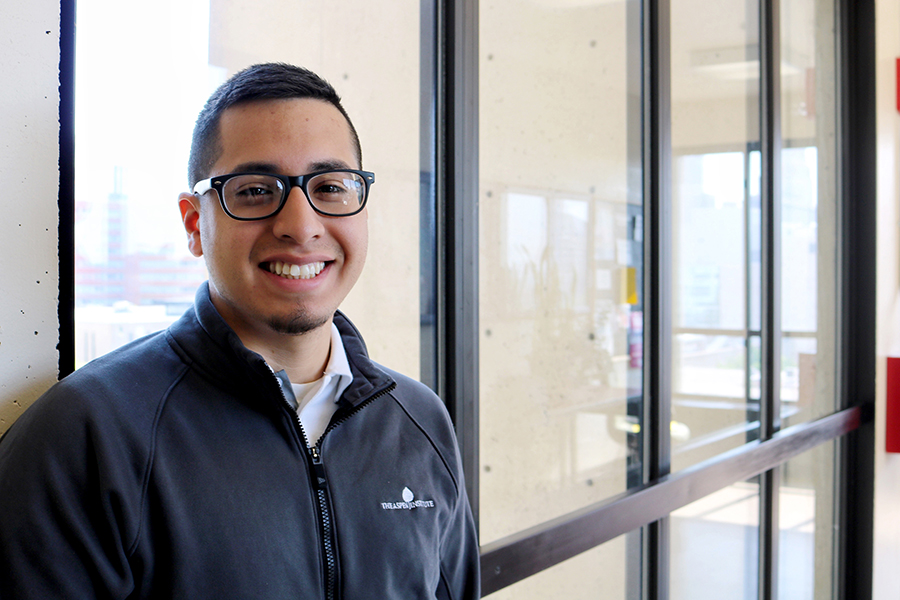 Dante Apaestegui isn't exactly sure what lies ahead for him, but as the son of immigrant parents who came to the United States 30 years ago without jobs and unable to speak English, he can't imagine a life that won't include social activism.
"They were undocumented, and they knew it was going to be difficult, but they didn't want to sacrifice the dream of giving their children a better life," said Apaestegui, who will graduate from Rutgers University-Newark this month with a dual-degree in criminal justice and sociology.
Apaestegui, 20, who has worked several jobs while being a full-time student, will spend time after graduation on social justice issues while he studies for his LSAT test, in hopes of starting law school next year.
The Paterson native wants to do what his father couldn't accomplish.
"My father was studying law in Peru and planned to become a lawyer but that changed when he met my mother," he said. "She told him she was moving to the United States and he was in love, so he followed her here."
For Apaestegui's father, plans for becoming a lawyer were squashed. He has spent the last 30 years working in dry cleaners in Paterson, with little time off because he feared that when he came back his job might be gone.
His family's story, however, is only part of the reason why Apaestegui wants to be a lawyer who helps the poor and disenfranchised. "Who I have turned out to be was definitely cultivated while I was here at Rutgers-Newark," he said. "They have molded me and instilled within me the desire to pursue social justice causes."
Read more about Dante Apaestegui
 
Saquan Hampton Achieves His Dream. Next Year It's His Mother's Turn.

Maria Rios has had a front row seat to all the major milestones in her son Saquan Hampton's life. Among the many moments, she has watched as he was selected in the NFL Draft by the New Orleans Saints last month and will be there when he earns his degree Sunday at Rutgers commencement.
Graduation is an exciting time for students as it culminates their years of hard work and dedication. For a football player, a similar feeling happens on draft night when their name is called and they are selected to an NFL franchise.
Next year, Hampton will have the opportunity to take his seat in the front row for mom and share in one of her greatest moments when she too experiences the excitement of being a Rutgers graduate.
Rios, a mother of three, is pursuing her bachelor's degree from Rutgers School of Management and Labor Relations – the same as her son – and is on track to graduate as a member of the Class of 2020.
"It will be like a dream come true for me, for my mother and my other family members," said Rios. "It will be just as exciting for me to walk across that stage and get my bachelor's degree as it was for Saquan to get that call."
Read more about Saquan Hampton
Learning About Compassion While Studying Spinal Cord Injury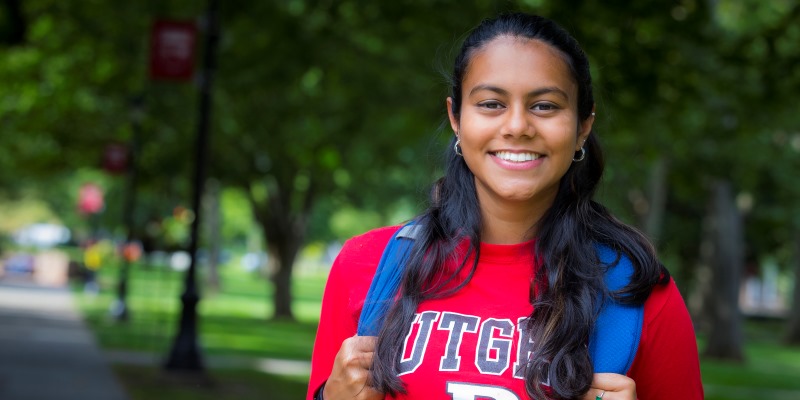 Avina Rami was always strong in science.
She graduated from Biotechnology High School in Freehold, New Jersey, a magnet school where the academic program is intensely focused on biology, technology, and engineering.
But it was at Rutgers, in the W. M. Keck Center for Collaborative Neuroscience, where Rami, a graduating senior in the Class of 2019, found the calling that would drive her research and exert a profound influence over the direction of her undergraduate work.
That calling was spinal cord injury, a devastating condition that blocks communication between brain and body,leaving patients paralyzed and needing help with everyday tasks such as eating, dressing, and going to the bathroom.
Entering Rutgers, she knew little about spinal cord injury, and had never met anyone living with the condition. Then she attended a lecture for undergraduates given by Wise Young, an SAS professor of Cell Biology and Neuroscience who is the founding director of the Keck Center, and one of the world's foremost experts on spinal cord injury.
LGBTQA+ Activist Makes a Difference at New Jersey Medical School

Back in September of 2015, even before he took his first set of notes in "Foundations of Body Systems," the traditional first class at Rutgers New Jersey Medical School, Marc Berenson was helping redesign the school's LGBTQA+ curriculum.
As a young gay man, Berenson experienced his share of uncomfortable encounters in doctors' offices: the averted eyes, the awkward questions. He envisioned a course of study that would produce a new generation of physicians who are accepting and comfortable with diverse populations.
More recently, on the eve of Commencement, Berenson learned that portions of that curriculum are to be published in MedEdPORTAL, the online peer-reviewed journal of the American Association of Medical Colleges.
His early activism came about when the tour guide showing him around the school after he'd been accepted suggested Berenson reach out to John P. Sanchez, associate professor of emergency medicine at NJMS.
Sanchez, who is also associate dean for diversity and inclusion, asked Berenson to help develop a course of study that would provide awareness of the LGBTQA+ community, honing in on such issues as pronoun use, the particular needs of transgender patients, and the benefits of prophylactics to prevent HIV exposure.
That was just the beginning of Berenson's advocacy in medical school.
Rutgers Graduate Makes Her Mark on the Road to Wall Street

Simmi Sharma's road to Wall Street began as a high school sophomore at JP Stevens in Edison.
A discussion about the Great Recession during an AP U.S. history class caught her attention. As she started to read more about what happened, she began to develop an interest in finance.
"I realized that money is the string that ties the world together,'' Sharma said. "Regardless of the industry, the company, the product or the idea, financing is required. Being in finance means that you have a hand in picking the right ideas and supporting them to a point where they can make a material impact. I wanted to be a part of that."
Sharma, a double major in finance and business analytics and information technology, will graduate in May from Rutgers Business School-Newark and New Brunswick. She is also part of the first graduating class from the Honors College. Her dream to work in the financial services industry came fully realized during her time at Rutgers. With the help of programs like Road to Wall Street, Women BUILD, the Student Managed Fund and the Little Investment Bankers of Rutgers – all programs that provide opportunities for students interested in finance – Sharma figured out what she wants to do and how to do it.
Psychology Major Hopes to Be Guiding Influence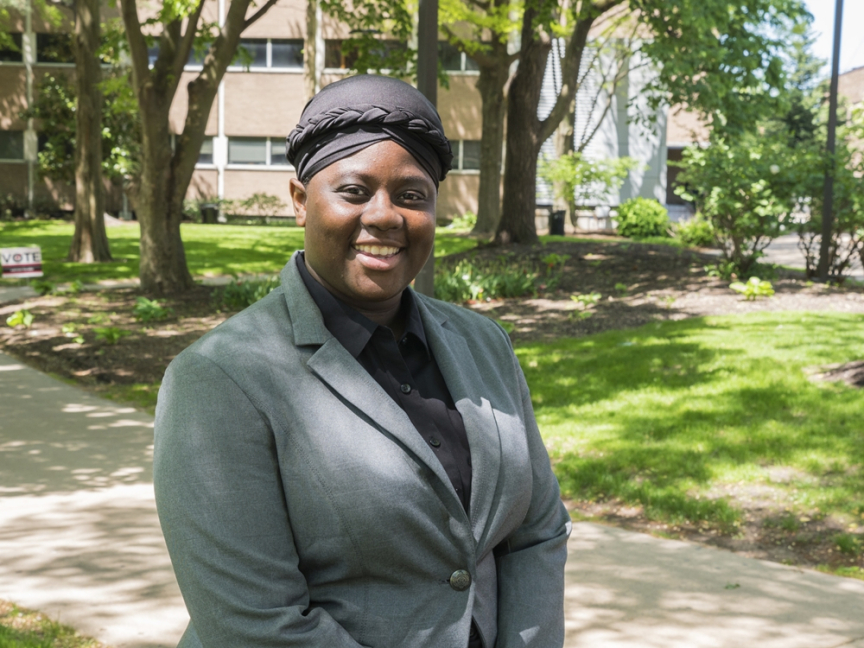 Things will get better, Shanice Parran remembers being told.
In high school, the graduating Rutgers University–Camden senior had been struggling with personal and family issues when a guidance counselor told her to keep her head up.
"I was going through some issues that many teenagers go through," says the senior psychology major, "but he helped me to get my mind straight."
Sure enough, right before finishing high school, Parran continues, things did work out.
Moreover, although she was facing financial hardship, her counselor went the extra step and helped to secure a waiver for her to apply to several colleges. She was accepted to every one.
"The savings alone meant a lot at such a pivotal time in my life," says the Bellmawr resident.
Parran is now poised to take on a similar role serving as a guiding influence for high school students, in addition to serving as a licensed professional counselor.
Read more about Shanice Parran
Rutgers Senior Heads to Venice for Prestigious Guggenheim Internship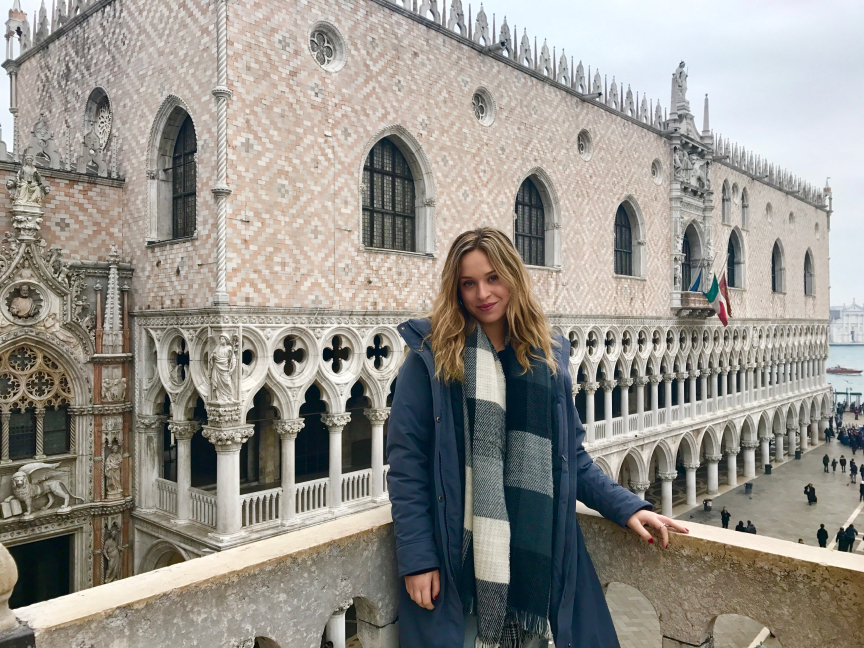 Peggy Guggenheim was a glamorous American heiress who spent much of her life traveling throughout Europe, assembling a collection of Cubist, Surrealist and abstract expressionist masterpieces.
Joanna Zotti is the cheerful daughter of an actuary and a radiologist from Roseland, N.J., who has spent her last four years at Rutgers University-New Brunswick studying Italian and art history.
Their stories are about to intersect in a surprising, and delightful, way.
Zotti, who graduates this May, has been chosen for a prestigious autumn internship at the Peggy Guggenheim Collection in Venice, Italy.  
Housed in a gorgeous palazzo on the Grand Canal, the museum is an open-to-the-public treasure displaying the famed collector's carefully curated legacy, including pieces by De Chirico, Braque, Kandinsky, Picasso and Guggenheim's husband, Max Ernst.
It takes a lot of work to keep it running. Zotti can't wait to dig in.
A Love of Politics and Public Service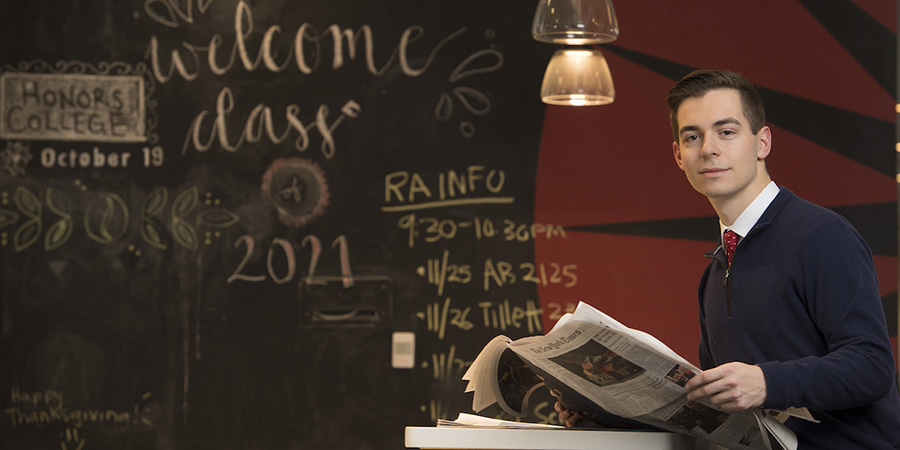 Nicholas Pellitta was in high school when he decided to pursue politics.
The Hunterdon County native participated in the YMCA's Youth and Government program and served in the highest student role, youth governor of New Jersey. He went to Washington, D.C. for a weeklong conference, meeting students from across the nation, interacting with government officials, and getting a taste of what it's like working in public service.
"I totally fell in love with it," says Pellitta, a School of Arts and Sciences and Rutgers Honors College graduating senior in the Class of 2019. "It felt like I was among people who really wanted to make a difference."
At Rutgers, he found the ideal academic program to build on that youthful passion: majors in political science and economics, and minors in Spanish and international and global studies. Earlier this year Pellitta was named a Schwarzman Scholar and will spend a year at a Chinese university earning a master's degree in global affairs.
A Passion for Helping Others Through Medicine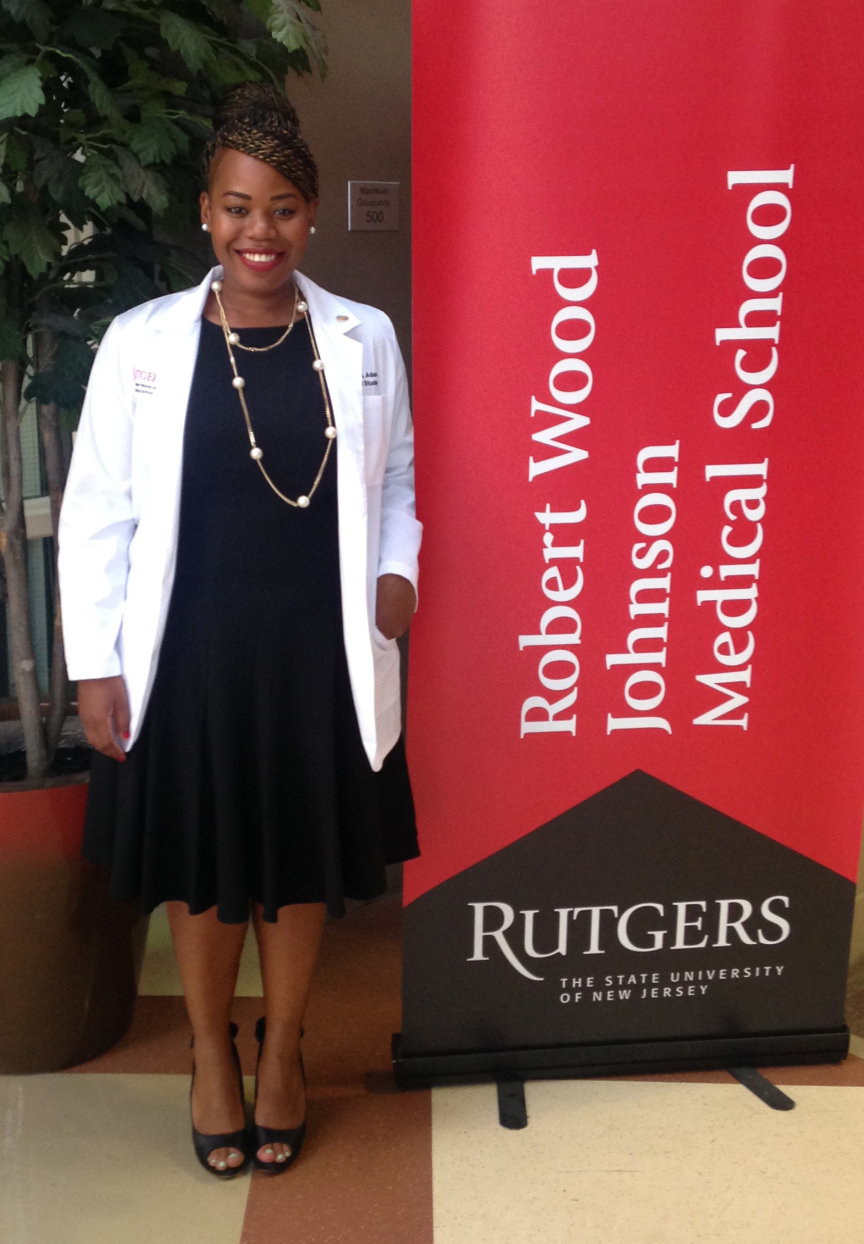 Throughout much of Lauryn Adams's life, people tried to convince her that she would never become a doctor.
This spring, as a graduate of Rutgers Robert Wood Johnson Medical School (RWJMS), she will prove them wrong. She worked along the way to encourage other young women of color to pursue their dreams of a career in medicine.
"I knew since I was 5 years old that I wanted to be a doctor but saw very few doctors who were women of color," Adams said. "People would say, 'Wow, that's hard. You should do something else. When I was an undergrad, an administrator even said, 'You're probably not going to get into med school. You should have a plan B.'"
But the Scotch Plains native was undeterred. She graduated from George Washington University with a degree in exercise science, then worked as a clinical research study assistant at Memorial Sloan Kettering Cancer Center. She earned a master's degree in public health at Harvard University while on a gap year between her third and fourth years at RWJMS.
Her passion for helping other young people realize their potential led Adams to volunteer with the RWJMS Homeless and Indigent Population Health Outreach Project (HIPHOP) and the Student National Medical Association as a tutor and mentor to high school students.
Student Creates ''Smart Jewelry'' to Fight Sexual Violence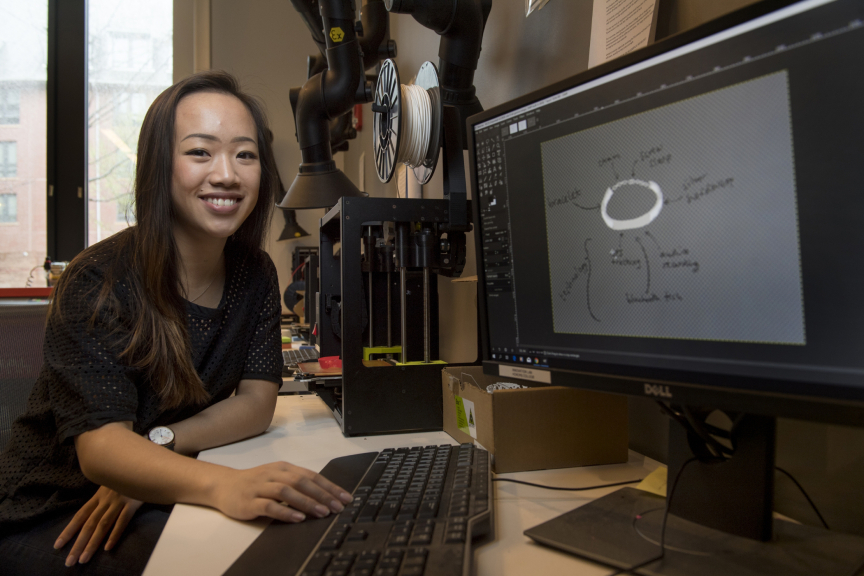 A desire to make a difference in preventing sexual assault and saving lives became the inspiration for a "smart jewelry" project Annie Zhang spearheaded during her time at Rutgers.  
Zhang, a senior in Rutgers–New Brunswick's  Honors College and Edward J. Bloustein School of Planning and Public Policy, dedicated many hours as a co-creator of Merakhi, a company developing electronic bracelets that can be worn by anyone concerned about the risk of sexual assault – such as students who have to walk home late at night.
As Zhang prepares for graduation and reflects on her experiences at Rutgers, she believes this project that she worked on with her fellow Honors College students was the most important. The inspiration came as a result of the documentary film India's Daughter, which details a sexual assault case and surrounding rape culture in India that she watched with a four-member team of women at the Honors College.
"As we did more research, we began to understand how common sexual assault is, how infrequently it is reported, and oftentimes, how victims lack evidence in court. We have also had many of our peers personally affected by sexual assault. We want to create a community in which men and women feel safe and can pursue their goals to reach their full potential," Zhang said.
Overcoming Obstacles and Inspiring Others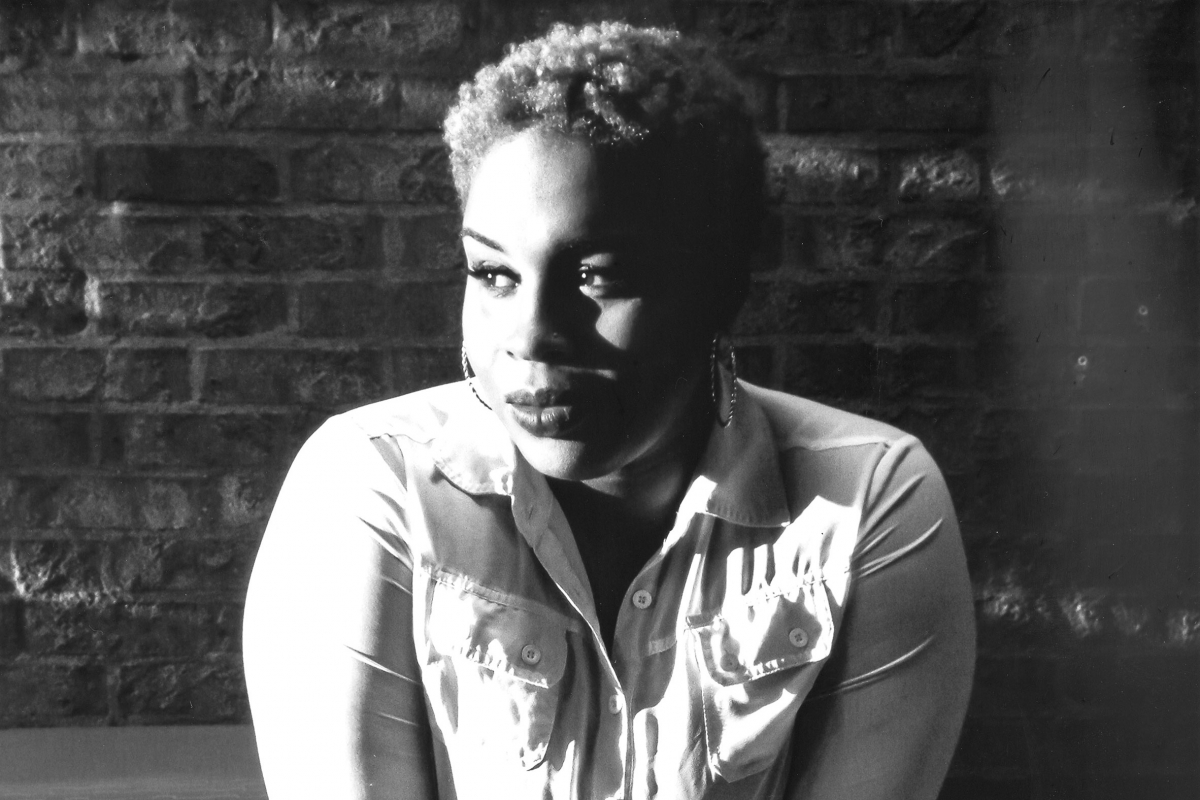 Shardé Taylor believes she's been put here for a reason.
The graduating Rutgers University–Camden senior has made it her personal mission to ensure that others see the good in themselves and how they alone are in control of their futures.
"I am trying to influence people to think positively about themselves and their situations, and what they can do about the challenges that they face," says the senior social work major.
For the past two years, the Camden resident has worked with children of all grade levels at the LEAP Academy University Charter School who are dealing with social, emotional, academic, and/or behavioral issues. She designs curricula and activities, and leads weekly group meetings, in order to help the students develop communication and coping skills.
Rutgers Graduate Combats Stigma in Mental Health, Addiction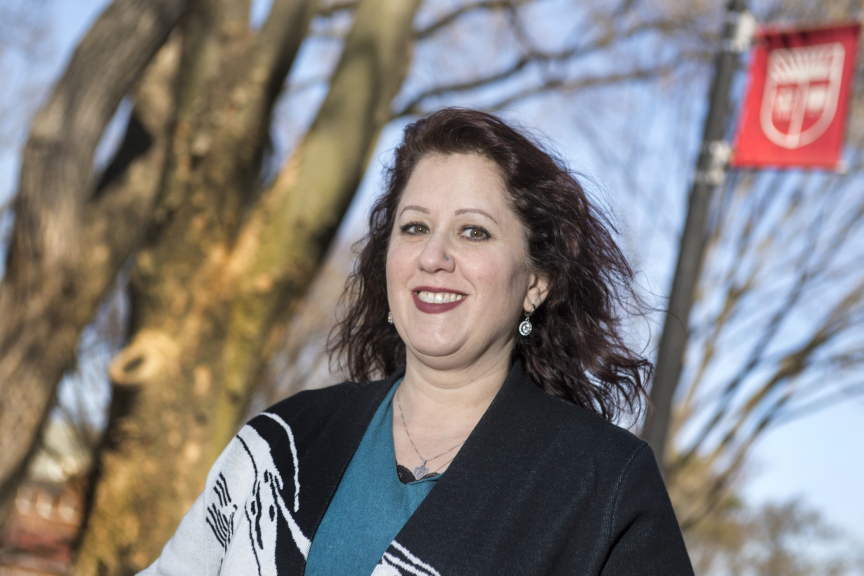 As an adolescent, Fae Cushing became addicted to drugs and alcohol, entered into abusive relationships, was on food stamps and failed out of college her first year.
At 21, she made a decision to enter a 12-Step program. "I knew I would die if I kept on the path I was on," she said.
This year, three decades into her sobriety, Cushing, 50, will deliver the convocation address at Rutgers School of Health Professions. She is graduating summa cum laude with a bachelor of science in applied science and a concentration in psychiatric rehabilitation and counseling. In a few months, she will begin working toward her master's degree in mental health and wellness counseling at New York University. Her goal is to use her own experience to help adults who also are struggling with mental illnesses and addiction.
"The road to my degree took a lot of courage," said Cushing, a Bridgewater, N.J., resident, who credits her success largely to the support of her husband, two adult children and a close-knit group of family and friends. "I went to school because I wanted to show my kids that this is possible."
Rutgers Doctoral Graduate Makes Helping Bilingual Students Her Mission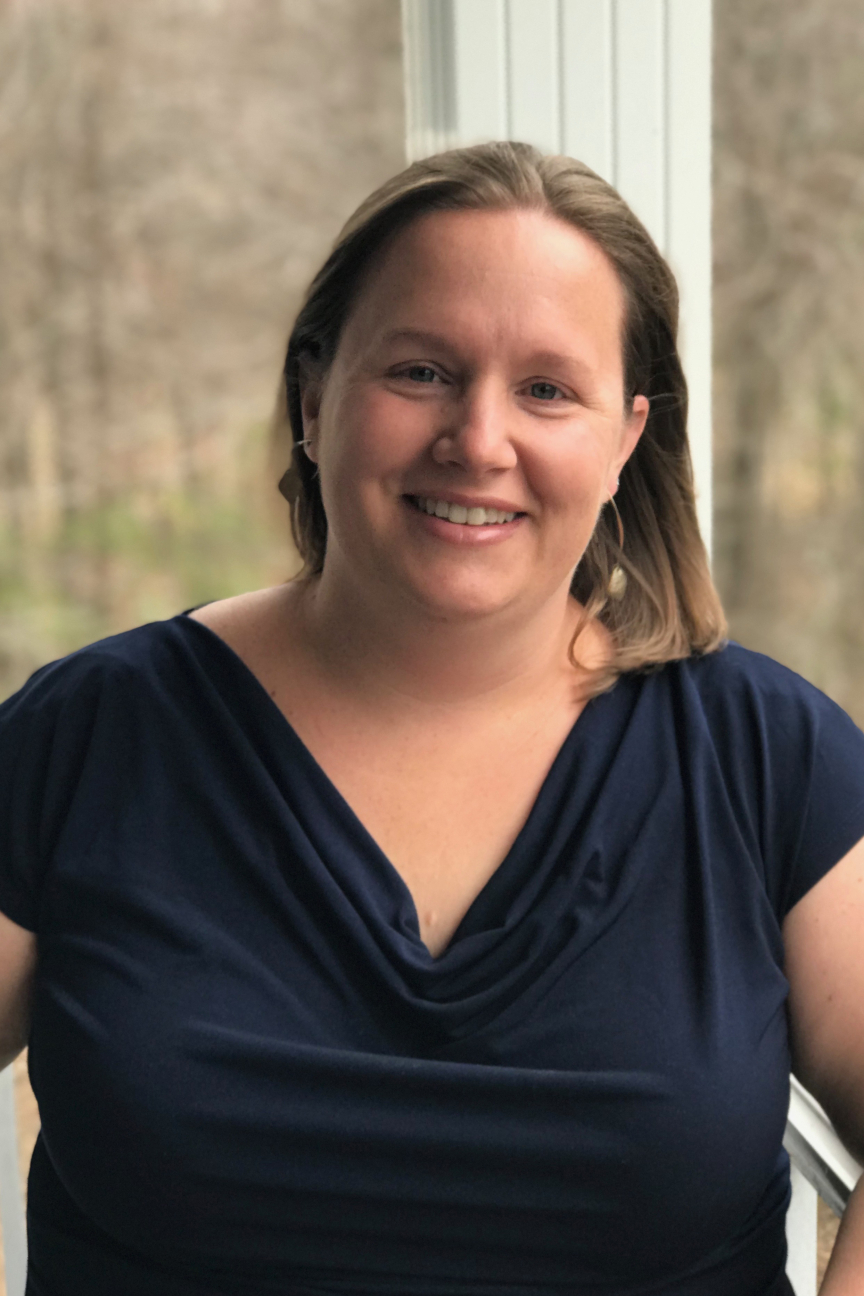 Amanda Lowry's path to pursuing a doctorate at Rutgers University-New Brunswick's Graduate School of Education began with an undergraduate degree in engineering, a stint as a Peace Corps volunteer and teacher in Uganda, and a job teaching math to New Jersey students for whom English is a second language.
"I knew I wasn't interested in becoming an engineer but I wasn't sure what to pursue. I didn't realize the personal fulfillment I would receive after working with these underserved populations," she said of the winding road that followed her undergraduate degree.
Her Peace Corps experience, in which she spent two years traveling the eastern Africa country and teaching in its school system, inspired her to pursue a master's degree in comparative and international education. That led to a teaching position at Hunterdon Central High School while the school was beginning to introduce ESL math courses. Lowry has been teaching there for the last eight years.
She describes ESL math as "filling in the holes as students make the transition from one educational context to another." It helps reduce the linguistic complexities while keeping the math rigorous.
Climate Change Is a Major Concern for Rutgers Senior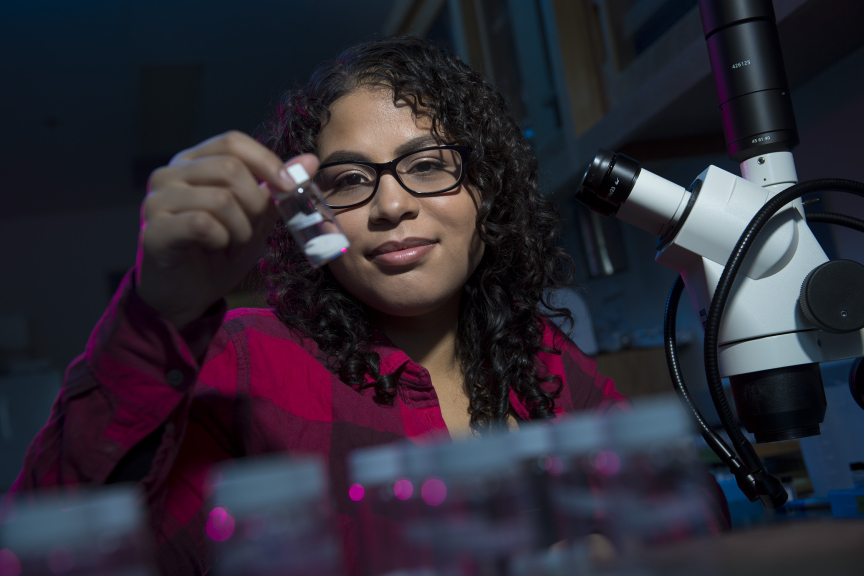 Rutgers senior Lauren Rodgers once dreamed of becoming a fiction writer. But then she enrolled in a high school science and math program in her native Columbia, South Carolina, where she read an article that discussed the ocean's critical role in absorbing carbon dioxide, the major greenhouse gas linked to global warming.
"That totally changed my perspective on everything," said Rodgers, a member of the Class of 2019 and student at the Rutgers–New Brunswick Honors College. "It was like, oh my gosh, that's so amazing. I had never heard of any correlation between the climate and the ocean before, so I started gearing my research toward that."
Today, Rodgers is conducting climate change-related research as she completes her undergraduate degree in chemical oceanography. She is a George H. Cook Scholar in the School of Environmental and Biological Sciences, and her honors thesis involves helping to assess sea surface temperatures over the last 150,000 years in the Southern Ocean near Tasmania. This year, she earned the Outstanding Senior Award in the Department of Marine and Coastal Sciences.