After graduating from Rutgers in 2020, Michael Acevedo wanted to pursue his dream of becoming a physician, but he worried about whether he would do well on the standardized test he needed to take to apply to medical school.
He shared his concerns with Saskia Leo Cipriani, assistant director of the Center for Latino Arts and Culture (CLAC), who suggested he apply for a Student Excellence Fund grant.
"I had no idea about these grants, nor that they could be given to students who already graduated. Thanks to the grant, not only did I do extremely well on the MCAT after taking that course, but I am blessed and grateful to say I was admitted to medical school as well. I donate every year now to pay it forward," Acevedo said in a video message shared during the CLAC's recent 30th-anniversary gala fundraiser.
The event, hosted at The Rutgers Club, celebrated three decades since the center opened its doors as a result of the advocacy and leadership of Rutgers students, staff and faculty.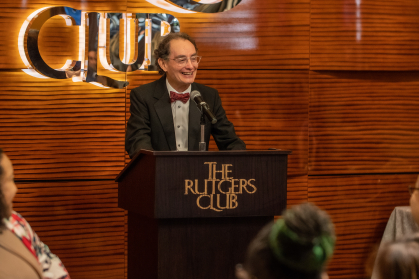 "We are thankful to the many students, faculty, and staff who advocated for the creation of the center, and all who have contributed to making it a home away from home where our students can develop a sense of belonging, engage in leadership and service and find the support and resources they need to succeed academically and professionally," said Carlos Fernandez, director of the CLAC since 2005.
With a theme of Pearls of Wisdom, the gala celebrated the accomplishments and contributions of students and noted alumni.
The annual event seeks to raise funds for the Center's Student Excellence Fund, which supports opportunities for students to prepare, advance and succeed in their academic journeys and beyond.  Over the last 12 years, the fund has supported 17 students with grants totaling $12,000. Grants have supported undergraduate research, travel abroad opportunities, capstone projects, conferences and graduate school preparation, including exam preparation and registration fees.
While reflecting on the years of hard work done by founding director Isabel Nazario and current director Carlos Fernandez in his opening remarks, vice chancellor for student affairs Salvador Mena said, "The CLAC's mission will continue to be vital as we seek to bring more students through the Garden State Guarantee and Scarlet Promise grants and as the college-age population in New Jersey continues to shift towards the Latinx community."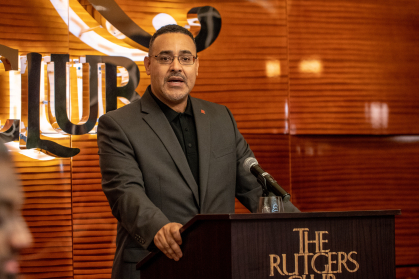 The program, which included a reception, a dinner, a silent auction and a performance by the salsa band Tempo Alegre, directed by Rutgers alumni Jose Abreu, honored the lives of some prominent members of the Rutgers community who died recently. People who were honored included Miguel Algarin (1941-2020), alumnus, professor emeritus and cofounder of the Nuyorican Poets Café in New York City; Guillo Beytagh Maldonado (1957-2021), alumnus and executive director of the Puerto Rican Action Board in New Brunswick; and William Rivas (1984-2021), a dedicated alumnus of the New Brunswick campus. The program also recognized the dedication and service of retirees Albert Budet, Sylvia Cordero, Dr. Asela R. Laguna and Dr. Jose Laureano.
Monika Gonzalez, a former Latino Student Council president and CLAC intern, shared her story about how the fund changed her life by helping to pay for a study abroad trip to Spain.
"Not only did the CLAC provide me with so many opportunities to engage with my community and better myself, but they were able to assist me in achieving a dream of mine I never thought was possible. I would not be the person I am now if I was never involved in the CLAC," Gonzalez said in a video message.
Over the years, the center has worked tirelessly to nurture a sense of belonging for thousands of Latinx students while enhancing recruitment, retention and successful graduation at Rutgers.
In addition to raising money for student grants, the center seeks to engage with alumni and support the Rutgers community through services, education and outreach. Students donate their time to volunteer projects, hold events to educate and cultivate community throughout the year and provide mentoring to support the Rutgers Latinx community.