A Career Spent Fighting Mother-to-Infant HIV Transmission
Rutgers' Carolyn Burr did not let anything get in her way – not even MS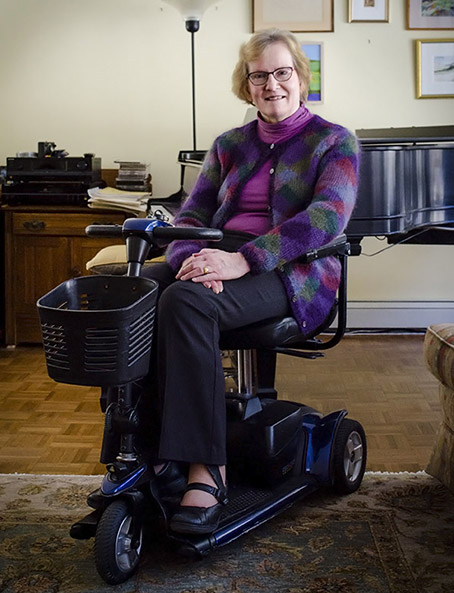 'All of a sudden, it seemed, the landscape had changed. Women who were HIV positive now had the option of having healthy children. If they took their medications, we felt pretty certain their babies wouldn't be infected.'

 

– Carolyn Burr

 

 
For many of her 27 years striving to prevent pregnant women from transmitting the HIV virus to their newborns, Carolyn Burr shared her multiple sclerosis diagnosis with only her closest colleagues.
More learned of her disease three years ago, when the deputy executive director of the François-Xavier Bagnoud Center at Rutgers School of Nursing in Newark began using a motorized scooter to move around each day. Burr treated the scooter as a necessary annoyance that would not get in the way of her continued leadership in the fight to help eliminate mother-to-child transmission of the virus that causes AIDS.
"My brain was ok," says Burr, an Indiana native who was diagnosed with MS in 1998 and continues to travel with the scooter that she stows on planes and trains. "It's my legs that were not working great."
As a result of Burr's and others' efforts in the intervening years, mother-to-child transmission of the HIV virus in this country has fallen dramatically – to approximately 200 cases in the U.S., or 2 percent of the 8,700 births to HIV-infected women – and the focus now is determining and addressing the circumstances of those women whose infants are infected perinatally. HIV mother-to-infant transmission won't be considered eliminated until the number of perinatally infected infants falls to 80 per year, Burr notes. 
"We're getting there, but it will probably take a few more years," she says. "It's difficult to have an impact on the remaining women who are at risk – who are often underserved by the health care system, may be  continuing to abuse drugs, or are afraid of being judged. We need a comprehensive public health approach to providing them the care they need and deserve."
The AIDS environment – and with it Burr's career – changed dramatically in 1994 when the Pediatric AIDS Clinical Trials Group determined that the drug zidovudine reduced mother-to-infant HIV transmission by nearly two-thirds, from 25 percent to 7 precent, with minimal short-term toxic effects. That study stopped immediately and the Centers for Disease Control and Prevention recommended that HIV testing be offered to all pregnant women.
"All of a sudden, it seemed, the landscape had changed," says Burr. "Women who were HIV positive now had the option of having healthy children. If they took their medications, we felt pretty certain their babies wouldn't be infected."
The François-Xavier Bagnoud Center, known as the FXB center, has become one of the world's leading centers for care provided to pregnant women and perinatally infected infants and children. It received state and federal funding beginning in 1990 to train New Jersey clinicians to provide family-centered, community-based care to children with HIV infection. Burr, at the time a pediatric nurse practitioner, was tapped to manage that effort.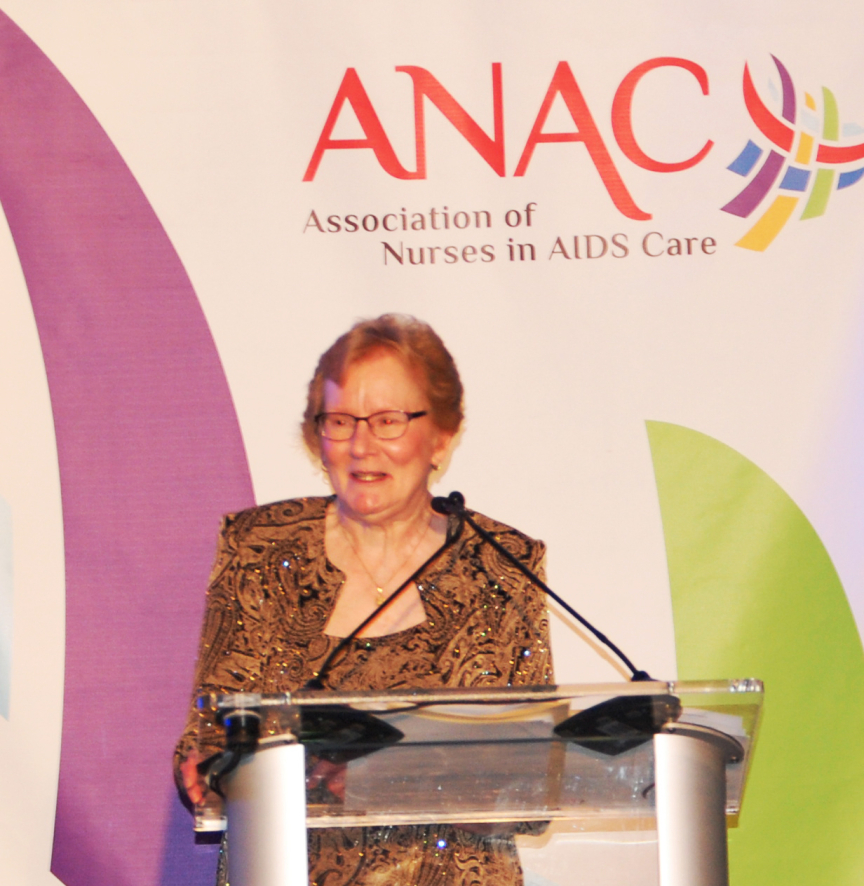 When federal funding refocused in 2003, Burr led a nationwide effort to expand hospitals' capacity to offer HIV testing to women in labor whose HIV status wasn't documented, conducting 22 regional workshops for health care professionals in hospital labor and delivery units and emergency departments. That project was a significant contribution to a change in practice to identify women with HIV whose status might otherwise be missed. Through more effective identification of HIV-infected women in pregnancy and labor, the use of combination antiretroviral therapy and other interventions, infant infection has fallen by an astonishing 95 percent since 1994.
Recently honored with a lifetime achievement award from the national Association of Nurses in AIDS Care, Burr, unfortunately, is not able to participate actively in what is now considered the final phase of stamping out mother-to-infant transmission. With her fatigue from MS intensifying, she recently began a disability leave, while continuing in an advisory role in projects targeting the remaining population of high-risk moms-to-be.
"Everyone at the FXB Center and so many health care providers nationwide are so grateful to Carolyn for the monumental efforts and the leadership she has demonstrated in the fight to eliminate mother-to-infant transmission," said Andrea Norberg, the FXB Center's executive director. "She is a valuable and wonderful friend and mentor who has given so tirelessly to so many."
Burr, a North Caldwell resident, became nationally recognized in the AIDS prevention community through her leadership efforts, particularly for spearheading the development of CDC guidelines and health care provider curricula to prevent perinatal HIV transmission. Yet, she did not anticipate such a career; it seemed to find her.
After earning a bachelor's degree in nursing at Vanderbilt University, she worked at the university's Institute for Public Policy Studies, researching how services for chronically ill children could be improved, an experience that proved to be of great value to her in the AIDS fight. In 1987, she joined Newark Children's Hospital, which had recently established a pediatric AIDS unit, although her initial assignment focused on caring for children not infected with HIV.
When the unit began evolving into what would become the FXB Center and the national pediatric and family resource center for HIV care, Burr became committed to the prevention of mother-to-child transmission, eventually becoming the center's deputy executive director. 
Burr, who earned a master's in nursing at University of Rochester and a doctorate in adult education at Columbia University, closely monitors the progress to eliminate the remaining incidence of mother-to-infant transmission. She is also able to continue with another of her passions – teaching sexual health to eighth graders in a Montclair church community.
"The risk is out there and all children need to be careful," says Burr, the mother of two biological children and eight stepchildren. "But these kids are pretty savvy. They get it. We certainly need more teachers, and for me it's a nice intersection of HIV and sexual health."