The Boggs Center Receives $2.2M for Student Training in Autism and Related Disabilities
NJLEND program promotes collaboration across six schools at Rutgers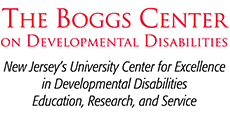 Rutgers has received a $2.2 million federal grant that will increase clinical services for children with autism and other neurodevelopmental and related disabilities – early childhood interventions that are critical to improving quality of life.
The Boggs Center on Developmental Disabilities in the Department of Pediatrics at Robert Wood Johnson Medical School, Rutgers Biomedical and Health Sciences, was the recipient of the multi-million dollar grant.The funding will be used to develop a five-year Leadership Education and Neurodevelopmental and Related Disabilities Training Program that will increase the number of health care providers in New Jersey needed to provide early intervention. 
"NJLEND will enable The Boggs Center to improve the lives of New Jersey's children, young adults, and their families living with autism, through interdisciplinary clinical leadership training to develop the next generation of health leaders and advocates," said Deborah M Spitalnik, professor of pediatrics and executive director of The Boggs Center.
The grant will support the center's work on developmental disabilities, including autism, and its outreach to underserved minority communities.
A recent Centers for Disease Control and Prevention study found that one in 41 children is diagnosed with autism in New Jersey, a 12 percent increase in two years. It is one of only 13 states in the country without a LEND program.
The report found gaps between diagnosis and necessary services, which The Boggs center will address by increasing the capacity of New Jersey's provider community to perform critical early interventions.
"New Jersey has the highest reported prevalence of autism in the nation," said U.S. Representative Chris Smith who co-chairs a congressional autism caucus. "This investment is long overdue and sorely needed."
The training program will address maternal and child health priorities, focusing on health disparities and cultural competence while investigating opportunities to collaborate with New Jersey's Division of Family Health Services. Family members of children and young adults with disabilities will also participate as LEND trainees.
 "The work being done at The Boggs center is extraordinary," said Congressman Frank Pallone Jr., who wrote a letter supporting the grant. "It has the potential to help families in New Jersey and throughout the country."
NJLEND represents a unique set of university, state, local and family partnerships. Participating faculty and graduate-level students represent six disciplines across Rutgers, including: the Graduate School of Applied and Professional Psychology, Robert Wood Johnson Medical School Department of Pediatrics, School of Health Professions Department of Nutritional Sciences, School of Dental Medicine, School of Nursing, and School of Social Work.
Children's Specialized Hospital is the primary clinical training partner for the NJLEND program and Rutgers' Douglass Developmental Disabilities Center is a clinical site. Through interdisciplinary clinical leadership training that includes didactic education, experiential learning, and mentoring from families living with disability, students will develop skills and understanding from "bench to bedside to community."
"Being at Rutgers gives us the opportunity to provide students with a truly interdisciplinary learning experience," Spitalnik said. "This will be an interprofessional collaboration of faculty and staff working across departments and schools."