Bill Nye, the Science Guy, Encourages Rutgers Class of 2015 to Become 'The Next Great Generation'
About 35,000 attend Rutgers' 249th anniversary commencement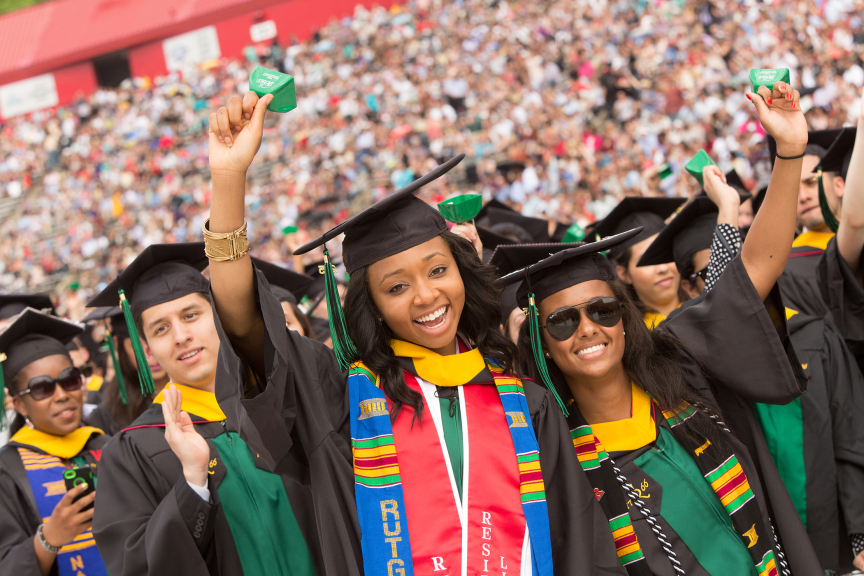 William Sanford Nye, better known to most of the students graduating Rutgers on Sunday as "Bill Nye, the Science Guy," called on the Class of 2015 to rise up and face the challenge of their generation.
"We are now deep in the most serious environmental crisis in human history,'' Nye said to a crowd of 35,000 at High Point Solutions Stadium during Rutgers' 249th anniversary commencement.
"The oncoming trouble is climate change,'' Nye said. "It is going to affect you all in the same way the Second World War consumed people of my parents' generation. They rose to the challenge and so will you.''
His message resonated with graduates who had grown up watching his Emmy award-winning television show, which helped inspired a love of science in a generation of children.
Nye, who received an honorary Doctor of Science during the ceremony, called on students to vote, get involved and "carry on as the next great generation'' by rising up to meet the challenge that faces them.
Despite an unseasonably warm May afternoon that left students sweating in their graduation robes, many found the speech empowering and inspirational.
"We all grew up on Bill Nye, so anything he has to say we are going to take into consideration,'' said Tanweer Ahmed, of Haledon, who graduated with a degree in public health from the School of Arts and Sciences.
Nye's call to action struck a cord.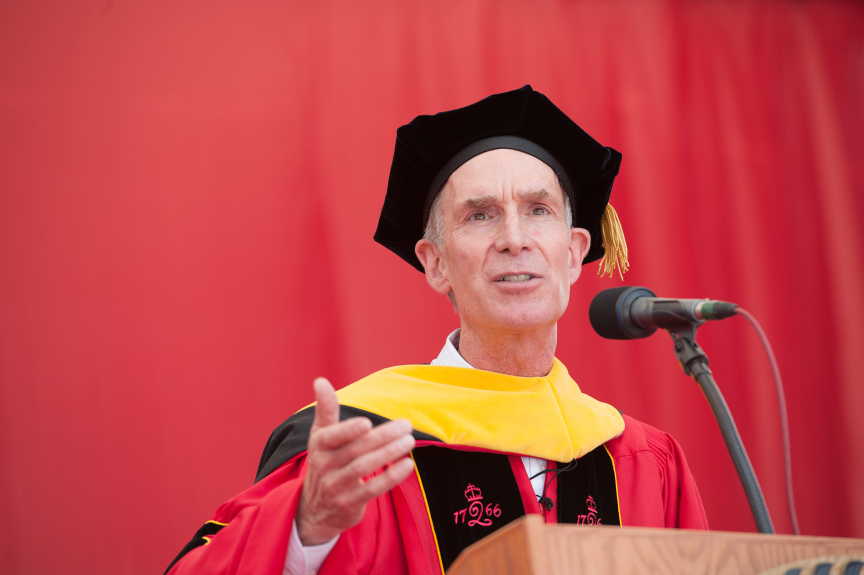 "I think it was great to tell people who are graduating to actively go out and participate and tie in voting – a lot of people in our generation don't do that,'' said Alka Bhatt, of Massachusetts, who completed a six-year doctoral program in pharmacy.
An estimated 16,465 graduates will receive degrees from Rutgers this year. They include approximately 10,593 baccalaureate degrees, 3,951 master's degrees, 1,919 doctorates (including professional doctorates) and two specialists of education. Since its founding in 1766, Rutgers has awarded 534,667 academic degrees (excluding 2015's estimated total).
President Robert Barchi told the graduating class he considers commencement the most exciting event of the academic year because it marks a beginning, not an ending, for students. He wished the graduating class a life of achievement enriched by their experience at Rutgers.
"In the midst of so many challenges and the need for so much change in this world there has never been a Rutgers class better prepared to impact society, to shape policy, to make a difference than you,'' Barchi said.
Barchi also presented an honorary Doctor of Humane Letters to Frances Fox Piven, an internationally renowned social scientist, scholar and activist for the poor and for working people.
Before Sunday's commencement, the president celebrated the best of the Class of 2015 at ceremony honoring the first inductees into the Matthew Leydt Society, a new honor society which recognizes graduating seniors for exceptional academic performance at Rutgers University-New Brunswick.
Barchi will also confer degrees this week at Rutgers University-Newark on Monday and Rutgers University-Camden on Thursday.
For many graduates Sunday marked an exciting new beginning, but it was also a time of reflection and conflicting feelings as they prepared to leave the university they had considered home.
Danielle Dossantos said the reality of leaving Rutgers started to sink in during the week leading up to commencement.
"I kept thinking this is the last time I am going to see this building, this is the last time I am going to eat here or sit on this bench,'' said Dossantos, who graduated with a degree in food science from the School of Environmental and Biological Sciences. "The little things I didn't appreciate I learned to appreciate this week.''
But she said she was also excited about moving on and starting a job in product development for Mars that she was offered following an internship last summer.
"Half of me wants to stay here but I am excited to start a new chapter,'' she said.
David Bizenov, who graduated with a double major in economics and political science from the School of Arts and Sciences, also thought about what he was leaving behind.
"I am going to miss the lifestyle, being around thousands of kids my age and all of my friends,'' he said. "There is something special about being in the Rutgers community every day. "It's going to be different in the real world. It's exciting but I will miss it here.''
Click here to meet some of the outstanding members of the Class of 2015
---
For media inquiries contact Andrea Alexander at 848-932-0556 or aalexander@ucm.rutgers.edu