UBorrow and other new services allow Rutgers students to check out books, tap resources from prestigious libraries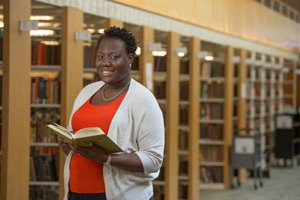 '[UBorrow] was great because it gave me more access to a bigger pool of data to support my research'

 

– Shakiela Morton

 
When Shakiela Morton started researching the lack of STEM preparation for African-American girls in urban schools, she found nearly two-dozen articles in the Rutgers libraries, but none of the books she needed to add weight to her independent project.
Then she clicked on a link on the university library's website for UBorrow – a service provided by the Committee on Institutional Cooperation (CIC), the consortium that Rutgers joined in July 2013. She discovered she could search through the collections of Big Ten school libraries and found four books on black women in science, technology, engineering and math to boost her research.
"It was great because it gave me more access to a bigger pool of data to support my research,'' said Morton, a student in the School of Communication and Information and a member of Douglass Residential College. At some point she wants to have her work published. "I want people to see that it wasn't based on just personal experience, but on studies and research from others who are interested in this topic,'' she said.
UBorrow is one of several new services being introduced at the Rutgers libraries through membership in the CIC, a group of top research universities – most of them also members of the Big Ten.
Through UBorrow, students and faculty have access to at least 10 million titles that are not on the shelves at Rutgers. It opens up notable collections, including the stacks at the University of Chicago that focus on the ancient Near East, while building Rutgers' access to titles in Arabic and other foreign languages.
Other new services include:  
Participation in a shared print repository at Indiana University that will free up space to meet other pressing needs for students;
Being able to tap into the shared purchasing power of the CIC, which has saved Rutgers a significant amount off the cost of science journals and other databases including the recent purchase of digital back issues of Nature;
Enhanced access to the HathiTrust, a project started by Google to digitize content at major research libraries, which contains 10 million volumes. While the HathiTrust's content is open to the general public, universities in the CIC can access advanced functions to search through the content.
"Having easy access to a rich array of collections, significant discounts on our purchases and the ability to create new services with like-minded partners can only improve what the Rutgers libraries offer to our faculty and students,'' said Marianne Gaunt, vice president for information services and university librarian.
UBorrow, the first new CIC program introduced in the libraries, also connects other universities in the consortium to Rutgers' renowned Institute of Jazz Studies, collections in early childhood studies and the premier women's studies collection, said Tom Izbicki, associate university librarian for collection development. Requests made through UBorrow are given priority over traditional interlibrary loan services; also, publications are lent out for longer periods of time. Some items that do not normally circulate through interlibrary loan can be requested through UBorrow.
For students like Chris Blakley, UBorrow is a way to curb the cost of some of the books needed for class.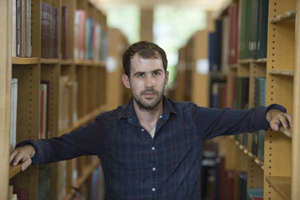 "Six academic press books a week over a semester can add up to a small fortune,'' said Blakley, a doctoral student in history at the Graduate School–New Brunswick. "UBorrow is a wonderful service. It allows me to get copies of books that I don't think I will need for my personal library or research.''
Rutgers students will also benefit greatly from the reconfiguration of space in the libraries that is expected to result from participation in the shared print repository.
Indiana University is working with other institutions to build collections of journals in the repository that are widely held by libraries within the CIC. The repository currently holds 91,000 volumes and aims to store and preserve 250,000 volumes by 2015.
Having access to the shared repository provides universities within the CIC the option to remove duplicate volumes from their stacks. Journals in the print repository are all available online. Participating in the repository could free up significant room in the Rutgers libraries to meet student demands for more technology, group and independent study space, Gaunt said.
"This will help us weed collections that we don't need here, but can still put our hands on,'' Gaunt said. "It costs us to house and preserve materials sitting on the shelf. If we can repurpose that space, and I don't have to put an addition on the library – that is a real costs savings.''
Collaborating with libraries within the CIC opens the doors to countless other cost-saving initiatives, Gaunt said. Libraries could work together to create a shared digital repository of course materials for students with disabilities, share ideas for preserving faculty research data as required by federal grants or work with faculty to produce open textbooks available to students for a nominal printing fee.
"The collective brainpower of being a part of a cooperative group helps spur more ideas for what we could do together that would benefit students,'' Gaunt said. "The sky is the limit because we are all in the same game together.''