Battling Flu During the Pandemic
A Rutgers infectious disease expert explains why the flu vaccination is more important this year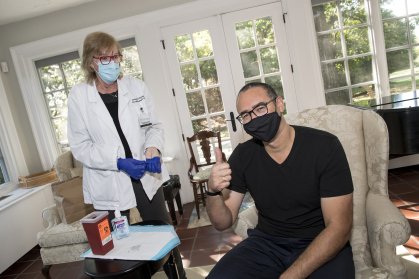 Health officials are urging people to get vaccinated for the flu, fearing COVID-19 and flu cases could become a "twindemic" that would overburden the nation's health care and testing system. The flu is a serious virus in its own right: Up to 56 million people contracted the flu last year, with hundreds of thousands hospitalized and an estimated 24,000 to 62,000 deaths, including 188 children, according to the Centers for Disease Control and Prevention.
The CDC recommends that people aged 6 months or older receive flu vaccinations by late October at the beginning of the season before the virus starts spreading, although getting a vaccination later can still be beneficial.
David Cennimo, an infectious disease expert at Rutgers New Jersey Medical School, discusses this year's flu season, the effectiveness of the vaccine and what you need to do to protect yourself.
How serious is the threat of a "twindemic?"
At this point, we do not know. It is possible to contract both the novel coronavirus and influenza simultaneously. We did see a few instances in the spring, but there were not enough cases to draw conclusions about the severity. Dual infections could result in a much worse condition, cause a more severe respiratory illness if they peak at the same time, confuse contact tracing and overwhelm health resources. We are all very concerned about the possibility of overwhelming critical care resources like what was seen in early COVID, but we should also remember the potential burden on outpatient resources, especially with the need for isolation and transmission mitigation strategies.
How are the coronavirus and the flu similar and different?
Both spread predominantly through respiratory droplets and contact. There seem to be more asymptomatic cases of coronavirus than influenza, but both are capable of being spread before a person knows they are infected – about one to two days before any symptoms appear. Influenza contagiousness is usually over within a week while coronavirus may be a bit longer, around 10 days. Both can cause a spectrum of illness ranging from mild to critical illness and death.
Why is receiving the flu vaccine especially important during the pandemic?
Fewer than half of Americans get the flu shot every year — a figure that is even lower for people of color, whose communities are harder hit.
Keeping people healthy will preserve hospital beds and lessen the burden on testing centers and doctors who need to now test for a proper diagnosis of the flu. The vaccine will work in conjunction with other prevention methods we have been using to stay well: masking, social distancing and frequent hand-washing.
Getting a flu shot will not only reduce your odds of getting sick, it also means that if you do contract the flu, your illness would be less severe. You do not want to catch the coronavirus while you're seeking treatment for influenza. Since flu and coronavirus symptoms can be similar, reducing your chances of having flu symptoms can save you unnecessary worry that you might have COVID-19.
Receiving a flu shot is crucial to helping us maintain our workforce. Vaccination would lead to sending fewer people home with fevers or respiratory illness.
Who should get vaccinated?
Everyone 6 months of age or older should be vaccinated. Those who are at a higher risk should be particularly targeted for vaccination each year. This includes adults over 65 years old, those with underlying illnesses like asthma or heart disease, pregnant women, caretakers who are exposed to vulnerable groups and essential workers, among others. People who are over 65 have a higher risk of complications and a higher mortality rate. The CDC estimates that 70 percent to 90 percent of annual flu deaths are in people over 65. People with other chronic conditions also fare worse when they have the flu. For example, people with coronary artery disease have an increased risk of heart attack if they contract influenza. Certain children may need a booster shot after the initial vaccination; check with your doctor.
Pregnant women are recommended to receive the flu shot because they are at particularly high risk of severe symptoms if they contract the influenza virus. It is also important to vaccinate pregnant women to help confer some immunity to their newborns who are too young to receive a vaccine of their own.
How can one person's vaccination possibly save other lives?
As with COVID-19, people can have the flu, not realize it and gravely affect someone vulnerable, like the elderly, children and those who have an impaired immune system, such as cancer patients undergoing chemotherapy and people with HIV or pulmonary disease.
Are influenza vaccines safe?
Vaccines are the most extensively tested entity in medicine. The risk profile for adverse effects is vanishingly small. Extremely rare side effects – like allergic reaction – can happen, but the risk is still lower than with many other common medications. Even after a flu vaccine's approval, there are ongoing surveillance platforms that look for possible adverse effects.
Unless someone with an egg allergy has had an allergic reaction to the flu vaccine in the past, they should receive the vaccine; if their allergy is serious, they should be monitored while taking the shot. Also, there are two vaccines not made in eggs: rIIV, a recombinant protein, and ccIIV, which is made in cell culture.
Is the nasal mist vaccine as effective as an injection?
Yes. People ages 2 to 49, who have normal immune systems can take the mist. It is not for pregnant women, children receiving aspirin or asthmatics under age 4.
What strains will the vaccine cover this year?
As in previous years, the flu vaccine will cover both influenza A and B types. The current vaccine has been updated to better reflect the stains projected to be in circulation this year. The most updated 2019 statistics estimate an overall vaccine effectiveness of 45 percent. The effectiveness rate of the vaccine against B strains was 50 percent, while Influenza A infections – predominately H1N1 – was 37 percent. The vaccine effectiveness in children was estimated to be approximately 10 times higher than in adults.
Can you get the flu from the flu vaccine?
The vaccine takes two weeks to be effective, so people still could contract the flu during this period. The vaccine exposes your body to a weakened form of the virus, which allows you to mount an immune response. ​So, essentially you are getting a "mini-flu" illness, which is why some people may feel ill after getting the vaccine.