Angelo Soto Centeno Researches Caribbean Bats and Their Fossilized Ancestors
"My life is about bats, pretty much my favorite creature. There is something so intriguing about these mammals, one that many people living in America have never seen up close."

 

– Angelo Soto Centeno

As a kid growing up in Puerto Rico, Angelo Soto Centeno was always outdoors, catching lizards and snakes, exploring caves and trying to determine just how the world worked.
Still, it was not until his first semester of college at the Interamerican University in Puerto Rico, after meeting his faculty advisor, that Soto Centeno knew exactly what he would be doing for the rest of his life.
"My life is about bats, pretty much my favorite creature," says Soto Centeno, an assistant professor in the Department of Biological Sciences at Rutgers University-Newark. "There is something so intriguing about these mammals, one that many people living in America have never seen up close."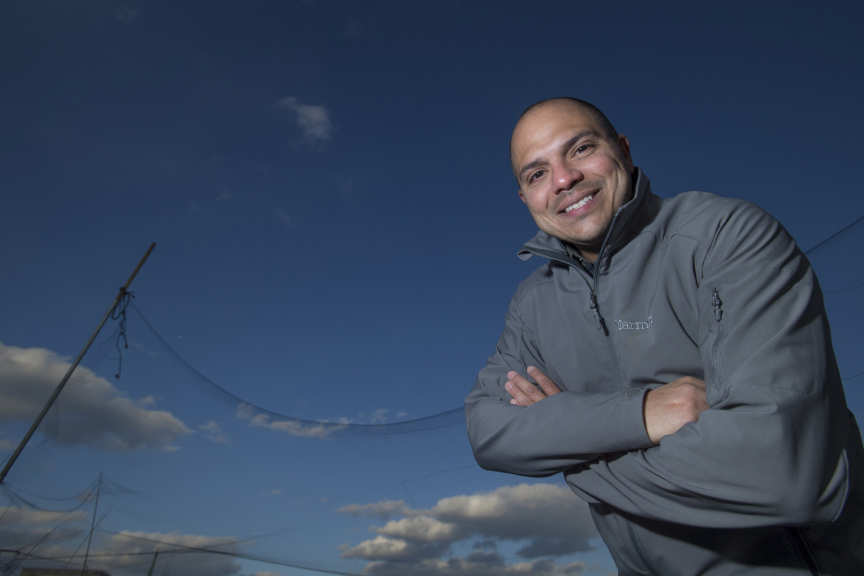 Soto Centeno's research focuses on mammal extinction in the Caribbean – looking at climate, fossils and genetics – to determine why out of more than 130 Caribbean mammal species that previously existed, only about 15 species of mammals that live predominately or entirely on land, and 66 bat species, remain today. 
"What we are trying to determine is what makes these bats either vulnerable or very good survivors," he says.
Soto Centeno's scientific sleuthing takes him to exotic destinations – the Bahamas, Cuba, the Dominican Republic, Puerto Rico, Jamaica, Belize and most recently to Brazil, where the highlight of his trip was the hairy-legged vampire bat that he describes as "super adorable and very mild-mannered."
On these scientific journeys, this biologist's mission is to study the bats alive today and the fossilized remains of ancestors left behind.
His quest is to learn how evolutionary biology, the geographical distribution of plants and animals and climate change has affected habitats and ecosystems. Doing research on these Caribbean islands – where more mammals have gone extinct over the last 20,000 years than anywhere on Earth – will provide clues to what we might expect in the future, he says.

"What I am doing is comparing the past and the present to hopefully come up with some answers," he says. "Although bats are resilient, on many islands the number of species has decreased by up to 50 percent over the last one to four thousand years."
While Soto Centeno acknowledges that many people might not give the extinction of bats much thought, these creatures form an important part of our ecosystem. This means that if they became extinct, something else we depend on would be next in jeopardy.
"Bats have a very diverse diet," says Soto Centeno who began work at Rutgers-Newark this semester and will teach Vertebrate Evolution in the fall. "U.S. bats eat insects, provide natural pest control and prevent agricultural threats that could occur if they were not here."
They also pollinate flowers like mangoes and bananas and are the sole pollinators of the agave plant used in the production of tequila.
"Bats get a bad rap, mostly because they are secretive creatures," says Soto Centeno who spends hours from morning to after midnight on his bat hunts. Humans are afraid of things unknown and because bats live in places that are feared, like caves, they are often seen as unworthy, bad animals that carry disease."
Soto Centeno understands this fear of the unknown. He works in places where most people do not dare go, like caves and dense forests. He and his team of researchers are far away from the comforts of home and must deal with hordes of biting bugs like mosquitoes, extreme weather conditions and poisonous and venomous plants and animals.
It took his family a while to get used to his life's work. He remembers telling them when he decided that he would continue his education and earn a doctorate degree in biology. They were so proud because no one in his family had ever achieved that level of education. However, he says, they could not understand why a doctor would be studying bats and not health issues and people.
"They refer to me as Indiana Jones," he says.  "To them I might not be taking care of people but I have amazing adventures and inspire other people. That's enough for me."
---
For inquiries, contact Robin Lally at 848-932-0557 or robin.lally@rutgers.edu.