And the Envelope Please: Rutgers Medical Students Match to Residencies
First-generation college students and couples from Rutgers medical schools are among the new residents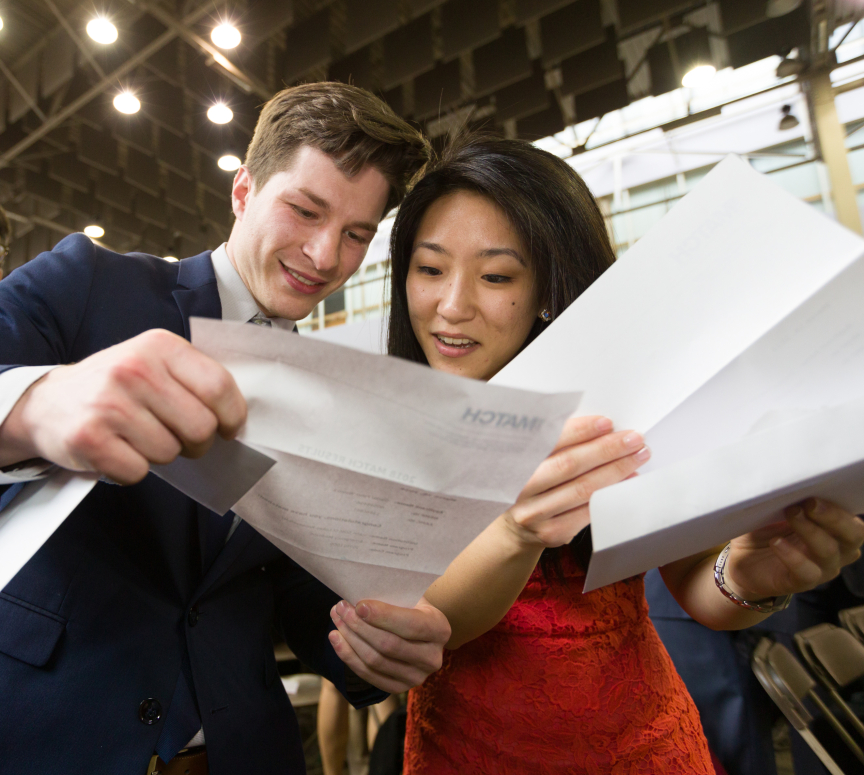 A different kind of "March Madness" descended on Rutgers University's two medical schools – New Jersey Medical School in Newark and Robert Wood Johnson Medical School in New Brunswick – on March 16 as graduating students learned where they will begin their careers as physicians.
It came in the form of Match Day, an annual ritual in which medical students nationwide simultaneously rip open envelopes telling them where they are headed for their residency training for the next three or four years.
At New Jersey Medical School, 98 percent of the 160 participating graduates matched to the program of their choice; at Robert Wood Johnson Medical School, the match rate was 97 percent for 127 participating graduates. Both schools bested the 94 percent national average for admission to residency.
The road to Match Day began last fall when medical students chose which residency programs they wanted to pursue. Based on their interviews, they then developed a priority list of their choices in January. Simultaneously, the residency programs compiled their lists of the students they wanted. The lists were fed into an algorithm managed by the National Resident Matching Program with the results, or matches, sent to medical schools in time for Match Day.
While the day is special for all medical students, there's an added level of accomplishment for those who are among the first in their families to attend college, such as New Jersey Medical School students Natasha Featherstone of Newark and Khoa Tran, a Vietnamese immigrant who grew up in Atlantic City.
Match Day was bittersweet for Featherstone, who missed her mother, a nursing home resident who could not attend the ceremony and was thinking of her cousin, who died in an automobile accident at age 8. "My cousin motivates me," said Featherstone, who will become an obstetrics and gynecology resident at Morristown Medical Center. "She never had a chance to chase her dreams. How dare I not chase mine?"
Tran, an alumnus of Rutgers School of Arts and Sciences, grew up in a family scarred by the Vietnam War. His father served in the South Vietnamese military and was imprisoned for seven years following the fall of Saigon. The family left Vietnam when Tran was 5, settling in California before moving to New Jersey.
Throughout his childhood, Tran accompanied his ailing father to medical appointments, where he would often serve as translator. "Seeing the empathy the doctors displayed for my parents hit a soft spot in me," he said. "That's the image of what I wanted to be." Tran matched at University of Southern California for anesthesiology.

At Robert Wood Johnson Medical School, Melissa Chan of Manalapan and Daniel Weinick of Whitehouse Station participated in the "Couples Match," an option for romantically involved students to seek residencies close together.
Both earned placements in New York City: Chan in pediatrics at Montefiore Medical Center–Einstein Campus in the Bronx and Weinick in emergency medicine at Icahn School of Medicine, Mount Sinai Beth Israel in Manhattan. "I'm very excited to see where we all will end up for this next phase of our lives and am so happy to share this moment with my family, friends and classmates," Chan said.
"Medical school can be grueling at times, with balancing clinical rotations, caring for patients, studying for board exams and, somehow, trying to maintain time for family and friends," Weinick said. "All of our hard work has paid off, and it is exciting to see where this journey will take us next."