Alvaro Toledo Is on a Mission to Determine How Lyme Disease Grows

"This is something that could take decades. We know the big picture of Lyme disease. What we need to discover are the exact mechanisms that make it happen."

 

– Alvaro Toledo
As a child living in Spain, Alvaro Toledo spent hours watching the French cartoon, Once Upon a Time ... Life, in which the human body was portrayed as a big city, red blood cells were the good guys and viruses and bacteria were the enemy.
Every episode explained the function of the body's organs and the immune, circulatory, nervous and digestive systems. Next came information about DNA replication and antibody production.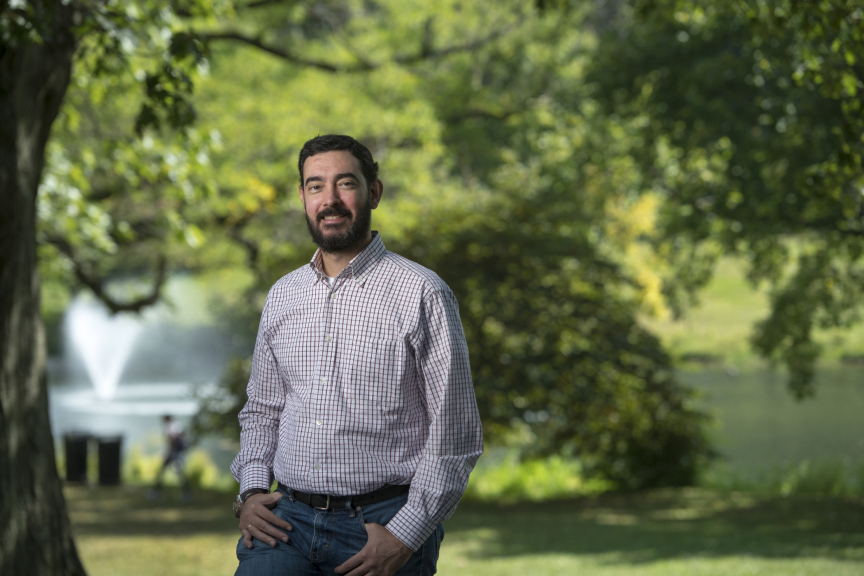 "That's how I got interested in science," said Toledo, an entomologist studying Lyme disease who joined Rutgers-New Brunswick's School of Environmental and Biological Sciences faculty this semester. "The cartoon show imprinted in me the interest for science that somehow I have carried over as an adult."
Originally from Madrid, Toledo moved to the United States in 2008, after receiving his PhD in microbiology in 2007. Married and expecting his first child in February, Toledo spent almost a decade at Stony Brook University in Long Island, working in the laboratory of one of the pioneer researchers of Lyme disease and other tick-borne illnesses.
An assistant professor of entomology at Rutgers, Toledo is on a mission to discover the connection between the bacterium – Borrelia burgdorferi – that causes Lyme disease and the cholesterol it needs in order to grow.
Since the bacterium needs the cholesterol but cannot make it, it steals it from the host. Toledo thinks that targeting either how the bacterium steals the cholesterol or how it uses it to grow would be the best way to stop the spread of the disease.
"The tick is unlikely to go away," said Toledo. "There are antibiotics that work, but there isn't a vaccine that prevents the disease, so by targeting cholesterol we can develop novel approaches to kill the bacterium".
No one has created a way to control ticks so the number of people getting sick each year from Lyme disease, the most common tick-borne infection in the United States, is increasing. The US Centers for Disease Control and Prevention estimates that 300,000 people become ill with Lyme disease annually.
The infection can cause fever, fatigue, muscle aches and flu-like symptoms and is most commonly associated with a bulls-eye rash. Antibiotics successfully treat most cases of Lyme disease, but in a number of instances, these symptoms can last for more than six months. Although sometimes called chronic Lyme disease, the exact cause of this condition, referred to as post-treatment Lyme disease syndrome, is unknown.
Toledo hopes his research will help determine whether cholesterol plays a role in the dissemination and the severity of the illness.
"This is something that could take decades," said Toledo. "We know the big picture of Lyme disease. What we need to discover are the exact mechanisms that make it happen."
---
Read more Faculty Voices.
For media inquiries, contact Robin Lally at 848-932-0557 or robin.lally@rutgers.edu