Davis, a 1976 Rutgers graduate, shares his journey in a new memoir
When Bill Davis Jr. decided to write a memoir about his life raising his four children alone, he set out to challenge the misconceptions that surround Black men and fatherhood.
"My purpose was to present a positive image of fatherhood," says Davis, who shares his experience in Baba and the Crew: A True Story of A Single Black Father's Journey to Redemption. "I hope to demystify the cloud over single Black fatherhood as if it is this weird anomaly. And I hope to work with some young men and mentors and to talk to them about the fact that your children are your legacy."
Davis, a 1976 Rutgers graduate, remembers people telling him that he was crazy to think he could be a single parent nearly 30 years ago. But he didn't have a choice. His wife was suffering with serious mental illness so the full-time job of raising Sekou, 9, Toussaint, 7, Imani, 5, and Naeemah, 3, fell to him.
"There were so many people skeptical about my ability to do this," says Davis, known among his children, or Crew, as Baba, which means "father" in several African languages. "But I invested any resource I had to make sure that my children had whatever they needed to be successful. I am grateful that it turned out the way it has."
As he moved his young family around northern New Jersey, Davis says, he didn't think twice about the job he needed to do, relying on rules and regimentation, open lines of communication, and love and religious faith to get his two sons and two daughters over the rough patches of adolescence.
While holding down full-time jobs as an administrator and adviser at three universities, including Rutgers, Davis had breakfast on the table in the morning and dinner ready at night. In between, he attended his children's full plates of school and afternoon extracurricular events, be it sports, cheerleading, marching band or dance.
His children were doing their best to emulate the model of Rutgers alumnus Paul Robeson, a hero of Davis's who espoused the importance of academics, athletics, activism for justice and the arts in living a fulfilled life.
Davis was the kind of dad who would help his two daughters pick out prom dresses, even going with them to New York City to find just the right one. But, they better not be a minute late getting home from the prom to meet his curfew. And if a child had a problem with his rules, that's why Sunday night dinners were mandatory: a time to get the issues on the table.
"I'm not sure when or where I learned that being consistent was a much-needed skill as a parent," Davis writes, "but fortunately, it's a lesson I've lived by for many years. When people ask me what works, I reply, '"being consistent with our expectations and reinforcement are high on my list.'"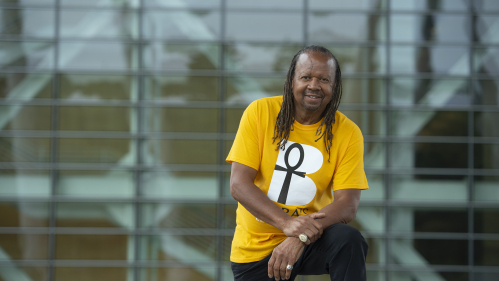 Davis also relied on a village of strong women, who stepped in when he wasn't getting through to his daughters, and befriended a handful of loving families who helped him raise his children to become what they are today: Rutgers graduates who are thriving as young, happy adults. 
"As a father, I don't view myself as particularly special or different, however, as a Black man who happens to be a father I am more likely to be viewed and discussed as absent," said Davis. "Black fathers have been described by false narratives far too long."
Born in Newark and raised in Plainfield where he was a track star during the racial unrest of the late 1960s, Davis and his four siblings had their own colorful parents. His father was a restaurateur with a romantic outlook on life and his mother was a no-nonsense matriarch who instilled a sense of racial pride. Their combined examples of discipline, frugality, mutual respect and family honor were the guiding principles for Davis as a father. 
Davis came to see other men as mentors while attending Rutgers. Inspired by the Black Power movement of the 1970s, he was known as Brother Black for his advocacy of Black causes and his involvement with numerous Rutgers clubs and organizations promoting them. He majored in the then-nascent discipline of Africana studies and, upon graduation, worked in the admissions offices at Rutgers' Camden, New Brunswick and Newark locations while earning a master's degree from the Graduate School of Education in 1979. Over the next 20 years, he held academic advisory positions at Rutgers as well as at New York University and Middlesex Community College. Today, Davis, a 2015 inductee into the Rutgers African-American Alliance Hall of Fame, is a part-time lecturer in the Department of Africana Studies in the School of Arts and Sciences at Rutgers University-New Brunswick.
 
Entrusting his children with a sense of their African heritage was paramount to Davis, part of the education in honoring the family. At an early age, when Sekou, Toussaint, Imani and Naeemah first met somebody, he would have each child line up and recite his or her African name, its meaning and why he or she was proud of it. Thanks to Baba, taking pride in their ancestry and also learning from Baba their likely encounters with racism inoculated the Crew, each of them turning any negative experience into an opportunity for motivation.
Davis's commitment to his children is an example of selfless fortitude for any single parent. His single biggest act of bravery, however, may have been his decision to conclude Baba and The Crew with extensive comments from his four children, now grown up: "Baba, I love you. You are the truest leader by example and will always be our rock,'' his son, Sekou Davis, wrote.
His children agreed Baba was a disciplinarian but the structure he provided and the love he showered on them were never in doubt.
"This book is truly my redemption song," Davis writes. "My redemption is being a single Black father overcoming obstacles and barriers while witnessing my children bear fruit due to my sacrifices."