Six years ago, after Rutgers alumna Devinn Lambert earned a prestigious Gates Cambridge Scholarship, completed her master's degree in biological sciences from the University of Cambridge in England and was accepted into a doctoral program home to eight Nobel Prize winners, she decided to change direction. 
She left the laboratory behind to look for solutions to the country's renewable energy future in a different way.  
"It was a big risk,'' said Lambert, who was recently recognized as one of the country's top young innovators.  
She made the difficult choice to give up her position at the Cold Spring Harbor Laboratory in New York, a research and education institute where some of the most accomplished scientists go. Now at 29, Lambert is a technology manager at the U.S. Department of Energy (DOE) where she oversees about $35 million worth of research grants. 
"I took a bit of a gamble, not knowing for sure how it would play out. I received some criticism for leaving a Ph.D. program and taking this path but I have enjoyed what I've done,'' she said. 
At the DOE, Lambert works to identify universities and industries that can collaborate on projects that will lead to the creation of more green energy biofuels to reduce greenhouse gas emissions that lead to global warming. 
"People like me at the DOE know that cars are electrifying and that even with that we will need to do more to address the climate crisis," she said. "We listen to stakeholders and scientific experts, invest taxpayer dollars in the most promising and impactful innovations and inform the leadership of our federal government on how fast we can go to grow the bioeconomy and reduce greenhouse gas emissions." 
Recently named in Forbes "30 Under 30" list highlighting the nation's trailblazers, Lambert is 10-15 years younger than the other 20 technology managers at the Bioenergy Technologies Office at the DOE. 
"I always thought that if I had this type of a job, it would be at the end of my career not in the beginning," she said. "But I think one of my strongest skill sets is identifying opportunities for collaboration, bringing people together who have different angles, and seeing connections that will make them stronger partners."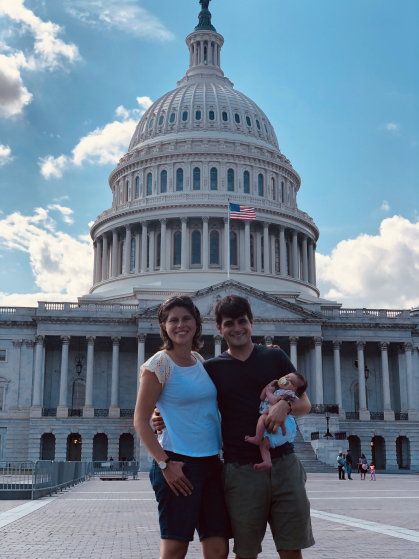 Instead of developing the innovations to replace fossil fuels herself, Lambert's work now is to bring together different entities and ensure that the projects supported by the federal government will make a difference in the marketplace – like developing a foam that is used to cushion the inside of shoes and used on skis and skateboards – in order to make plastics more green. A major goal of her team is to increase the use of biofuels in commercial and military aircraft in order to reduce carbon pollution. 
The 2014 Rutgers graduate has always wanted to be a scientist.  As a sixth grader and a fan of the 1993 film Free Willy, about an orphan boy and a young Orca whale separated from its family, Lambert wanted to be a marine biologist.  By eighth grade she became part of the first class of a Biotechnology High School in Freehold, followed by her four years at Rutgers where she graduated with highest honors, before going on to gain further biotechnology research experience and numerous academic awards and accolades. 
At Rutgers she participated in the Aresty Research Center for undergraduates. The following summer, she initiated a 10-week research program for Rutgers students with Singapore's Agency for Science Technology after learning of the country's extensive investment in scientific development.  
"It's absolutely no surprise that Devinn has distinguished herself in her work at the Department of Energy," said Arthur D. Casciato, director of Rutgers' Office of Distinguished Fellowships. "After all, having been recognized with a Goldwater Scholarship, a Gates Cambridge Scholarship and a National Science Foundation Graduate Research Fellowship, Devinn deserves to be counted among the brightest and most accomplished students who have graduated from Rutgers."
Married to her high school sweetheart, Elias Boujaoude, the mother of two daughters, 18-month-old Raedyn, and Emrie, born on February 9, Lambert is proud of the work she did as an undergraduate – collaborating with New Jersey government to increase partnerships between scientific industries and academia while also tutoring minority students in organic chemistry. 
Working for the Obama White House in a summer 2016 program, the first year Lambert started with the DOE, she continued the path she began at Rutgers – leading a program she created to place high school students in paid summer positions to learn about renewable energy and other job opportunities a science, technology, math and science (STEM) education could open for them in the future.  
"A lot of people think the government is slow and bureaucratic and that can be true," she said. "But, in my experience, the people who work for the government are highly motivated, innovative, and committed to doing things that will make a real difference."