Alumna Receives Charles B. Rangel Fellowship to Prepare for Career as Diplomat
Anna Baker, a 2019 Rutgers graduate, is the university's fourth Charles B. Rangel Fellow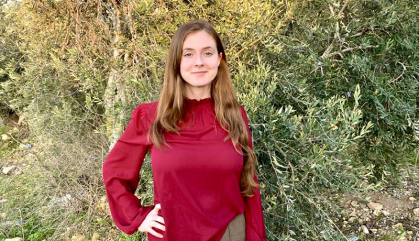 Anna Baker's love of travel and languages shaped her interest in becoming a Foreign Service officer, a dream job now in sight after she was awarded a fellowship with the Charles B. Rangel International Affairs Program.
Baker, a 2019 grad, is Rutgers' fourth Charles B. Rangel Fellow, named for the former U.S. Congressman and considered one of the most demanding of all nationally competitive fellowships.
She started on this path as an undergraduate at Rutgers as she found opportunities to travel and learn about international conflict. 
During her sophomore year, she traveled to the Dominican Republic as a research assistant for Susan Caplan, a professor in Rutgers School of Nursing. Caplan led a team that included Baker and two other students to work for two weeks in a clinic, helping screen patients for depression. The team immersed themselves in the community, dining with local medical professionals. Baker recalled seeing resorts down the beach from where the Rutgers team was working, so close yet so far away.
"I'm thankful that I was able to do it in a working way, instead of just going on vacation, because I think that made the experience meaningful because it was more personal," said Baker. "It was just more real, instead of the glitz and glamour of resorts.''
Throughout her time at Rutgers, Baker continued to find new opportunities for travel that also opened doors to prestigious awards.
During training to be a resident assistant, Baker heard about a Hillel program for non-Jewish student leaders to travel to Israel and Palestine to learn about the conflict between the two states. The January 2018 trip sparked her interest in learning Arabic, enrolling in classes at Rutgers.
In summer 2019, Baker studied Arabic in Morocco for two months, through the U.S. State Department's Critical Language Scholarship Program, which she learned about through word of mouth.
Baker then received a Fulbright grant to be an English teaching assistant in Santiago de Compostela, Spain.
"I consider myself a planner once I have access to opportunities," said Baker, who was in the Honors College at Rutgers-New Brunswick. "But in terms of the big life events, I kind of just roll with the punches."
Her string of scholarships and experiences impressed Arthur D. Casciato, director of Rutgers' Office of Distinguished Fellowships. "Critical Language Scholar, First Year Interest Group instructor at Rutgers; Aresty undergraduate research peer mentor, Fulbright student, you name it and Anna Baker has probably done it," said Casciato. "It should surprise no one that the Rangel Fellowship couldn't pass by this absolute gem of a Rutgers student."
The Rangel Fellowship was a perfect fit for Baker because it offers a pipeline to jobs in the Foreign Service, a career that would tie her love of travel with her desire to make a difference abroad.
"The Foreign Service is something that would allow me to continue traveling but also make it a career. I'd like to be an economics Foreign Service officer because I'm really interested in globalization and how economies develop," says Baker. "I'd like to make a difference, overseas, helping developing countries develop their economies."
The graduate fellowship program, based at Howard University and funded by the U.S. Department of State, includes a 10-week summer internship with a member of the U.S. Congress who is involved in international affairs and funding to help cover the cost of graduate school for relevant studies. Baker is applying to MBA and international relations programs. During graduate school Rangel Fellows intern at a U.S. embassy or consulate overseas.
Fellows receive an appointment to the Foreign Service and are required to serve for five years as a diplomat after completing the program.
Before applying, Baker felt intimidated when she looked up the 2021 Rangel Fellows, discovering many had government experience or had studied international relations. Baker majored in animal sciences at Rutgers, drawn to the hands-on experience at the Rutgers Farm. But she also had opportunities to travel overseas while at Rutgers, developing skills that Baker believes helped her get the fellowship.
"I have leadership skills, mentorship skills, teaching skills, the soft skills that you get from working with people, combined with the international experience, and the desire for the job," said Baker, who grew up in Somerville.
Baker said she is currently teaching 10th-grade biology at the Pioneer Baccalaureate School in Nablus, Palestine, a two-year assignment she started after her Fulbright grant ended. Baker, who has studied Arabic, French, Spanish and Italian, realized teaching gave her an opportunity to travel when she didn't have the cash to do it on her own.
She could have asked her parents for tips: her father Bill teaches fourth grade in Basking Ridge; her mother Mary taught middle school in Manville. (Her younger brother Charlie graduated in 2021 with a degree in exercise science from Rutgers while her sister Emma is a student at Raritan Valley Community College.)
After completing the Foreign Service, Baker dreams of making a difference in another way: managing an international organization dedicated to animal welfare.
In Nablus, Baker rescued two kittens from a feral colony where she teaches and is pressing school officials to neuter the strays. Outside her home, Baker feeds a pack of dogs and adopted one of them.
"I walk my dog every day, and when I go on a walk, all the dogs come with me. To most people, it's really entertaining, like, 'Yeah, there goes the neighborhood dog lady,'" said Baker.