Rutgers is welcoming scholars and students through growing efforts since the Taliban takeover  
Fatima Farid will never forget the day in August when she saw the last American plane leave Afghanistan after the United States pulled its troops from the country and lost hope that her family would be able to flee the Taliban. 
"We were at the airport. It was 6 a.m. and we weren't on that plane," said Fatima Farid, who believed her human rights activist mother would be killed and she and her sisters would be forced into hiding, struggling to survive. "We thought we'd never be able to go and we would never be safe." 
But six months later, after a fraught journey that claimed their father's life, Farid, 25, her mother, Shahla, 62, and two sisters, Zainab, 22, and Mahboba, 17, are living in Middlesex County and starting new lives. They are among a small group of students and scholars who have come to Rutgers after the Taliban takeover.  
The group also includes Mustafa Saqib, a scholar from Afghanistan who has begun a one-year visiting appointment in the Department of Public Policy and Administration at Rutgers-Camden. 
Saqib and Shahla Farid received financial support from the Institute of International Education [IIE) Scholar Rescue Fund, which provides fellowships and support for scholars whose lives and work are threatened in their home countries, and Rutgers Global, which oversees global education and engagement, including providing services to international students and scholars.   
The matriarch of the Farid family, Shahla, a lawyer and human rights advocate, now works at the Center for Women's Global Leadership at Rutgers collaborating with feminist scholars, lawyers and activists from diverse regions in the world to enhance work on peace beyond the absence of war, while Fatima has started a master's degree program in the School of Social Work at Rutgers-New Brunswick. Zainab is now enrolled as an undergraduate in the School of Arts and Sciences at Rutgers-New Brunswick, and Mahboba attends high school in Highland Park.  
"There are a lot of people helping us, supporting us and making sure we have what we need," said Fatima Farid. "It makes us happy, but we feel guilty. My mom cries when she sees news from Afghanistan. So many years she worked for women, and it was destroyed in one day."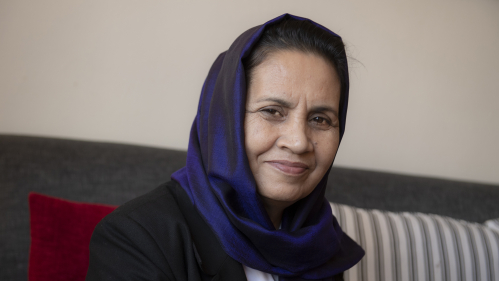 Rutgers is one of many universities across the country working alongside international human rights organizations, foundations and members of Congress like U.S. Rep. Tom Malinowski to evacuate and help support women's rights advocates, human rights leaders, journalists and students and faculty.  
Malinowski says the plan is to continue to work with the IIE and other organizations like the Yalda Hakim Foundation – established by international journalist Yalda Hakim, born in Afghanistan, to support the education, development and advancement of talented young women from her native country – and place several hundred Afghan students at various U.S. colleges and universities. He said funding would come from a range of U.S. donors, a Qatari foundation, as well as individual colleges and universities. 
"I think we should want them here because these are bright, talented, hard-working kids," said Malinowski. "We might as well benefit from their energy and idealism. They will either go back to a better Afghanistan, or they will become better Americans in our country. Either way it's a win." 
Eric Garfunkel, vice president for global affairs at Rutgers and head of Rutgers Global, is partnering with the Rutgers University Foundation to secure the philanthropic support necessary to enable 10 Afghan refugee students to study at Rutgers and earn their degrees. 
"This is an evolving story," said Garfunkel. "We have been supporting scholars and students who had been at serious risk, including receiving death threats, to leave Afghanistan and move forward in their academic careers and lives."  
A Long Journey to Safety 
The Farids traveled unimaginable lengths to reach New Jersey. The four women were able to evacuate the country after the Taliban took control, hiding out for months with relatives and friends in safe houses and spending some of their life savings to stay in a hotel because they didn't want to put other lives in danger. 
"We were happy that we were safe when we got out," said Farid. "We had hope of a new life. We had letters to study in a new university, and my mother had a job."  
But their 69-year-old father, Mohammad, died a couple of days after finally leaving Afghanistan with his family and staying in a temporary shelter in Albania with 4,000 other refugees.  
The night after arriving in Albania, their father had trouble breathing. He went to the hospital, and the family was first told he had tested positive for COVID-19. Over the next three days, however, his diagnosis changed. Doctors said he had heart problems, high blood pressure and was being sent to the hospital's emergency unit. 
When Farid tried to see her father at the hospital, she couldn't find him because his name had been recorded incorrectly. She eventually found a nurse who knew what happened and shared the words she will never forget: "This man passed away last night." 
"I had to go back to the camp and see my mom and sisters," Farid said. "It was the first and last time that I cried." 
The father left behind seven daughters – all but one left Afghanistan – who knew they made the right decision because he wanted a better future for his family. 
"He was always telling us 'go study and make my name," Farid said.  "If I don't have sons my daughters will keep my name alive," she remembered him saying.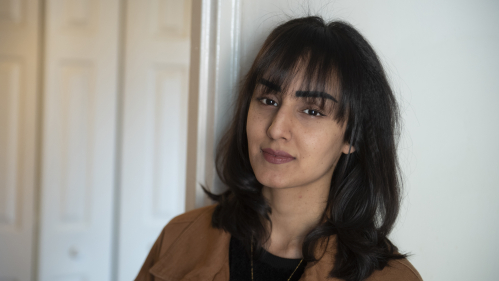 The Rescue Operation 
Krishanti Dharmaraj, executive director of the Center for Women's Global Leadership at Rutgers, had followed Shahla Farid's career as a well-known human rights advocate who served on the High Peace Council in Afghanistan, taught law school in Kabul and had written papers and advocated for women, and learned she was in danger.  
With the help of Vital Voices, a non-profit that invests in women leaders throughout the world and paid to transport the Farid family from Afghanistan to Albania and finally to the U.S., Dharmaraj assisted in navigating the family's 7,000-mile trip from Afghanistan to Rutgers, starting in August when they fled their home in Kabul to the week before Christmas when they arrived in New Brunswick before making their new home in Highland Park. 
"I was informed by another human rights defender from Amnesty International that Shahla's life was at risk as were the lives of her three daughters who were still living at home," said Dharmaraj. "The Taliban connected with Shahla and warned her that she needed to work with them. That's when the family knew they had to get out of Kabul." 
For five months Dharmaraj, working in conjunction with Rutgers Global and more than a dozen human rights activists, corresponded through text messages with Farid trying to figure the safest way out of the country for the family. Originally from Sri Lanka, Dharmaraj knew the dangerous situation they were in.  
Ousseina D. Alidou, faculty director at the Center for Women's Global Leadership, said she is hoping that the story the Farid women are sharing, as well as the other Afghani women coming to Rutgers, will help people understand what is happening to women across the world. 
 "The world is safer if women and girls live safe, dignified and free lives," said Alidou. "We need to look at this as a teaching opportunity for the United States and for all of us as global citizens. What happens in Afghanistan are repeat experiences for women in other parts of the world, which as citizens we need to know in order to understand the global impact."