Advocate for Undocumented Immigrants Named Schwarzman Scholar
Esder Chong from Rutgers-Newark is among 145 scholars selected out of 4,700 applicants worldwide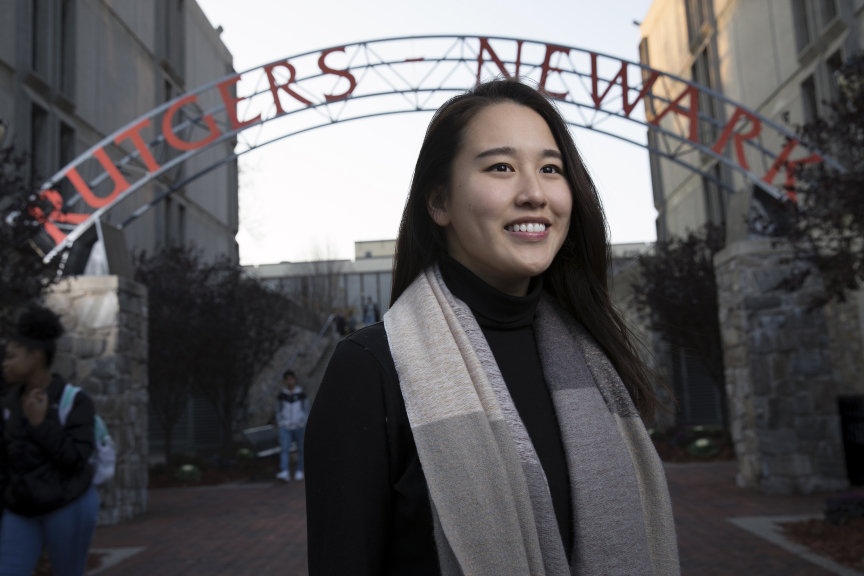 "When I heard that I was chosen, I felt conflicted. It was a moment of celebration but also a harsh reminder of my situation.''

 

 – Esder Chong
Esder Chong, an outspoken activist at Rutgers University-Newark who has fought for the rights of undocumented students like herself, is celebrating the highly selective honor of being named a Schwarzman Scholar.
But she also faces the reality if she takes the opportunity, she has no guarantee of coming back to the United States.
If Chong leaves the United States to accept the scholarship – which offers a chance to only 3 percent of applicants to pursue a master's degree in global affairs at Tsinghua University in Beijing – she may be barred from returning.
"When I heard that I was chosen, I felt conflicted. It was a moment of celebration but also a harsh reminder of my situation," said Chong, a New Brunswick resident who grew up in Highland Park and is among 145 scholars selected out of 4,700 that applied. "But I'm also very thankful to be recognized with this scholarship and grateful to my parents, friends, Rutgers faculty and staff, and the immigrant rights community for supporting my academic and professional ambitions."
Chong came to the United States from South Korea with her parents in 2005 at the age of 6. Now Chong's future rests in the hands of the U.S. Supreme Court, which is deciding the fate of the Deferred Action for Childhood Arrivals (DACA) program that offers protection for so called Dreamers, undocumented immigrants brought to the United States as children.
Chong's activism fighting to give a voice for people not often heard, and academic accomplishments that include being named as a finalist for a Rhodes scholarship, have earned her some high-level champions at the university. They include Rutgers-Newark Chancellor Nancy Cantor, who recommended Chong for the Schwarzman Scholarship.
"Esder is a change agent who represents the best hope of her generation to take on the fractured social and civil landscape she and her peers are inheriting," Cantor said.
Chong says she never gave much thought to her undocumented status until her senior year in high school when she learned that she was ineligible for state and federal financial aid to access higher education. She began to seek private scholarships and received a national scholarship to attend Rutgers-Newark from TheDream.US, an organization that provides money for college tuition to highly motivated Dreamers.
Since then Chong has become a force for political and social change. As a freshman, she founded RU Dreamers, a student organization that advocates for undocumented students' access to higher education. Through the organization, she created inclusive spaces for undocumented students and worked with the Rutgers administration to establish the Undocumented Student Services office.
Shortly after the Trump administration rescinded DACA, she was invited by U.S. Representative Frank Pallone (D-N.J.) as his one allotted guest to President Trump's first State of the Union address.
In coalition with Rutgers students and statewide organizations, she advocated for a bill that Governor Murphy signed in 2018 that ensured financial aid equity for Dreamers in New Jersey. She joined Governor Murphy in the bill signing press conference at Rutgers-Newark.
Chong is also working to help pass legislation in New Jersey that would allow undocumented individuals to apply for driver's licenses.  According to a New Jersey study there are 466,000 undocumented residents of driving age in New Jersey.
"In my 20 years as a fellowships adviser, I've never met an undergraduate who had as profound an effect on as many people's lives as Esder Chong," said Arthur D. Casciato, director of Rutgers' Office of Distinguished Fellowships.
"The Schwarzman Scholarship should be applauded for ignoring the precariousness of her situation when deciding to recognize her with this great honor,'' Casciato said, "but even if politics conspires to keep Esder from joining her cohort in Beijing, there's absolutely no doubt that she'll continue to battle for those most vulnerable in American society."
The questions that hang over Chong's status are the same for an estimated 17,000 Dreamers living in New Jersey and 660,000 nationwide who were given the opportunity to work without the threat of deportation under DACA put into place by former President Barack Obama in 2012.
The future of the program is unclear after the Trump administration announced in 2017 that it would be stopped, an action that was halted by the federal district courts and is now being reviewed by the nation's highest court.
A decision is likely by the end of June. The yearlong Schwarzman program at Tsinghua University starts in August.
"I am very frustrated with politics, but I have hope in the power of community activism," said Chong, a student in the Honors College in the School of Arts and Sciences at Rutgers-Newark who will graduate with an undergraduate degree in philosophy.
Last month, she joined hundreds of other DACA supporters rallying outside the Supreme Court – a decision she made that might not be influential to the court but one that brought her community together.

"What I realized standing there in the morning in the freezing cold with immigrants and allies was that we were doing this not just for policy change but for a sense of solidarity with the community," she said.

She also travels across the country to speak at conferences and forums around topics on nontraditional students' access to higher education, student-led advocacy, and institutional and state activism. Most recently, she spoke at the University Alliance for Refugees and At-Risk Migrants (UARRM) annual conference and the North America Migration Policy Forum.
"Even in her first year in the Honors College at Rutgers-Newark, Esder began organizing on behalf of undocumented students and bore witness to their experiences," said Honors College director Brian Murphy. "It's no surprise that she's become a nationally important voice on this issue."
Chong is the fourth Rutgers student and the second from Rutgers-Newark selected for the prestigious scholarship started by Blackstone Group Chair and CEO Stephen A. Schwarzman in 2016 to prepare the next generation of business, political and civil society leaders to create change in the geopolitical landscape.
She is not sure what she will do if she is unable to take part in the global leadership master's degree program. However, she plans to continue her state and national policy activism to expand opportunities and resources for the undocumented community.
"I'm tired of being told to wait," Chong said. "What are we waiting for? The worst-case scenario where thousands of DACA recipients, Americans, lose their status? I hope states like New Jersey do the right thing by prioritizing legislation like the driver's license bill to practically support undocumented Americans."