Rutgers Summer Service Internship Initiative taught Danna Green about the power residents have to make a difference 
Before Danna Green started a summer internship at the Camden Redevelopment Agency (CRA), she hadn't realized the power citizens can have in influencing change in their community. 
The Rutgers-Camden senior learned about city government by attending council, planning board and neighborhood stakeholder meetings, and listening for residents' comments related to CRA's work of revitalizing neighborhoods. Hearing people speak out inspired her to pursue her own community advocacy.
"I had no idea I could attempt to do something I believe in and make an impact in this city," said Green, among the first 100 Rutgers students accepted into Rutgers Summer Service Internship Initiative (RSSI). RSSI gives undergraduates experience at nonprofits and government agencies that provide direct services. The program includes a $5,000 stipend to attract participants like Green who could not afford to take an unpaid internship. It also includes a three-credit civic engagement course.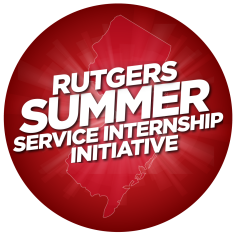 Green said she feels empowered to help Camden parents who, like herself, have children with learning disabilities. The married mother of twins with attention deficit challenges enrolled at Rutgers-Camden to major in childhood studies and psychology because "I wanted to understand what my children were going through," she said.
"Now, I realize I can make a difference in the Camden school system. So many kids who need supports in the classroom aren't getting it," Green said. "I want to educate parents on ADHD and life skills that can help, so that they aren't afraid to be their child's best advocate."
Green was an adult when diagnosed with a learning disability, so she was aware of the challenges her sons would face. She'd struggled through school, logging long hours to compensate for the difficulty she had processing information. To help her 9-year-old boys, she spends much of summer breaks preparing them for the upcoming school year.
"I'm teaching my kids to push forward, even when they feel frustrated or challenged," she said. Green talks to her children about opportunities that await them. "I want them to have bigger dreams about what they can accomplish in life and not feel limited."
Green transferred to Rutgers-Camden after completing an associate's degree at Camden County College, becoming the first in her family to earn a college degree. When she graduates next spring, the 40-year-old intends to pursue a master's degree and then work in the public school system while also pursuing her passion project of parent advocacy.
"I've had so much personal growth, both as a student and for my career path," Green said about her experience interning 20 hours a week over 10 weeks this summer. "Every day was an excellent opportunity to develop my professional network while sharpening my skills." 
Growing up in North Camden, Green said she and her mother would walk past city hall "and I wondered what the building represented and what actually happened in there." The internship gave her a front-row seat to how government worked.
Green wrote summaries of public comments made at meetings to provide CRA leadership insight into community sentiment on potential redevelopment. Fluent in Spanish, Green translated agency documents describing how residents begin the process of purchasing CRA properties so they could participate in city development, and spoke with Spanish speakers who came to the agency.
By August, Green was involved in the CRA's community outreach and communications effort to gather input from residents, anchor institutions and nonprofits in the Bergen Square neighborhood about what redevelopment they want to see there. She created a flyer for residents and a survey to solicit input from community leaders and organizations on neighborhood aspirations for reuse of vacant and underutilized properties
CRA Interim Executive Director Olivette Simpson said she was impressed by Green's passion to make a difference. "We have so many issues that come up on any given day, and Danna is always willing to take the initiative to research additional information so that we may follow up," Simpson said. 
"It's empowering for interns to see the impact of their efforts in real time," Simpson said. Internships with government entities and nonprofits "provide a foundation for inspirational leadership, citizenship and policy implementation that positively impacts the pursuit of equity and fairness in people's lives through public policy." 
Simpson and Green applauded Rutgers President Jonathan Holloway's wider call for a mandatory national public service initiative to unify the country and promote citizenship. In a July 2021 guest editorial in the New York Times, Holloway proposed that all young adults be required to complete a year of civic or military service by age 25.
Green said Holloway's proposal will inspire "a new generation to work toward a world they want to see. You can serve your country by giving back in your own community, making it safer and healthier."