At 90 and Beyond, These Adults Still Have a Youthful Passion for Learning
Osher Lifelong Learning Institute at Rutgers offers 300 courses for those over 50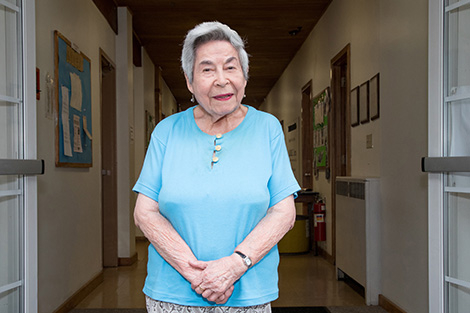 'I do not think of myself as being 100 years old. I am still in my community, and I have a wonderful learning center to attend. You don't stop learning until you stop living.'

 

- Rose Sterling
When Rose Sterling looks in the mirror, she does not see someone who is about to turn 100 in November. With the activity level of a person half her age, including classes at Osher Lifelong Learning Institute at Rutgers (OLLI-RU), weekly lunches with friends and daily exercise, Sterling hopes that her energy will "encourage others to stay in the swing of things."
"I have a group of friends at OLLI-RU and when they discovered my age, they were shocked," Sterling said. "I do not think of myself as being 100 years old. I am still in my community, and I have a wonderful learning center to attend. You don't stop learning until you stop living." 
OLLI-RU, with locations in Highland Park and Freehold, is a place for mature education and social interaction for those over 50. OLLI-RU course offerings include a mix of history, culture, and the arts, for the over 1,200 members enrolled in the more than 300 courses offered each year.
For Sterling, the one constant of her life has been education as both a student, a teacher and now an adult learner who has participated in OLLI-RU for 10 years. The daughter of an unconventional Russian immigrant, who worked as a dressmaker until age 79, and only retired because the shop closed, said genetics has certainly played a role in her longevity. Sterling has outlived her two younger sisters, who survived until the ages of 89 and 91. 
After marriage and children, Sterling returned to Rutgers University College and took one course at a time as she raised her family. By1969, she had earned her bachelor's degree in English and then taught for over 20 years in East Brunswick and Piscataway school districts. 
"My father was an academic and my mother introduced to me to many things," she said. "She was very much a maverick and a humanist and always surrounded herself with politics and ideas. I think that lifelong learning and interest in the world keeps you young." 
Like Sterling, OLLI-RU instructor Bill Roufberg, a teacher here for almost 25 years, is still teaching at age 92. He also served in the Navy, studied Aztec and Mayan culture in Mexico, was the chair of the history department at Princeton High School for 30 years and wrote two books. He loves teaching adults learners and his courses, such as Famous Courtroom Trials, are always in demand.
During his Navy years, Roufberg met a teacher who advised him what it takes to be the best history teacher possible..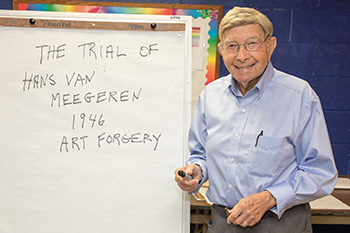 "He said first; learn to tell a story well. Next, get to know as much as you can about each student. And lastly, try to be witty and amusing because youth are not much interested in the past," Roufberg said.
His current students are very interested in the past, and Roufberg said he learns as much from them as they do from him.
"Taking these classes keeps their minds developed, and mine as well. I try to be as interesting as I can so that I can stir something in them so they want to know more," he said. 
Shino John, associate vice president for the Division of Continuing Studies at Rutgers said, "Rose and Bill are forces of nature and an inspiration to everyone," at OLLI-RU.
"We celebrate every adult who is reinventing him or herself through classes and activities to enhance their lives," John said.
New Brunswick classes meet at the Reformed Church of Highland Park while Freehold classes meet at the Western Monmouth Higher Education Center at Brookdale Community College. Day trip are also offered. Courses are low cost. Osher Lifelong Learning Institutes are found in all 50 states and number more than 119 sites affiliated mostly with colleges and universities, offering a variety of noncredit courses with no assignments or grades.
"There is no age limit for learning," said John, "We encourage everyone to learn more about OLLI-RU."