12-Year-Old Rutgers Summer Scholar Pursues Cancer Research
Middle schooler uses computational analysis to identify gene mutation patterns in primary tumors that can predict recurrence and metastasis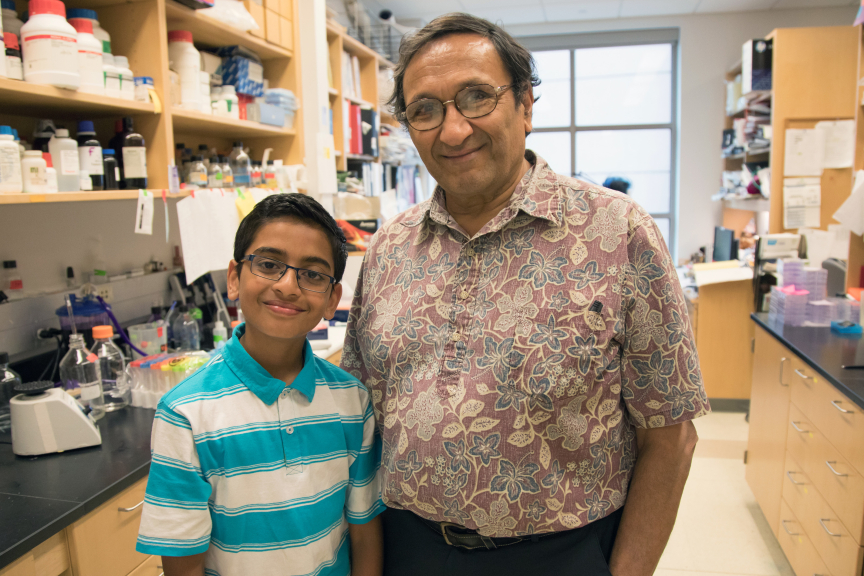 Most 12-year-old middle school students spend their summers engaged in the pursuit of leisure and ice cream. However, for Edison seventh grader Atharva Kulkarni, apart from ice cream, water parks and beaches, summer is a time to continue his passion – cancer research – while also attending a three-week Rutgers Summer Scholars Program in New Brunswick, part of Rutgers Summer Session from the Division of Continuing Studies. Of the 145 students in the program, the majority are high school juniors and seniors.
After learning about how his grandmother had suffered from breast cancer and a classmate's mother who recently passed away from metastasized breast cancer, Kulkarni decided that he wanted to study this insidious condition and to help in the fight to find a cure.
"Cancer is a very clever illness. It recurs in unpredictable ways. It is a really hard disease for doctors and patients to fight because it has a mind of its own. I want to understand that mind," he said.
But working toward a cancer cure challenging because as a minor he cannot conduct lab research on his own. So he chose to do computational analysis. Kulkarni is being mentored by Gyan Bhanot, a Rutgers faculty member with joint appointments in the Department of Physics and Astronomy and the Department of Molecular Biology and Biochemistry in the School of Arts and Sciences, and a member of Rutgers Cancer Institute of New Jersey Bhanot's research involves using large mutational and genomic datasets to learn how tumors metastasize and to identify drug targets for improved therapy. Kulkarni's research consists of using computational analysis to identify gene mutation patterns in primary tumors that can predict recurrence and metastasis.
"Atharva is a wonderful kid and a scientist at heart. He is always asking questions and is never afraid to challenge authority. He reads, he thinks and he discusses deep and difficult topics. I predict he will become a great scientist and make many discoveries," Bhanot said.
Because every tumor is unique and its biology must be understood to find the most effective treatment, Kulkarni's research is focused on the goal of "personalized cancer treatment." His father, Atul, is a research scientist for the Cancer Institute of New Jersey and has spent his career involved in translational cancer research. Both he and his wife, Vaishali, who is also a scientist, spend time at the dinner table discussing various topics in science, including human anatomy, brain function and genomics. The couple, who live in Edison, always take their son into their labs for "Take Your Child to Work Day." Those discussions and excursions have led to Kulkarni's love of learning.
"As a child, he was always excited about science, animals, medicine and anatomy. He wanted to watch videos about life science topics and was persistent in asking questions," said his mother, who was instrumental in recommending the Rutgers Summer Scholars Program.
The course, called "Experimenting with Green Florescent Protein," is a biochemistry instructional program for gifted and talented pre-college and college students.The program centers around green-fluorescent protein (GFP) and is taught by William Ward, a professor in the Department of Biochemistry and Microbiology at Rutgers-New Brunswick. The west coast jellyfish that contain this fluorescent protein are exciting teaching tools in biochemistry and molecular biology. Cloning of GFP has enabled tracking of nerve cell proliferation, stem cell colonization, tissue regeneration, cancer metastasis and other processes central to biomedicine. Kulkarni looked forward to the traditional classroom learning and lab work combined with exploration at the Jersey Shore to collect jellyfish or other marine creatures.
When he is not seeking the next genetic breakthrough in cancer research, Kulkarni enjoys playing soccer and watching the FIFA World Cup. He has been learning Indian classical music since age 3 and is also a participant on "Science Saturdays," a children's talk show on a local radio station that covers science topics. He is also gearing up to compete in The Brain Bee Nationals finals, a neuroscience competition for secondary students.  
"I have been teaching on the Cook Campus of Rutgers University for 41 years," Ward said." I love my job, especially teaching a 3-credit, college level hands-on biochemistry course to pre-college gifted and talented summer session students.  Seeing youngsters tackle a demanding biochemistry course -- and succeed beyond my wildest imagination -- has been my greatest pleasure." 
---
For media inquiries, contact Beth Salamon at es753@docs.rutgers.edu.