John P. McGraw Designs Unique Coins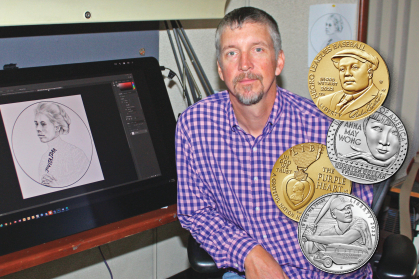 The alumnus is a medallic artist for the United States Mint in Philadelphia sculpting coins, many of them collectors' items.
At the beginning of his career as a sculptor, the projects that John P. McGraw CCAS'95 worked on were big—really big: the restoration of the cathedral-like Shepard Hall at City College of New York, life-sized sculptures at the Atlantis Casino in the Bahamas, a renovation of the Lillian Marrero Library in Philadelphia.
Today McGraw CCAS'95 is focused on objects a fraction of that size. As a medallic artist at the United States Mint in Philadelphia, he designs and sculpts coins and medals, the biggest of them just three inches across. Yet his impact is arguably much greater: In October 2022, for instance, the U.S. Treasury minted 500 million quarters bearing the image of 20th-century actress Anna May Wong. It's the latest in the American Women quarters series—and it was sculpted by McGraw.
In eight years at the Mint, he has sculpted dozens of coins, including ones in general circulation as well as those intended solely for collectors. The collectibles he's had a hand in developing include presidential one-dollar coins, American Eagle coins, Armed Forces Silver Medals, National Purple Heart Hall of Honor coins, Negro Leagues Baseball coins, and American Innovation one-dollar coins. The Mint also produces the Congressional Gold Medals, and McGraw has sculpted three of those.
McGraw's interest in art goes back to his childhood, when he found that he loved drawing and painting. But he was dissuaded from thinking of it as a career. "It's funny," he says, "how people get in your ear and tell you, 'You're never going to make money as an artist.'" So when he enrolled at Rutgers University–Camden, it was to study business.
But he hated it. "For two years, I fought it tooth and nail. It really wasn't who I was," he says. In his third year, he withdrew from school and got a couple of part-time jobs—one in construction, one at a bakery. He quickly realized those moves were a mistake, too. "I said, 'No, I'm going back, and I'm going to do what I love.'" He re-enrolled at Rutgers–Camden, this time as an art major.
McGraw flourished in the art program, benefitting from the mentorship and encouragement of two professors in particular: William Hoffman in painting and John Giannotti in sculpture. Giannotti also helped McGraw land his first job out of college, at Carolfi Studios in Collingswood, New Jersey. It was at Carolfi that McGraw worked on the City College of New York restoration and the casino and library projects. He learned to work with wood, clay, and plaster, and to make molds from rubber and silicone. (One of the molds he made for the Atlantis Casino was a 16-foot seahorse that graces the building's exterior.)
In 1998, McGraw went to work for Lenox, where he spent 16 years developing dinnerware and other products. He still keeps some of those creations on a living room bookshelf in the home outside of Trenton that he shares with his wife: a Mother's Day vase, a Lady Anne crystal drinking glass, a teapot for the Donna Karan Collection. The family Christmas tree consists mostly of ornaments he sculpted. His work for Lenox also included place settings and other tableware for the White House, Kate Spade dinnerware, the Butterfly Meadow dinnerware line, and Snoopy figurines for Warner Brothers.
Lenox is also where, in 2000, McGraw got his first serious exposure to sculpting digitally. "They brought in a CNC machine," he says, referring to a manufacturing innovation called Computer Numerical Control. Employees received training on CNC and the associated software, but McGraw was the only one to actually use it. "I looked at it and thought, That technology is going to be my future." His digital skills eventually helped him land his current job at the Mint; today, although he still enjoys the tactile pleasure of using plaster and clay, he works almost exclusively on a PC.
Every project at the Mint starts with an act of Congress authorizing the issuance of a particular coin or medal. Typically, artists both inside and outside the Mint can submit proposed designs, which then go through a lengthy series of approvals and tweaks before the U.S. Secretary of the Treasury signs off on the final design. The Mint's chief engraver then assigns the sculpting of the piece—the process of transforming a flat design into a three-dimensional one—to one of the five medallic artists on staff. (All of the Mint's sculptors are based in Philadelphia.) The challenge for the sculptor is to render, say, a human face, a building, or a mountain range and to create the illusion of depth, light, and shadow—all in a small space and in "low relief," since the total thickness of the finished coin is usually only a few millimeters.
It's not uncommon for McGraw to sculpt a coin or medal designed by someone else, as in the case of the Anna May Wong quarter and the 2018 Congressional Gold Medal for the late Egyptian president Anwar Sadat. In other cases, McGraw is both the artist and the sculptor. His design was the one chosen for the 2020 Congressional Gold Medal for Larry Doby, the second Black player in Major League Baseball, as well as for another quarter in the American Women series that will be released this year, one honoring Mexican American journalist and activist Jovita Idar.
Designing and sculpting require research, including reading historical information and interviewing the family or colleagues of the person being commemorated. "What's great is the learning experience," McGraw says. "You come to understand what was going on in Negro League baseball or learn about the power and energy of someone like Jovita Idar." He hopes, in turn, that the coins spark curiosity among those who carry them in their pockets or collect them: "You get to champion the voices of people whom a lot of people don't know about."
It's said that the sculptors at the Mint are the most circulated artists in American history. Not only that, every coin or medal they create also becomes part of the permanent collection at the Smithsonian Museum. And the artist's name is on every piece. Check it out for yourself: The next time you get a shiny new quarter in change at the cash register or purchase a collectible coin from the Mint, give it a close look. You might just find, tucked into the design, the initials JPM.