Jason McCourty Stars on the NFL Network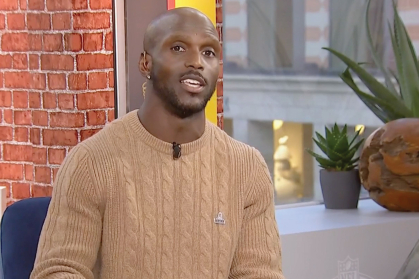 The alumnus is an analyst on Good Morning Football, the go-to show for Monday morning quarterbacks.
For 13 years, Jason McCourty UCNB'09 played cornerback and safety in the National Football League (NFL), including winning a 2019 Super Bowl with the New England Patriots alongside his identical twin brother, Devin UCNB'10 (both 2016 inductees into the Rutgers Hall of Distinguished Alumni). In the fall, he was a rookie all over again, beginning a career in broadcasting as an analyst on the NFL Network's Good Morning Football, the go-to show for Monday morning quarterbacks where Jason makes incisive observations with the easy confidence that marked his playing career.                   
RUTGERS MAGAZINE: These days, you must feel a lot better on a Monday morning than Devin, who is still playing for the Patriots.
JASON MCCOURTY: Yeah, a lot of our conversations start with how much his body is hurting. Although my body feels a lot better, I don't rub it in [laughing]. Dev is still competing in the NFL and living the dream that we set out for ourselves as kids, playing pro football and calling that a job.
RM: What do you miss about not playing?
JM: The moments shared with the guys! It might be laughs in the locker room and whatever is going on in pop culture or at home. I miss the strategy of preparing for games, week in and week out, and I miss the opportunity to connect with young players in the locker room and share stories from my early days in the NFL.  
RM: Had a career in broadcasting been on your mind as you approached retirement?
JM: I wasn't sure what I was going to do. I had started a podcast with Devin, Double Coverage With the McCourty Twins, when I joined the Patriots. At the time, I don't think I thought I would pursue a career in broadcasting after football, but I wanted to create an option for one. Then, when I got injured last year and missed 10 games, I took a deep dive into what my interests were outside of football. I took part in a broadcast bootcamp offered through the NFL in April, and it led to opportunities in the broadcasting world that turned into job offers. I announced my retirement one week; the next week, I was on Good Morning Football.
RM: What kind of preparation was required before the NFL season began? 
JM: I spent 13 years in the NFL. I know football, but I don't know the TV world. So, my anxiety came from being a rookie all over again. I have approached my new career the same way that I approached my old one. I'm still often asking someone a question about how to do something or how to say something. I'm not afraid to tell a producer or a co-host that I need help with something. My wife has been a huge part in my transition. She helps me with my wardrobe, listens to ideas that I want to bounce off of her, and gives me affirmation for being on the show.   
RM: You played in the secondary, which may be the best position for viewing the field. How does your analysis of games benefit from having had that vantage point?
JM: It's huge. As I got older playing cornerback, I prided myself on knowing what every person in the secondary had to do on defense. It helped me as a player but also helped me as a leader in order to be able to help everyone. That vantage point—what it feels like to try and run with Tyreek Hill or to call a defense against Tom Brady or Aaron Rodgers—goes a long way in explaining how I see the game. It's not only what happens on the field, but also the hours of watching film and discussing how to stop the game's best players. My perspective allows the viewer to see what it is like to be an NFL player—from my playing on the Cleveland Browns, who went 0–16 in 2017, to being traded to the New England Patriots and winning the Super Bowl with Dev the very next season. The highs and lows are what I share on Good Morning Football.