The Future Is Now for Men's Basketball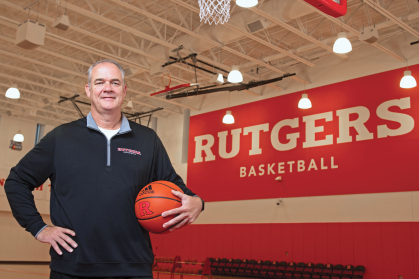 These are heady days for the Rutgers University–New Brunswick men's basketball team and head coach Steve Pikiell. The program is riding on the success of two straight berths in the NCAA tournament (three, if you count the 2020 pandemic-canceled version), and the program has built a national reputation as a tough-as-nails defensive team that nobody wants to play, especially in Piscataway at Jersey Mike's Arena. As Pikiell enters the heart of his seventh year leading the Scarlet Knights, Rutgers Magazine chatted with him about how the season is progressing.
RUTGERS MAGAZINE: Can you give fans some sense of what they should be expecting as the team's enters a critical part of a successful season thus far?
STEVE PIKIELL: I just couldn't be more excited about the season. I love the group that we have. We have tremendous leadership. I think it starts with that. Caleb McConnell came back and Paul Mulcahy is back as the leading assist guy in the conference. And then Cliff Omoruyi just continues to improve and get better and better. But I like all the other pieces, too, of this team. I am excited about where our program has come in six years, and we expect to compete for a national championship every year. This year will be no different.
RM: Geo Baker [SAS'21] and Ron Harper Jr. [SAS'22] are gone after great careers. How do you fill that gap?
SP: You always lose players who are valuable pieces to the program. But I love the fact that my staff continues to recruit knowing that guys are going leave. I wish Geo had another four years left of his eligibility. Ron's playing for the Toronto Raptors now. But we had prepared for a while that guys would leave the program.
I look forward to this new group of guys getting an opportunity to show what they can do. When Myles Johnson [ENG'21] left, Cliff became a great player because he got more opportunities, and I think that's going to happen, too, as the opportunities open up for Mawot Mag, Dean Reiber, and Aundre Hyatt, who played a lot for us in the last few years. I'm excited about this group and the new opportunities that a lot of these guys have.
RM: Cliff made the preseason All-Big Ten team. What have we seen from him this season?
SP: He improved so much since year two. He has continued to work at a high, high rate, and he continues to develop. He was young in his basketball life when he arrived, and now he's very experienced and I think he's one of the best big guys in the country. Fans are seeing that he continues to ascend the ladder of great big guys that we've had at Rutgers.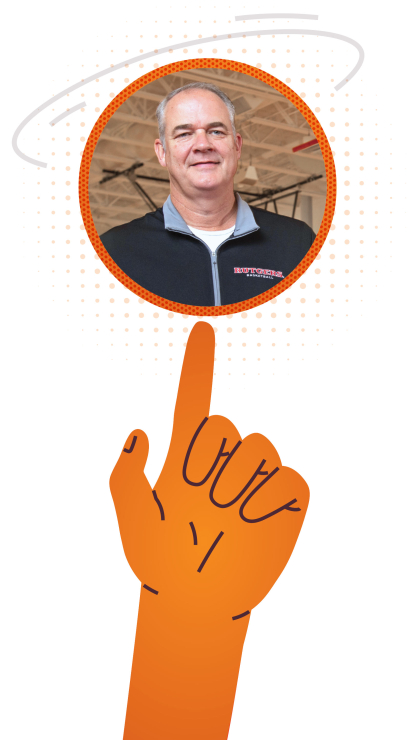 RM: Give us the name of a guy that fans may not have heard from a lot but is impressing you this season.
SP: We have a few of those guys, but you've heard of them. Mag, he started four games for us last year. He was leading scorer in a few games. He had an unbelievable summer. Dean Reiber is a player whom fans saw minutes from last year. He's 6'10" and has a 35" vertical jump. People are really excited about the development of these two players.
And then we have a few freshmen that we've added to the mix. Derek Simpson out of New Jersey is quick and fast—probably the quickest and fastest guy we've had since Jacob Young. Antonio Chol, a 6'9" shooter out of Minnesota, has done a really good job.
Oskar Palmquist has been getting a chance this year. He is from Sweden, but fans haven't seen a lot of him because of the roster that we had the last couple of years. I am really excited about him. Jalen Miller is one of the best defenders in the conference, to go along with Caleb McConnell.
RM: How do you talk to your team about heightened expectations?
SP: We don't really talk a lot about that stuff. The past is the past. This is a new year. We want to go to the tournament every year and we have for the last three years, and we expect to go this year. Once you get to the tournament, you can compete for a national championship. We don't spend that much time on the past; I know the team history about not making tournaments. What we know is the last three years we played in the best league in the country, we've gone to the tournament, and we expect to go this year. That's where our program is and that is where our guys feel we should be. We want to practice like national champs and play games like that. We're trying to be national champs. We have that expectation. That's what we talk about.
RM: What's your elevator pitch to recruits about Rutgers?
SP: First, I just remind people what an unbelievable academic institution we are. This past year was the most competitive incoming class in the history of Rutgers. It's, first and foremost, an unbelievable place in a great state with a lot of things to do and a lot of powerful people.
Then I talk about every guy in my program who has played four years and has graduated. I always think the most important thing is the school that you represent and what the degree means. I have two kids who are Rutgers students. So, not only do I try to talk your son into coming to our university, but also have my own kids who could have gone to a lot of places and they are here at Rutgers.
Then I go right to the students and our student riot squad and our bands that make Jersey Mike's Arena the best place in the country to play. I think we're going to sell out every game this year. We will continue to have an unbelievable environment to play basketball in a huge media base, too. And then I oftentimes brag about how our players have come in and continued to get better to the point where guys can sign a professional contract upon leaving here with their degree.
We are proud about those things and this great state. We're close to the beach and the cities, and we're within arm's length of some of the greatest places on Earth.
RM: The identity of the program is one that is tough and defense-first, where effort is really expected for 40 minutes. Do you have to see that attitude already there in a high school recruit or is that something you can teach?
SP: It's always both. The player has to have something in them, and I have to be able to teach. I've been blessed with my assistant coaches Brandin Knight, who is a New Jersey guy through and through, and Karl Hobbs, who won national championships as an assistant at the University of Connecticut. We've had tremendous continuity with our staff. You don't build programs without the work of a lot of people that surround it.
But part of that is identifying kids who can see a vision for themselves in our program. Part of our vision has been identifying guys who come here and overachieve, and part of our vision was the opportunity to change the narrative of Rutgers basketball. Caleb McConnell, Cliff Omoruyi, and Paul Mulcahy took on that responsibility. When they first said yes to us, we didn't have a track record of NCAA tournaments; we didn't have sellouts. They took on that challenge and they built the program. But you have got to see it in recruiting. Then I have to get kids who want to work hard to get better and take on roles.
I think Caleb McConnell is the best defensive player in the country. When he arrived as a first-year student, I'm not sure he saw that as what he would do. Because every high school kid comes in thinking about one thing and one thing only. It's all about points. So, for him to change his mind set a little bit, he's become the best defender maybe in the country. He got opportunities to play professional basketball last year because of his ability to lock down players. But thankfully he came back, and he's continued to get better here.
You have to find kids who have a little bit of a chip on their shoulder who want to take on an unbelievable challenge of raising a basketball program in the best league in the country. That's what those guys have done. It's not just a coaching staff that can give it to them.