Expanding Access and Opportunity
MESSAGE FROM THE PRESIDENT: A new collaborative will help more historically underserved students thrive at Rutgers.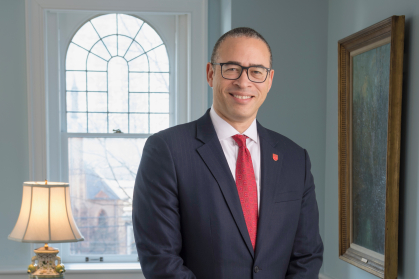 Rutgers prides itself on both the relentless pursuit of academic excellence and a long-standing commitment to social mobility. We believe strongly that Rutgers can compete academically with the most preeminent universities in the nation. In many disciplines, in fact, we are already at or near the top. We also recognize that our public mission demands identifying and educating students who come from limited means or who are the first in their family to attend college. These are students who might otherwise never consider that a four-year degree from a major research university is within their reach.
A true commitment to the latter means starting long before the first day of freshman year. We have to strengthen, and in some cases illuminate, pathways to the academic pipeline for such students in communities across the state. We have a firm foundation in programs such as Rutgers Future Scholars, the Newark School Initiative, the Johnson & Johnson Saturday Scholars Academy, and the Hill Family Center for College Access at Rutgers University–Camden. It's time to take our commitment to a new level.
I'm excited to say that we have launched the Educational Equity and Excellence Collaborative (E3C), designed to shape an ecosystem that leads to successful academic outcomes for our state's historically underserved populations. Under the leadership of Aramis Gutierrez—who ably directed our Rutgers Future Scholars program from its inception until last fall—and partly funded by a federal grant, E3C will form relationships with both K–12 and higher education partners throughout New Jersey. We'll share best practices already at work at Rutgers and elsewhere, create a clearinghouse of resources for students and their families as well as for educators, and support new research on student success.
E3C will drive innovation. Small grants will fund promising efforts by faculty, staff, and students to increase access, opportunity, and success for students from lower-income or historically underserved backgrounds. It will also provide a forum for the leaders of pipeline and student support programs at Rutgers to help one another share their expertise and strengthen our sense of community.
Within a few years, I believe, we can be a recognized leader in the nation for social mobility. (Rutgers University–Newark is already ranked 7th among national universities in this regard, Rutgers–Camden is 30th, and Rutgers University–New Brunswick is 63rd.) Rutgers can show how to find talent and excellence everywhere by creating a statewide coalition of educators and administrators. Just as important, we can be the place families turn to to find the resources they need to prepare their children for college—and to help them succeed once there.
I'm proud of all the work we are already doing to identify, recruit, enroll, and support young people of limited means but unlimited potential. And I can't wait to see how many more students and families we can reach through E3C, the Educational Equity and Excellence Collaborative at Rutgers.