During his inauguration address, in November 2021, Rutgers president Jonathan Holloway shared his vision of civic engagement as a critical component of a Rutgers education and a means to appreciate our differences, restore civil discourse, and work in the service of the common good. Last summer, 100 students representing the inaugural class of the Rutgers Summer Service Internship (RSSI) initiative were chosen to work at nonprofit organizations or direct-service government agencies. Students received a stipend and credits for the complementary coursework. "An idea that inspired people to join up for a cause has now birthed in those people a new conviction that they can make a difference," Holloway says. "That's what we're all about." Because of its success, RSSI will expand to 150 students this summer. 
Progress Through Civic Engagement 
Nina Gohel and James Cortes, seniors at Rutgers University–New Brunswick, come from families with little in common. The daughter of immigrants from India, Gohel was raised by parents who never felt represented by the United States government and rarely voted. The son of a single mother facing poverty, Cortes understood the crucial role that the government and programs such as NJ SNAP food assistance and Medicaid played in his life. Last summer, their paths converged at the New Jersey State House in Trenton, where they helped research and craft bills that may become state policy. 
The paid internship was a game-changer for Cortes, a political science major, who is covering tuition through Pell grants, federal loans, and Rutgers aid. Before his RSSI experience working in the office of the New Jersey Senate majority leader, Cortes worked 30 hours a week to cover his expenses, preventing him from taking advantage of unpaid internships and missing out on valuable opportunities.  
"Political science is a very networking- heavy field," says Cortes, who lives in New Brunswick. "I thought this program would be a really good way for me to make those connections." Cortes wholly embraced his internship, attending voting sessions, writing policy memos, and summarizing bills for legislators to review. He contributed to legislation on gun safety and the New Jersey child tax credit passed in July. Having a hand in legislation that helps struggling families made his work more meaningful. 
Cortes was born with tethered spinal cord syndrome and needed surgery in first grade, a procedure, fortunately, covered by Medicaid. "If it weren't for the government, I might not be able to walk," says Cortes, who extended his internship as a paid employee through the fall. He plans to pursue a graduate program in public policy or international relations after graduating in May. "I decided to get into policy work because I knew how much the government helped me. I wanted to be a part of the people who help the government do more." 
Gohel also sees civic engagement as the best way to make sure her voice, and those of other first-generation Americans, is heard. After the 2016 presidential election, she sensed she was facing different forms of discrimination from people who were more emboldened. "As a woman of color, my belonging was questioned," says Gohel, who is majoring in political science as well as planning and public policy. "I want the marginalized groups of my generation to never have to question their belonging in the United States." Gohel threw herself into politics early on, participating in student government at her Mount Laurel, New Jersey, middle school and high school and on the New Jersey Association of Student Councils. She was the first Asian American and Pacific Islander woman elected student body vice president at Rutgers. While interning with the Environmental Protection Agency's office of general counsel before her RSSI experience, she helped reintroduce diversity, equity, and inclusion staff training cut under the previous administration. 
During her RSSI experience working in the office of the majority leader of the New Jersey General Assembly, Gohel proposed ideas for legislation to address the needs of New Jersey residents. As someone with potentially deadly food allergies, she contributed the research that led to a bill modeled after an Edison, New Jersey, ordinance that will better protect diners and reduce restaurant liability. "I know what it means to use an EpiPen," says Gohel. "It's a struggle to go out to restaurants and constantly worry about a life-threatening reaction.
"Our government needs to reflect all communities and people to properly represent the needs of our nation," she says. "Public service is essential to inspire the next generation to go forth and provide a brighter future. I hope to be a part of that change."
—Lisa Intrabartola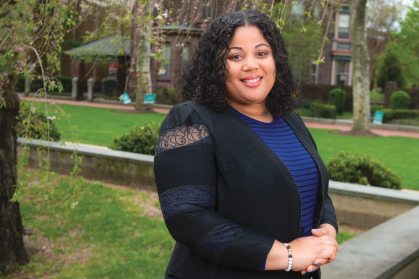 A Champion for Camden Children 
When Danna Green was growing up in Camden, she would walk by city hall with her mother, wondering what went on in that big building. Now a senior at Rutgers University–Camden, Green has learned firsthand what takes place within it—and a few things more—thanks to her experience with the Rutgers Summer Service Internship initiative, which placed her with the Camden Redevelopment Agency (CRA). The biggest surprise? She had been wholly unaware of the power of citizens to change their community. Working at CRA, she attended council, planning board, and neighborhood stakeholder meetings and listened to residents' comments about CRA's efforts to revitalize city neighborhoods.  
Green also wrote summaries of public comments at meetings so CRA leadership could gauge community sentiment on potential redevelopment. Fluent in Spanish, she translated agency documents for residents interested in purchasing CRA properties and participating in city development. By August, Green also was involved in CRA's community outreach, seeking input from residents, anchor institutions, and nonprofits in Camden's Bergen Square neighborhood about the nature of the redevelopment they favored.  
Hearing people speak out inspired her to pursue her own community advocacy. "I had no idea I could attempt to do something I believe in and make an impact in this city," says Green, who will be the first in her family to earn a college degree when she graduates in the spring. 
  Green now feels empowered to help Camden parents who, like herself, have children with learning disabilities. The mother of twin boys with attention-deficit challenges, she enrolled at Rutgers–Camden to major in childhood studies and psychology to understand what her children were facing. She wants to pursue a master's degree and work as a parent advocate in public schools. "Now I realize I can make a difference in the Camden school system," says Green, who was diagnosed as an adult with a learning disability. "So many kids who need support aren't getting it," she says. "I want to educate parents about ADHD so they aren't afraid to be their child's best advocate." 
—Margaret McHugh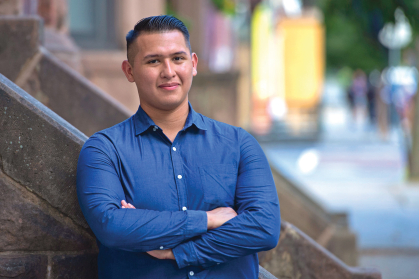 The Imperative to Live Sustainably 
Brian Montecinos had plans to become a civil rights or immigration attorney—until he took a course at Rutgers University–Newark about global sustainability. If he didn't help protect the planet, he reasoned, the rights of individuals wouldn't mean much. "Even though a lot of what we learned would make anyone feel we were doomed, the professor emphasized that we could do something about it," says Montecinos, a senior. 
Last summer, as a participant in the Rutgers Summer Service Internship initiative, he took his first steps toward becoming an environmental lawyer. Montecinos spent two months at Future City Inc., a nonprofit in Elizabeth, New Jersey, that works with underserved communities to support sustainable development and policies that protect the water and land in promoting healthy neighborhoods. He met with community leaders and residents, helping them understand why sustainable practices are critical. He also convinced local fishermen that eating or selling the contaminated fish caught in the Passaic River was dangerous. 
"We don't, as a society, understand that water is such a precious resource," says Montecinos, who is majoring in finance and political science with a minor in legal studies. "If we don't do something, there will be wars over water." 
Montecinos ended his summer by taking a course in sustainable living at Kroka Village, a farm in New Hampshire. The program, offered through the Rutgers–Newark Office of Global Initiatives and Experiential Learning, required Montecinos and other students to eschew cell phones and electronic devices while they lived off the grid, slept in yurts, and used compost toilets. Instead of eating meat, which takes a toll on the environment, they ate vegetables. Rainwater was collected for washing dishes and clothes and for taking showers. Nothing was wasted. 
"My whole life has been in the city, constantly on my electronic devices," he says. "When you remove them and get put in a rural community, it is a transformative experience." 
—Robin Lally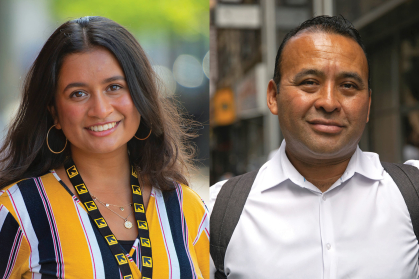 Crisis Management for Humanity 
Although Gerardo Leal and Ardita Mirza are 30 years apart in age, the two undergraduates share a passion for helping people in crisis. That's why Leal, a senior at Rutgers University–Newark, and Mirza, a senior at Rutgers University–New Brunswick, interned last summer at the International Rescue Committee (IRC) as part of the Rutgers Summer Service Internship (RSSI) initiative. The global nonprofit organization helps people affected by humanitarian crises to survive, recover, and rebuild their lives. 
Leal, now a naturalized citizen, came to the United States at age 17 from Mexico, smuggled in the trunk of a car with others. "It was someone I didn't know who picked us up, charged us a lot of money, and treated us like cattle," he says. Undocumented, he lived for years in a gang-infested community during the crack epidemic of the 1980s and worked in New York City restaurants. Facing racism and other adversities, Leal emerged as an activist fighting for higher wages and better working conditions. 
Mirza, who grew up in a middle-class family in suburban Flemington, New Jersey, was influenced by her mother's research, conducted as an undergraduate at Rutgers, into women being killed over money through dowry murders in South Asia. Today, Mirza has a long list of honors and academic achievements for her advocacy, mentorship, and outreach to students and the community. As an honors student at Rutgers, she has been a policy advocate, peer educator, mentor, fundraising fellowship intern, and research fellow. 
However, as a brown woman in a large, predominately white high school, Mirza felt isolated and frustrated, and her grades sunk. It wasn't until she received the top grade in a math class, where her grade had been slipping, that her perspective changed. A watershed moment came when her teacher remarked that the improved grade was the result of Mirza's renewed determination. Her self-confidence grew and she began to feel better about herself and her future. 
For Leal, the RSSI opportunity allowed him to help others facing the kinds of obstacles that he had. After staying home to raise his two children while his wife earned her master's degree and taught, Leal enrolled in community college. As a semifinalist for the Jack Kent Cooke Foundation Undergraduate Transfer Scholarship, which supports high-achieving community college students, Leal set his sights on Rutgers. He transferred to Rutgers–Newark in 2021 from Hudson County Community College, decades after leaving Mexico. He is working toward an undergraduate degree in social work with plans to earn a master's degree.  
The IRC was at the top of Leal's list of the 71 organizations that students could be paired with when he applied to be part of the RSSI initiative. He saw an opportunity to use his experiences to help others. During the summer internship, Leal helped people who reminded him of his 17-year-old self in finding shelter and food banks and connecting them with employment and legal services. "I knew working with people like me would help me complete my healing cycle," says Leal, who lives in Weehawken, New Jersey. "I feel super happy and proud to be helping people with their dreams. There have been so many people who have helped me along the way." 
During Mirza's internship, which was extended through the end of 2022, she taught English as a Second Language to refugees at the IRC site in Elizabeth, New Jersey. Following graduation, she wants to help stop international human trafficking. Mirza's experience advocating for IRC clients—helping them complete applications, answering questions, and connecting them to services—revealed the value of the work.  
"On my first day, I realized just how important the IRC is," says Mirza, who is majoring in political science and criminal justice with a minor in critical intelligence studies. "When I spoke to the children who came in, I recognized the terrible experiences that they already had to go through in their very short lives. I understood that they experienced so much more hardship than I have or ever will." 
—Robin Lally