Wealthy and Wise for the New Year
In their new book, Buffett's Tips, alumnus John M. Longo and his son, Tyler, share the secret ingredients for achieving financial literacy based on the advice of Warren Buffett.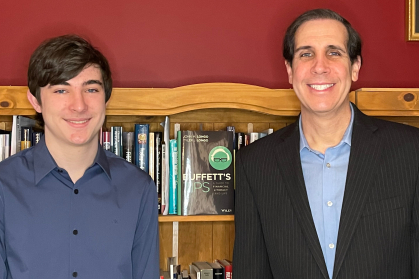 For the new year (just like years past), who wouldn't want to sock away more money and otherwise get a grip on their finances? It might be curtailing the online retail therapy, getting real about the credit cards, or making more, even if modest, contributions to your 401(k). Maybe the goal is more comprehensive: financial literacy. Who better to point the way than the high oracle of investment, Warren Buffett, chair and CEO of Berkshire Hathaway, who has a net worth of more than $100 billion and who intends to give most of it away through philanthropy? Remarkably, Buffett's tips on investing, personal finance, and enjoying and leading the good life—dispensed over the years in interviews, writings, and biographies—have never been codified in a one-stop resource. Until now.
Alumnus John M. Longo, a professor of professional practice in the Department of Finance and Economics at Rutgers Business School–Newark and New Brunswick, has written, along with his high school-aged son, Tyler, Buffett's Tips: A Guide to Financial Literacy and Life (John Wiley & Sons, 2021). Longo has met Buffett several times, leading trips with Rutgers students to meet him at Berkshire's headquarters in Omaha, Nebraska. The visits have included two-hour Q&A sessions, followed by lunch at a restaurant (with Buffett picking up the tab, of course), and tours of several Berkshire subsidiaries. What impresses Longo is that many pointers Buffett offers have little to do with finance. Buffett's Tips "is a boot camp on personal finance and life, with the backbone of the book constructed by the lessons of Warren Buffett," writes Longo RC'91, RBS'95, GSN'95. "It's like Cliffs Notes on the life of Warren Buffett that makes you financially literate."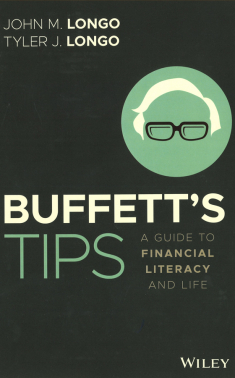 Buffett's Tips runs the gamut, addressing topics such as bank accounts, credit cards and credit scores, mutual funds, real estate, stock and bond markets, loans of all sorts, retirement accounts, and pointers for saving money and giving money away. It takes the reader into the shallow end of the pool where the basics of finance are introduced before wading into the deep end where investment concepts are clearly explained. Each of the 16 chapters integrates Buffett's tips, totaling 100 by book's end when readers enter the paradise of financial literacy with perhaps a revamped life credo as well. All of the topics are predicated on "having the right mindset, living within your means, starting early, paying off credit cards, and investing in stocks for the long term," writes Longo, who has taught investment courses for close to 20 years (and who is also chief investment officer and a portfolio manager for Beacon Trust).
For the book, Longo saw the value of enlisting his son, who has completed coursework in financial literacy for high school students at Columbia University (where Longo is a visiting professor). If Tyler understood the concepts in the book, it would be a good litmus test to make sure Buffett's Tips made sense to teens, young adults, and people of any age who are new to finance or on shaky ground with it. Plus, Tyler makes the book a little bit cooler than if dad was the only one at the wheel. —David W. Major
RUTGERS MAGAZINE: You have taken four of your Rutgers business classes to meet Warren Buffett in Nebraska. What was he like in person?
JOHN LONGO: Buffett is a lot like what he seems on TV. He is upbeat, smart, down-to-earth, and has a great sense of humor. He also emphasized the importance of developing strong communication skills. He joked that you can be very smart, but if you are unable to communicate well, it is similar to liking a girl and "winking at her in the dark": nothing will happen since your overture would have gone unnoticed. He clearly loves what he does for a living and that's why he still works a full schedule at age 91. Someone asked him his favorite place to go. Rather than stating some exotic location, he replied "the office."
RM: You are a financial adviser. But unlike most financial advisers, you are a professor of finance. How was that an advantage in arranging the content of Buffett's Tips and writing it?
JL: I have an advantage in communicating financial concepts effectively. As a professor, I'm used to explaining complicated concepts to students in an understandable manner. As a chief investment officer and portfolio manager, I often explain to clients why a particular investment should be in their portfolio. I have advised everyone from emerging investors to seasoned billionaires, but there are some similarities. Buffett learned from an early age that you have to live within your means. Only then can you start to build wealth, regardless of income.
Then, you need to develop an investment philosophy that you can live with during the inevitable periods of market distress. Although Buffett picks his own investments, he also recommends index funds for most people. So, in arranging the book, I started with the fundamentals and then went into Buffett's approach to picking his own investments as well as the "set it and forget it" approach of index funds. Buffett is also a very happy person, so the "life" part of the book focuses on important softer skills such as relationships and giving back to society.
RM: One of the books many strengths is the subtle repetition in making a financial point: there is usually an explanation or definition of a concept; a quote from Buffett to underscore or illustrate it; a call out of that tip in display type; and the summary of related tips at chapter's end. Sub headlines within chapters point the way and make it easy to revisit a concept. You have also included the handy glossary of terms at the end of the book. Can you comment on the approach?
JL: People like to learn in bite-sized chunks, so my son, Tyler, and I took great efforts to make the book understandable to the person at the early stages on their path to financial literacy and, ultimately, financial independence. So, having a tip that summarizes a specific section is a nice way to make something understandable. Including a full list of tips at the end of each chapter also makes the reader feel that they didn't miss anything important and could always go back to them at their leisure to reinforce a concept. This same design applies to the glossary: it's there if you need it.
Part of Buffett's genius is his own way of explaining financial concepts in a folksy or understandable manner. So, we tried to channel Buffett in our writing style beyond his direct quotes and life experiences. Our tagline for the book is "What if you could learn financial literacy from Warren Buffett?" This question was always in the back of our minds as we designed and wrote the book.
RM: How did your son, Tyler, and you share the task of assembling the book? What were some of his suggestions?
JL: One of Tyler's most important contributions was acting as a filter to make sure the book is understandable to people of all ages. As a teenager, he was becoming financially literate as we were writing the book, so he would often tell me if something didn't make sense to him. He did complete some high school coursework relevant to the book in economics, personal finance, and statistics. He also took an introduction to business, finance, and economics course for high school students at Columbia University one summer that also enhanced his financial skill set. He wrote sections of the book related to those areas where he had some coursework or experience with his financial activities. He also suggested putting in the handy glossary as well as including a Buffett quote to start each chapter.
RM: Given all the content in Buffett's Tips, how long did it take for the two of you to write the book?
JL: We spent approximately two years working on the book, both assembling its content and writing it. Of course, it required several revisions. Buffett continued to come out with additional source material as we were writing. Today, writing a book is truly a multimedia effort, so we developed a website and some social media to promote the book. We also conducted a book tour, although most of our talks were given virtually because of the pandemic.
RM: Do you have any financial advice to offer for 2022 so that you can contribute to the wealth part of our being "healthy, wealthy, and wise"?
JL: One tip we can learn from Buffett is to have a long-term outlook. Investors should realize that the returns U.S. stocks have achieved over the past 10 years are not sustainable. They have been about 50 percent higher than their long-term averages of 10 percent a year. But cash and investment-grade fixed income look quite unappealing since they are virtually guaranteed to underperform inflation over the next year or so. Value stocks and international stocks seem relatively inexpensive at this juncture in time and may be a better bet for the year ahead.
Buffett also has a keen sense of market psychology. Perhaps his most famous quote is "Be fearful when others are greedy, and greedy when others are fearful." It takes a strong stomach to follow that advice, but I think he is right. For example, if your purchased stocks shortly after the pandemic first dramatically accelerated in the United States in late March 2020, you would have made a killing. Nobody—not even Buffett—can time things perfectly, but there was clearly a lot of fear during that time in a number of dimensions, including financial. So, another tip for the year ahead is to try to understand your own investment psychology. Try to fix your own mistakes and then eventually you can try to be like Buffett and capitalize on the mistakes of others.