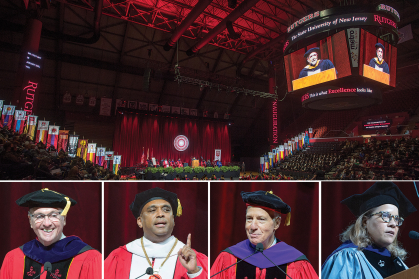 View Videos of Inauguration Events
A Roundup of the Celebrations
The Inauguration Address
The Inauguration Ceremony
A Discussion of Student Service
With the return of students to Rutgers and a semblance of normal campus life returning, the Rutgers community finally got the chance to officially recognize Jonathan Scott Holloway as the 21st president of the university during a medley of inaugural events held in November. The culmination of the celebrations took place on November 5 at Jersey Mike's Arena when Holloway, whose tenure is being shaped by a profound social reckoning and other global challenges, told the audience that he believes education paired with public service can save democracy.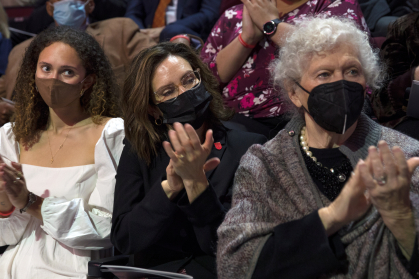 "Our daily news cycles have left us with a national rhetoric about politics, knowledge, citizenship, and service that seems to take delight in mocking efforts to shore up institutions, to pursue ideas, to disagree civilly, to serve the common good, and to share in our wealth," Holloway said in his inaugural address, which was livestreamed and was viewed at watch parties universitywide. "I despair at this state of affairs, but instead of seeing colleges and universities as a manifestation of all that is wrong in our society, I see them as all that can be right."
Holloway highlighted his belief in the excellence at Rutgers and his plans to build toward something even greater as he outlined a vision emphasizing access, research, and service. "When I look at Rutgers, I want to see a place that aspires boldly to be both a leading engine of world-changing research and a vehicle for social mobility for students across the socioeconomic spectrum," Holloway said. "This is what excellence looks like."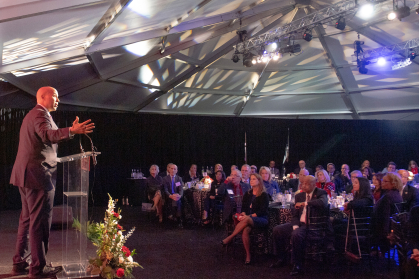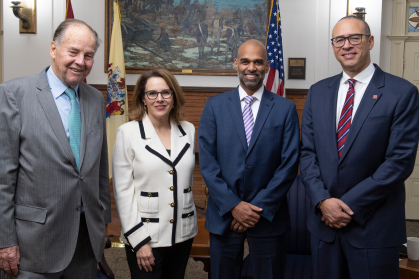 Holloway's inauguration, traditionally the official installation of the president, took place more than a year after he joined Rutgers because of the disruption of the COVID-19 pandemic. The inaugural events, all conducted while abiding by COVID-19 protocols, included Excellence Fest, which took place on November 4 in front of the historic Bishop House on the College Avenue campus at Rutgers–New Brunswick. Holloway greeted students and members of the faculty and staff while joining the celebration. Earlier in the day, the president moderated a virtual academic panel discussion—featuring Thomas H. Kean, former governor of New Jersey; Joan T.A. Gabel, president of the University of Minnesota; and Rajiv Vinnakota, president of the Institute for Citizens and Scholars—that addressed the value of public service. During the evening, a private dinner to honor Holloway took place by the Honors College. The celebration kicks off events that will be held throughout the academic year, highlighting excellence at the university.
Dwight McBride, president of The New School, delivered an exuberant keynote address on November 5 at the inauguration that included his singing the Black national anthem, "Lift Every Voice and Sing." Other speakers included Rutgers students and alumni, Rutgers Board of Governors chair Mark Angelson, New Jersey governor Phil Murphy, and faculty and administrators.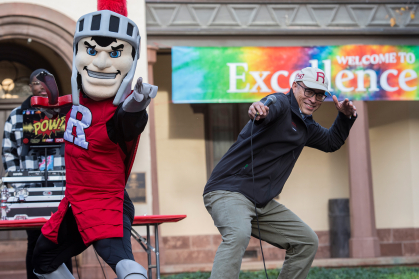 In promoting access to education, Holloway announced a new fundraising goal of $50 million to support access to a Rutgers education through programs such as the Scarlet Promise Grants, which provide undergraduate financial aid as well as emergency relief for students facing hardships. Scarlet Promise Grants have been a priority of Holloway's since the inception of his presidency in 2020, and the program has fulfilled its 2020–2021 goal of attracting $10 million in philanthropic support.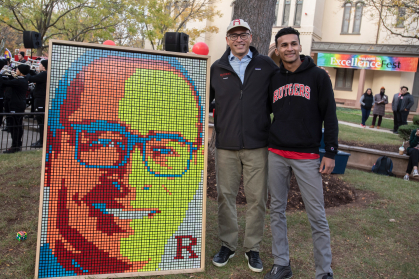 He also announced the creation of the Rutgers Summer Service initiative, administered by the Eagleton Institute of Politics and the Rutgers Office of Career Exploration and Success, which will offer 150 second- and third-year students paid summer public service internships working for nonprofit organizations.
"Students will work for nonprofits, serve the broader community, and gain the opportunity to learn about people who are unlike themselves—who face different struggles and come from different backgrounds, countries, races, or religions," said Holloway, a prominent historian whose scholarship addresses post-emancipation United States history. "Participating in this program will make our students better citizens and our world a better place."
"Research in service to the common good" is also at the top of Rutgers' priorities. The $900 million that researchers at Rutgers received last year from the federal and state government, corporate partners, foundations, and associations provided, for example, COVID-19 testing for underserved and vulnerable communities, a research hub for large-scale coastlines science, grants to help students and teachers improve STEM learning, robotics research, a new Institute for the Study of Global Racial Justice, and the New Brunswick Innovation and Technology Hub.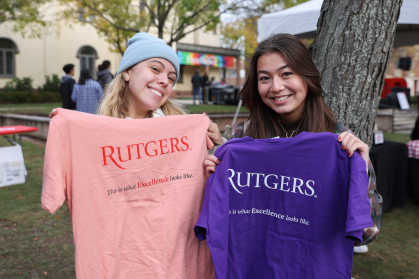 Addressing the social and political issues confronting the nation today, Holloway recalled listening, as a graduate student and a Ford Foundation Fellow, to the keynote address delivered by A. Leon Higginbotham, a civil rights advocate who had been appointed chief judge of the United States Court of Appeals for the Third Circuit. Comparing the quest for racial justice in education to the building of a cathedral, Higginbotham told the graduate students the work would take generations to realize.
"I believe in looking at the work before us as akin to the building of that metaphorical cathedral," said Holloway, whose great grandfather William Johnson Trent, a sharecropper in his youth, became president of Livingstone College, a private historically Black school in Salisbury, North Carolina. "I believe that as we go about our daily work, we must always honor those who came before us, who also worked on this structure, and whose names may be lost to history. I believe that we must remain vigilant, aware that at any moment something can come along that could stress its walls, that could compromise its roof, or that could crack its foundation."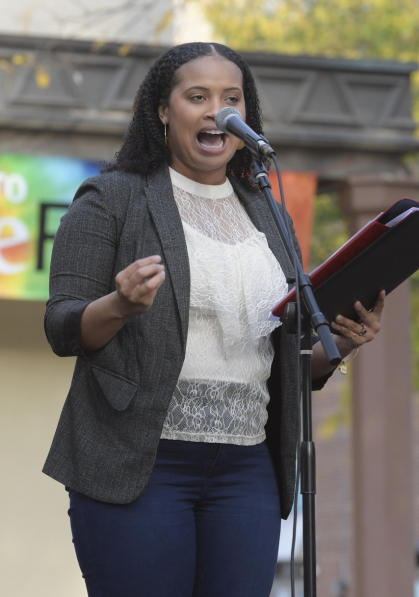 While institutions of higher education, including Rutgers, are not perfect, Holloway said, they should be commended for training workforces, preserving cultural heritages, and addressing society's most difficult challenges through research, advocacy, and education. They are anchor institutions, large employers, summer camps, the hometown team, local hospitals, and community event spaces.
"I know that there are skeptics who take delight in pointing out all the ways in which Rutgers doesn't execute perfectly. I wish I could say that the skeptics are always wrong, but they aren't. Rutgers remains a work in progress, and like any cathedral, it is never truly finished," he said. "But in my administration, I will continue to call upon our better spirits and present a new narrative about this university, one that points to the abundant excellence that is already here and the excellence that it can attain if we find ways to believe in ourselves. Yes, we may not complete the cathedral, but we will be steadfast in attending to the work that will ensure that Rutgers is, and will continue to be, a sight to behold, a beacon that others will admire and to which others will look as they engage in their efforts to build a better world."