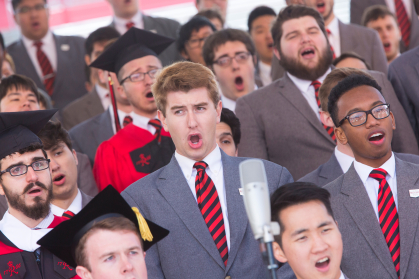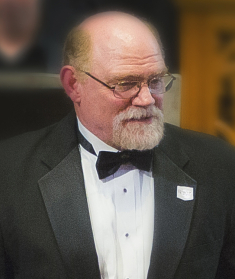 The Rutgers University Glee Club, founded in 1872 when a group of sophomores began practicing songs together, is celebrating its 150th anniversary. Its first concert featured a repertoire infused with school spirit and the growing public fervor for college football. As the distinguished men's chorus expanded over the years and performed in venues around the nation and eventually the world, its musical palette evolved, but today's members keep the fight songs of yore alive.
At Homecoming in October, an audience filling Rutgers University–New Brunswick's Kirkpatrick Chapel heard the group perform selections from the traditional Rutgers songbook, with director Patrick Gardner leading the ensemble in stirring renditions of "Old Queens Bell," "Down Where the Raritan Flows," "In a Quaint Old Jersey Town," and other favorites.
"At Homecoming, we wanted to bring the community together around time-honored Rutgers songs," says Gardner, Distinguished Professor of Music at Mason Gross School of the Arts and the group's leader since 1993. "We are attuned to music that is innovative and of the highest classical artistry, whether it's a beloved Christmas carol, a piece in Hebrew or Māori, or recent work by cutting-edge composer Melissa Dunphy."
A highlight of the Glee Club's yearlong celebration will be its spring concert at the Nicholas Music Center at Rutgers University–New Brunswick on April 30 at 7:30 p.m. "It will honor a century and a half of musical history," says Gardner.
Learn more about the history of the Glee Club.
Remembering David Drinkwater, 1928–2021, the formal choral director for more than 40 years.