The Rutgers community celebrates the newest inductees into the Rutgers Hall of Distinguished Alumni. Read their stories and watch videos about their achievements.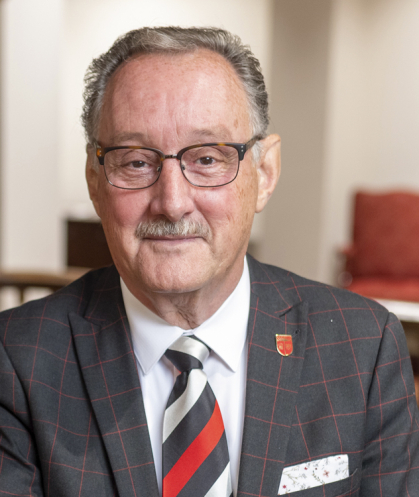 The Pursuit of Excellence
As a Rutgers premed student, Ron Garutti developed the will to succeed. Now he champions those who follow his example.
It's a tall order listing all the ways Ron Garutti has served Rutgers and pushed it toward ever-higher levels of excellence. One measure of his impact is the wide range of university boards and committees on which he has served: the Rutgers University Foundation Board of Directors, the Rutgers University Board of Trustees (he was vice chair for three years), and numerous task forces and advisory groups.
Another gauge is his long list of professional accomplishments, which make Garutti RC'67 an ambassador of scarlet excellence. Reflecting on major achievements in two distinct but related areas—medical care and pharmaceutical development—Garutti links these directly back to his college education. "Rutgers was foundational for my entire professional career," he says.
A native of Queens, New York, Garutti earned a degree in biology from Rutgers and a medical degree from Georgetown University, then served for 10 years as a pediatrician and pediatric cardiologist at Cornell University Medical College and in the U.S. Navy as a lieutenant commander. Deployed to the Naval Regional Medical Center in Philadelphia, he provided care to the children of officers and enlisted men. "I always believed it was a special privilege to take care of little children," says Garutti, "and to intervene at a critical point in their lives."
Following his military service, Garutti decided to use his medical expertise on a broader scale, embarking on a 29-year career in the international pharmaceutical industry. As an R&D executive at Pharmacia and Schering Plough, he led clinical research and regulatory efforts that brought numerous, important new drugs to market.
As for the work ethic crucial to his achievements, Garutti leaves no doubt about where he cultivated it. "Success is achievable, but it doesn't just happen. You have to make sacrifices. I learned that at Rutgers."
Today, Garutti is more convinced than ever of the university's ability to change lives. The Rutgers causes he and his wife, Joanna, have advanced through the years range from a fully endowed student-athlete scholarship to infrastructure projects like the Ron and Joanna Garutti Strength and Conditioning Center, where student-athletes develop physically, mentally, and emotionally. The couple also commissioned the VICTORY statue at SHI Stadium, a powerful symbol of the relentless push for excellence.
Garutti is proud to advance both athletic and academic achievement at Rutgers. "One enhances the other," he says. "Both contribute to raising the reputation of the university, to encouraging alumni to have pride, and to making the student experience even more meaningful." 
For the Garuttis, ensuring those outcomes is a victory in its own right. 
—Scott Fogdall
​​View a video of Ron Garutti.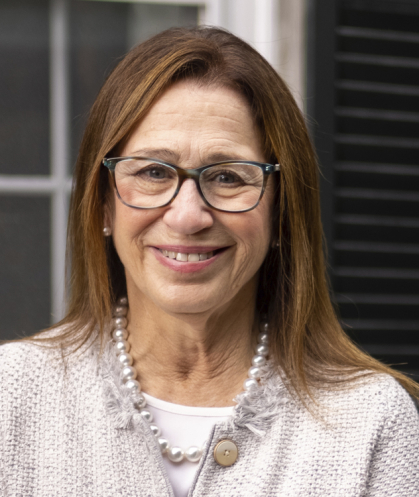 Serving the Underserved
Following an enriching time at Douglass College, Barbara Rodkin devoted her life, along with husband Gary, to a host of philanthropic causes.
The post-war world of the 1950s was a pretty rosy one for young Barbara Rodkin, whose family first lived in Brooklyn, New York, and then South Orange, New Jersey. "It was all new and shiny, and we went to new schools and had new clothes," says Rodkin DC'76.
But while earning a master's degree in educational psychology and interning at a family services agency in New York City, Rodkin began to understand the challenges faced by underresourced communities unlike the ones she grew up in. "I saw—night and day—the differences," she says. "I worked with families that were dealing with so many things." That realization has shaped Rodkin's worldview and the engagement with Rutgers that she and her husband, Gary Rodkin RC'74—also a Hall of Distinguished Alumni inductee—have embraced.
After graduate school, Rodkin worked in school districts in Boston and then Minneapolis training teachers how best to work with special-needs students. As she and Gary achieved success in their careers, they wanted to make a lasting impact on the organizations they loved, but not on some far-off day, she says. "We wanted to see the impact; we wanted to be part of it now."
Rodkin's passion for service is on full display through her volunteerism at Douglass Residential College. She is vice chair of the college's advisory board and led its Power of 100 Years Campaign, which raised more than $15 million. More than a century after its founding, the college still provides vital leadership skills and a nurturing environment for women, Rodkin says. "Douglass really stands for excellence," she adds. "It provides an incredible education that combines a large research university with a small, intimate place. I don't know if there are many places like that in the United States today."
Gary and Barbara Rodkin have backed their passions through their philanthropy, as well. The Rodkin Academic Success Center, launched by their $15 million gift, the largest in Rutgers athletics history, helps Rutgers' 700 student-athletes excel in the classroom and in competition. The Rodkins also created an endowed fund that supports scholarships and programs at the Rutgers University–New Brunswick Honors College, where students learn how to transform ideas into action.
Giving back to Rutgers in any way she can is what being Scarlet Forever means to Rodkin. "It means you take what you've learned there and you don't forget where you came from," she says. "You keep in mind how you arrived there, how you left, and how your time at Rutgers helped you be the person you are today. It's embedded in who you are."
—Amy Vames
View a video of Barbara Rodkin.
Coming Full Circle
Oliver Quinn thrived in Rutgers Law School's Minority Student Program, which he has made a point to support throughout his illustrious legal career.
Although Oliver Quinn's legal career reflects a history of determined forward motion, he has, in another sense, been traveling in circles. A graduate of the School of Law–Newark (now Rutgers Law School) and a beneficiary of its Minority Student Program (MSP), Quinn NLAW'75 returned to the school two years after graduation as its assistant dean and head of MSP. "I've always supported the law school," he says, "because I'm a product of the law school."
He's also the product of immigrant parents who, says Quinn, "went without vacations, a car, a home" to ensure that he could pursue his education and ambitions. "They taught me early on that I either had to learn how to make my differences work for me, or my differences were going to prevent me from doing anything," he notes.
He chose Rutgers Law School largely because of MSP. Aspiring to diversify not just the law school but the state's bar association, the program provides underrepresented students with academic support, paid internships, alumni mentoring and networking, and whatever else they need to succeed.
And succeed Quinn did. Because there were few, if any, opportunities for Black lawyers in traditional firms and corporations at the time, he took a job as a civil rights enforcement attorney with the U.S. Department of Health, Education, and Welfare, working on laws protecting people with disabilities and helping enforce civil rights legislation in universities and health care facilities. He relished the circular opportunity, he says, "to try to open up doors for others."
After serving as assistant dean of the law school from 1977 to 1981, he held a series of equally distinguished positions, including assistant counsel for the Judiciary Committee of the U.S. House of Representatives, administrative law judge for New Jersey, deputy solicitor at the U.S. Department of Labor, chief business ethics officer (and other positions) at Prudential Financial, and senior counselor at Taft Communications, advising clients on ethics compliance, leadership development, and diversity and inclusion.
But it was his tenure as assistant dean at the law school and head of MSP that he considers the best years of his career, calling it "an amazing opportunity to pay back the opportunity that MSP had provided to me." In 2013, he returned to Rutgers University–Newark to chair its advisory board. "I felt like I'd come full circle," he says. Perhaps, though, the most significant circle he's traveled is the one beginning and ending with his parents. Among the life lessons they offered him are those that have influenced every aspect of his long career: to "not put any limits on my aspirations," he says, "and to not be afraid to reach."
—Leslie Garisto Pfaff
View a video of Oliver Quinn.
Humility and Hard Work
John Herma was instrumental in developing the modern department store: Kohl's. He is also the man behind generous gifts to Rutgers and the founding of a top pediatric heart center.
John Herma first glimpsed Rutgers through his father's eyes. After graduating from Rutgers in 1933, Edward Herma worked in New York City as a banker, eventually settling in Hempstead, Long Island. "From the time I was a young boy, my father would take me to one Scarlet Knights football game every year," says Herma RC'70. "So, I grew up loving Rutgers and knew that it was where I belonged."
Recruited out of high school to play football, Herma chose instead to run track. Herma ran the 440-yard intermediate hurdles and was a mainstay of the sprint medley relay team alongside Tom Ulan RC'71, Jim Smith RC'70, and Rob Kerr RC'71. "Being part of that team taught me how to get the best from myself and those around me," Herma says.
The hard work paid off during Herma's senior year when the sprint medley relay squad won a gold medal at the National AAU Indoor Track Championships held in Madison Square Garden. Rutgers inducted the relay team into the Rutgers Athletics Hall of Fame in 2013.
Herma brought a champion's mindset with him as he began a 20-year stint at Kohl's in 1980. As its chief operating officer, Herma, and CEO Bill Kellogg and president Jay Baker, built the modern department store—a retail giant that grew from $300 million in annual sales in 1986 to $6.1 billion in 2000. "I always felt that the biggest part of my success was the people whom I surrounded myself with," Herma says.
Herma cites the invaluable lessons in integrity, confidence, and innovation he learned during his years at Rutgers for his personal and professional successes. "Both in athletics and academics at Rutgers, I always felt that there were smarter students and better athletes than I was, and later in my career I knew there were better businesspeople," he says. "One of the things that I could do was outwork everybody."
In 1987, Herma and his wife, Susan, responded to a family tragedy by establishing the Herma Heart Institute of Children's Wisconsin Hospital, among North America's top pediatric heart centers. "The institute will take every child, no matter how bad or how complex their heart problem is," he says. "We give every parent in North America and around the world the chance for their child to survive by doing everything we can." Herma has also given generously to Rutgers' Class of 1970 and Rutgers Athletics, making the largest gift in the history of Rutgers football to upgrade the Hale Center and build the Brown Football Recruiting Pavilion and Welcome Center. "I don't think Rutgers ever left me," Herma says. "It is always a part of me."
—Sean Downey
View a video of John Herma.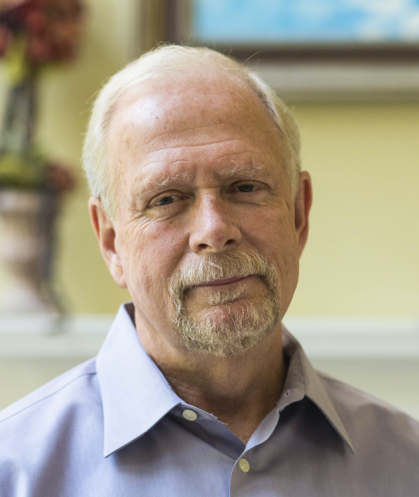 The Quest for Discovery
Whether starting biotech companies, providing funds for student scientists and their labs, or pursuing adventures in the great outdoors, Sandy Stewart brings passion and curiosity.
Driven to discover, Sandy Stewart began his biotech career at Novartis in Research Triangle Park, North Carolina, and cofounded several companies, including Immunovation and Paradigm Genetics (now Cogenics Incoria). He and his colleagues innovated drug development and diagnostics through work in functional genomics, proteomics, and immunology. His advancement of biochemical profiling helped create the field of metabolomics.
 While an undergraduate working with antibodies in professor Henry Stamper's Rutgers University–Camden lab, Stewart CCAS'81, GSC'87 discovered a transparent sheath that bonded fungus to corn—the method by which the fungus attaches itself before penetrating the leaf. The discovery resulted in the publication of his first paper.
"That," he says of the experience, "just gave me a tremendous confidence boost."
 For years he's been seeking to give that same boost to students by providing philanthropic support for scholarships, lab equipment, and more. Passionate about empowering students to fulfill their academic and career goals, he also engages with young entrepreneurs to help them build companies. "The scholarship is for biology and chemistry majors who are maybe B students who aren't necessarily sure what they want to do. It gives them an opportunity to work in a research lab and to try it out for a year with a professor."
An emeritus trustee, Stewart has served as chair of that board and of the Board of Governors, among many other leadership volunteer posts over the years. "When I became a member of the Board of Trustees back in 2006, then-President McCormick asked what I wanted my legacy to be," he says. "My answer was I want to get our medical school back. So, mission accomplished."
Through it all, Stewart's passion for discovery never has waned. "I've been all over the world pursuing my hobbies," he says. "I sail in the Pacific, the Mediterranean, the Caribbean, the Atlantic, wherever. I climb in Nepal, the Alps, the United States. I like the outdoors."
"When I was in Nepal," Stewart says, "we were awakened early in the morning by our Sirdar. He gathered us together to go to this little high point above where we were camped. All of a sudden, as sunlight broke, it only touched the very tip of Mount Everest. And it was just a brilliant red, orange glow, just the very top of it, no daylight in the sky, just the glow of the top of Mount Everest. It only lasted for seconds, but it was just the most amazing thing."
—Todd Lineburger
View a video of Sandy Stewart.