Healing the Heroes of 9/11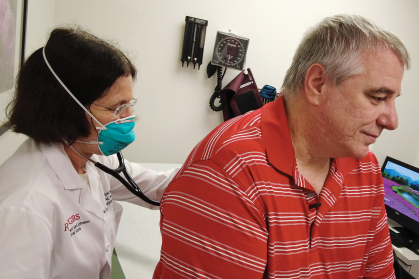 View a video about Rutgers' World Trade Center Health Program.
The 20th anniversary of the terrorist attacks of September 11, 2001, came and went this fall, now a fading memory of the day's honors for victims and heroes. But for many people—first-responders and those who lived near Ground Zero—they are reminded of the devastation each day because of their faltering health, compromised by exposure to airborne toxins.
The World Trade Center Health Program, part of Rutgers' Environmental and Occupational Health Sciences Institute, has been helping victims since 2003. Physician Iris Udasin and a team of doctors, nurses, case managers, and mental health professionals  have been treating those sickened by the toxic fumes, seeing 200–300 people annually for the first few years and jumping to more than 2,000 for the last 15. The clinic, located in Piscataway, New Jersey, is one of six serving 9/11 first-responders and survivors in New York and New Jersey, in addition to a national program for those now living outside the metropolitan area. It treats patients for ailments ranging from respiratory, neuromuscular, and gastrointestinal disorders to cancers and post-traumatic stress disorder in addition to rare diseases associated with the toxins.
Although first-responders constitute most of the patients, construction workers and people who lived or worked near the World Trade Center receive care, too. Some had been seeking answers for health problems for years, going from doctor to doctor, before finding the clinic. "I want to make sure that everyone who was affected 20 years ago is getting the benefits they deserve," says Udasin. "It's horrible enough to have to live with these illnesses, but at least these patients know that they did the right thing and are now getting the care they deserve."