Alumnus Bob Burns and his wife manage the LaHood-Burns Family Forest in South Dakota, which is surrounded by the Black Hills National Forest.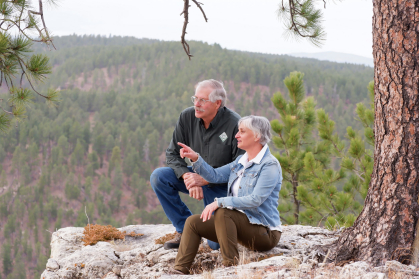 The next time you hike through a cultivated forest, you might have a dedicated family to thank. Roughly 70,000 family forest owners manage almost 19 million acres—more than any other forestland caretakers in the country—as part of the American Tree Farm System, the nation's largest sustainable woodland program.
It's a responsibility that alumnus Bob Burns takes seriously. Working with his wife, Mary LaHood, Burns CC'71 manages the LaHood-Burns Family Forest in Piedmont, South Dakota—a 320-acre spread west of Rapid City that is surrounded by the Black Hills National Forest. The couple's work was honored by the American Forest Foundation, which named them 2021 National Outstanding Tree Farmers of the Year.
To the surprise of no one, Burns and LaHood were working the land when they got the phone call about the award. "That says a lot about their incredible dedication. I can't think of more deserving tree farmers," says Bill Coburn, chair of the South Dakota Family Forests Association.
Burns's conservation efforts include thinning tree species, protecting water resources, stemming soil erosion, reducing wildfire risk, clearing invasive weeds, replanting and nurturing pine trees, and keeping forestland healthy for this and future generations. That's why Burns gives tours of the land to students from the nearby middle school, educating them about watersheds and turf management—and why he also installed a fence that lets hikers through but keeps out motorized vehicles that could ruin fragile ecosystems.
Burns was always connected to the land, which has been in his family since 1887. He took a temporary break from attending Rutgers to manage the property after the death of his father in 1969. Two years after graduating, Burns did work for the U.S. Forest Service and the State of South Dakota for more than 30 years—building recreational trails, repairing erosion on stream banks, restoring damaged forestland—while still doing projects on his family farm when he could.
In August 1994, a fire in adjacent Stagebarn Canyon devastated 80 acres of Burns's property—a tragedy that led Burns to partner with the South Dakota Department of Agriculture's Forestry Division to come up with a stewardship plan.
"A professional forester came out, mapped our property, reviewed it with us, and came up with a plan for how we would like to manage the property and meet our goals, such as having a commercial timber sale to salvage the burnt wood," Burns says. "Getting that stewardship plan led us into the American Tree Farm System." And it furthered Burns's selfless commitment to helping to ensure the splendor of forests.