The Class of 2022 rejoices after two years of navigating the academic disruptions caused by the COVID-19 pandemic.
In May, Rutgers held its first in-person commencements in two years for the Class of 2022. Elated students rejoiced in their achievement with families, friends, faculty, university administrators, and special guests. These were also the first in-person commencement ceremonies for Rutgers president Jonathan Holloway, who participated in events in Piscataway, Newark, and Camden, each featuring a Pulitzer Prize-winning journalist as the keynote speaker: David Remnick, Maria Hinojosa, and Nikole Hannah-Jones. They also received honorary doctoral degrees, as did former Rutgers president Robert Barchi (pictured center). More than 19,000 undergraduate and graduate degrees were conferred.
Addressing the exuberant crowd at SHI Stadium in Piscataway, where the 256th Anniversary Commencement took place celebrating graduates from Rutgers University–New Brunswick and Rutgers Biomedical and Health Sciences, Holloway asked students to acknowledge the people who shaped their lives and helped them in their academic journey. He encouraged them to stand and yell out the names of family members—anybody—who was instrumental to their academic success. "This was beautiful for me to watch," he told the audience. "I hope it was beautiful for you to experience."
Citing the relevance today of the 1954 speech "The Educated Citizen," given by politician Adlai Stevenson during an address at Princeton University, Holloway also stressed the importance of being civically vigilant in perilous times for democracy, a theme he struck in his remarks to graduates at Rutgers–Newark and Rutgers–Camden. "Get involved in local politics or nonprofits or service agencies," he said. "Advocate for those who are routinely left behind or ignored. Get them involved, too. This is not an easy thing I ask of you. But nothing worth having comes easy. Democracy does not come easy. Your freedoms do not come easy."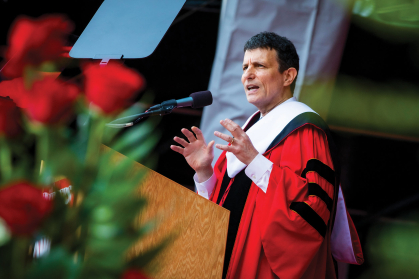 Rutgers University–New Brunswick and Rutgers Biological and Health Sciences Commencement
"What We Cherish Appears Fragile"
Before a festive audience gathered in SHI Stadium in Piscataway, President Jonathan Holloway presided over the Rutgers University–New Brunswick and Rutgers Biomedical and Health Sciences Commencement, conferring degrees and congratulating students and their families. The keynote speaker was David Remnick, the editor-in-chief of The New Yorker magazine and Pulitzer Prize-winning author. "So much of what we cherish—democracy, essential institutions, economic security, even the earth itself—appears fragile," Remnick said during the first in-person commencement held in two years. "Here at Rutgers, you've lived among what is one of the most diverse student bodies in the entire country. Without idealizing it, the student body here could and should serve as a model for so many other schools and American institutions. And yet, the struggle for greater diversity still meets with enormous resistance. That, too, is part of the American fragility."
Before Remnick delivered his address, Holloway bestowed upon him an honorary doctoral degree—as he did for former Rutgers president Robert Barchi; NASA scientist Aprille Joy Ericsson; and scholar of science, medicine, and social inequality Alondra Nelson. Separate school convocations also were held to acknowledge the success and accomplishments of graduates. More than 13,000 undergraduate and graduate students received degrees.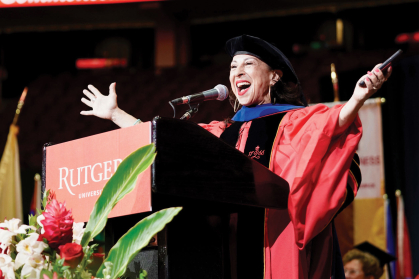 Rutgers University–Newark Commencement 
"Own Your Power"
Rutgers University–Newark's Commencement took place at the Prudential Center in Newark. Author and award-winning journalist Maria Hinojosa, whose reporting and writing about the immigrant experience in the United States is regularly featured in national media outlets, was the commencement speaker. "I need you to own your power because you are the future," said Hinojosa, founder and president of Futuro Media Group, which won a Pulitzer Prize in Audio Reporting in May just days before she addressed students. "I need you to strut your stuff when you're walking, like 'I am all that.' I need you to walk like that, because many of us, we're actually invisible-ized in this country, targeted in this country, with hate, and people somehow see us as a threat." Hinojosa also received an honorary doctoral degree, as did Wayne Meyer, a prominent community development leader who served as CEO of New Jersey Community Capital. He is well regarded for his advocacy for sustainable investment in local communities, particularly those in which there has been chronic underinvestment. Rutgers president
Jonathan Holloway shared his congratulations and inspiring words with students. Additional ceremonies were held that gave individual recognition to graduates. Close to 4,000 undergraduate and graduate students received degrees.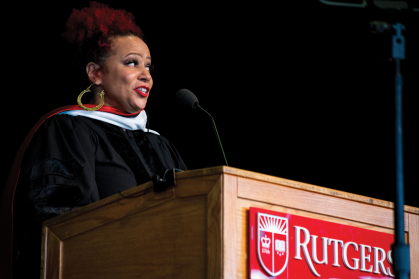 Rutgers University–Camden Commencement
"Help Save This Country"
Rutgers University–Camden's Commencement was held at the Freedom Mortgage Pavilion in Camden. Nikole Hannah-Jones was the featured speaker for the Camden College of Arts and Sciences and the Graduate School–Camden graduation. "These are perilous times, and I am afraid," Hannah-Jones told the audience. "But standing before you all today, I am also encouraged because who better to fight back, to help save this country, to force it to live up to its highest ideals, and to be an exceptional nation for all of its residents, citizens and non-citizens, than you all sitting before me today." The Pulitzer Prize-winning creator of The 1619 Project, Hannah-Jones also received an honorary doctoral degree. Rutgers president Jonathan Holloway also gave an encouraging and celebratory address. Other honorary degree recipients included Judith M. Persichilli NUR'76, commissioner of the New Jersey Department of Health, who addressed the School of Nursing–Camden; Stuart Rabner, chief justice of the New Jersey Supreme Court, who spoke at the Rutgers Law School ceremony; and Toni Pergolin, president and CEO of the innovative nonprofit Bancroft, who gave the keynote at the School of Business–Camden celebration. This year's events also featured Rutgers–Camden's Inaugural Rites of Passage Ceremony, which honored Black and Latinx graduates. More than 2,000 undergraduate and graduate students received degrees.