Rutgers and the Best Beach Chair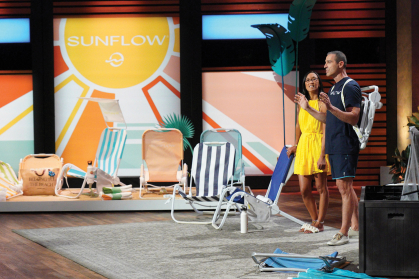 Alumnus Greg Besner and his wife appear on TV's Shark Tank to promote their Sunflow Chair.
A day at the beach shouldn't be a tug-of-war with your chair. Yet, the typical beach chair is cumbersome to transport or uncomfortable to sit in or folds up on you in embarrassing, sometimes dangerous ways. In 2020, alumnus Greg Besner and his wife, Leslie Hsu, began selling the Sunflow Chair, their answer to all the aggravating beach chairs that they, devout beachgoers, had suffered through. The chair, designed by Hsu, began selling well in New Jersey and the Hamptons—and caught the attention of the judges on Shark Tank during the couple's March appearance on the popular television show. Shark investor Kevin O'Leary was so enamored by the chair's potential that he offered the New Jersey couple $1 million for a stake in the company. That deal didn't pan out, but Besner RC'87 and Hsu have since raised $3.5 million from other investors. The Sunflow Chair is sold online and is available with an accessory package that includes a drink holder, sunshade, and bag for holding keys, phone, and other easy-to-lose items. All you have to do is have fun in the sun.