Jeffrey Robinson, the Prudential Chair at Rutgers Business School–Newark and New Brunswick and recently named provost and executive vice chancellor at Rutgers University–Newark, champions urban development, entrepreneurship, sustainability, and inclusive innovation and technology as the keys to social change.
In his modestly proportioned office, surrounded by books, files, packing crates, and a video backdrop and microphone for Zoom calls and conferences, Jeffrey Robinson seems even larger than his impressive 6 feet, 4 inches. But after you talk with him for a few minutes, it's his ideas that really seem outsized. Robinson RC'95, ENG'95 who is the Prudential Chair in Business at Rutgers Business School–Newark and New Brunswick (RBS), has spent his 21-year career "connecting the dots," as he puts it, between realms that might otherwise seem disparate: urban development, entrepreneurship, sustainability, governance, inclusivity, innovation. He is also the new provost and executive vice chancellor at Rutgers University–Newark.
It's not surprising, given his wide-ranging interests, reflected not just in the titles of his research papers—like "Poverty Alleviation Through Entrepreneurship in the United States" and "Can Developed Nations Make a Fortune by Licensing New Technologies to the World's Poor?"—but also in his degrees: a bachelor of arts in urban studies from Rutgers College, a bachelor of science in civil engineering from the Rutgers School of Engineering, a master of science in civil engineering management from the Georgia Institute of Technology, and a master of philosophy and doctorate in management from Columbia University's Graduate School of Business.
In a sense, all of those interests were sparked by a program he attended the summer before he entered Rutgers called the Governor's School for Public Issues and the Future of New Jersey. He studied the impact of New Jersey residents on the environment, a subject that incorporated urban planning as well. The experience prompted him to declare a double major in urban studies and civil engineering. He envisioned a career running big engineering projects, bolstered by a special understanding of urban policy and planning.
All of that changed when he learned about a New Jersey-based nonprofit called the PhD Project, which aims to diversify the ranks of business school professors by supporting doctoral candidates from historically underrepresented backgrounds. "I saw a path," he says, "where I could be a business school professor and study entrepreneurship and economic development and go back to my first love of how you make cities better through development and redevelopment. It's all part of a big circle." In 2008, that circle landed him at RBS, first as an assistant professor; then, in 2014, as an associate professor; and today, as the Prudential Chair in Business, which enables Rutgers to honor, retain, or recruit a distinguished senior scholar in business, thanks to a gift from Prudential Financial.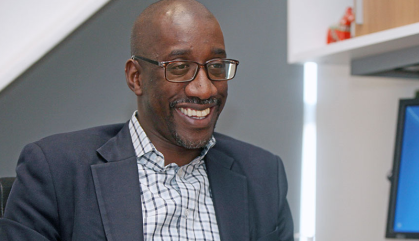 Through spring 2022, he hadn't yet moved into his new office, but he had hit the ground running in January when his term as chair began. He was deep into the planning of a New Jersey Social Entrepreneurship Summit, scheduled for June; he was also starting to sketch the details for fall activities designed to support students in STEM innovation. The chair won't change the direction or the scope of his interests and research, but it will provide additional resources—and that, he says, "is a game changer."
Indeed, the aim of virtually everything Robinson does is to change the game, from business-as-usual to business, particularly entrepreneurship, as an engine for social change. His emphasis is on new entrepreneurs, especially in the Black and Latinx communities, whose fledgling businesses could change lives—not just the lives of the business founders themselves, but also those of their employees and the communities within which they work. "Over the years," says Robinson, who was inducted into the Rutgers African-American Alumni Alliance Hall of Fame in 2008, "my work has been not only to bring attention to those businesses, but also to support them through programs and initiatives."
He's done that, in part, as cofounder and current academic director of the Center for Urban Entrepreneurship and Economic Development (CUEED) at RBS, which benefits individuals and communities through research, education, and economic development. In its 14 years of existence, CUEED has made a significant economic impact on the Newark area by supporting more than 500 entrepreneurs. One of its many programs was an Etsy Craft Entrepreneurship Workshop, which before the pandemic helped people earning money through craft-based endeavors build them into businesses through Etsy, the ecommerce company serving as a sales platform to millions of creators and sellers of handmade or vintage items.
The workshops, says Robinson, were "to support people who are doing things on the side, to bring them from the informal economy into the formal economy." The transition puts more money into people's pockets so that they can spend it at other businesses in their community. And if those Etsy entrepreneurs do well enough to hire one or more employees, they could, in the aggregate, have a real impact on that community. "When a person of color is the owner of a business," Robinson says, "they are more likely to hire other people like themselves. If we can get more Black and Latinx business owners in place and they start to hire people, we start to chip away at some of the unemployment rate for the same community." He cites a study from the University of Delaware demonstrating that the more Black entrepreneurs a neighborhood has, the less youth violence it experiences.
Another way Robinson connects the dots through CUEED is to offer programs for minority-owned suppliers that teach them how to access contracts from large corporations. The program, which has been expanded nationwide, also helps to connect those minority businesses with potential corporate clients. "Part of our job," he says, "is to get small business owners to think bigger and to think about how they're going to grow in more strategic ways."
Robinson also helped to create the New Jersey Social Entrepreneurship Institute, which sponsored the summit. He's had a long interest in social entrepreneurship, which aims to create businesses that directly benefit the community. Social entrepreneurs, he explains, "start businesses and organizations to make social impact: to do something in education or work with youth development or aging seniors or address environmental issues."
Robinson has worked extensively with the National Science Foundation, whose grants of close to $4 million have allowed him to research technology entrepreneurship and what he calls "inclusive innovation—how you make sure that technology entrepreneurship is as diverse as the country." He's also helped to create pathways for minority tech entrepreneurs who, he says, "aren't getting the same access to the networks, the money, or the mentors." The Black and Latino Technology Venture Program, for example, helps would-be entrepreneurs turn a good idea into an actual business. Robinson says that new tech entrepreneurs are often advised to start up using their own money or money from friends and family. "Well," he asks, "what happens when you and your friends and family don't have any money?" He has helped to create an angel investment fund targeting Black and Latinx ventures. Both of the initiatives, he says, "help to create equity in both senses, from an investment standpoint and from a power and equality standpoint."
The issues that most compel Robinson are inclusion and equity, and the preponderance of his work has been spent addressing them. "We talk about how living in the United States, we have lots of opportunities to create wealth, start businesses, and things like that," he says. "And then the data show us that it's not true. There are barriers to economic inclusion. For me, all this work around entrepreneurship, social entrepreneurship, supplier diversity—even the work that we do in STEM innovation—is about making sure that everybody has access and opportunity in this economy."
There is one more aspect of Robinson's work that's been deeply rewarding: teaching undergraduate and graduate entrepreneurship classes at the business school. He loves the concept that a student can enter one of his classes with an idea and emerge at the end of the semester with a business plan, possibly with partners in place to help bring it to fruition. "That creative process—of getting something out of your head and working it through and thinking about the strategies—is not just for building new businesses," he says. "That problem-solving and creativity—the innovation that goes into that—is such a valuable skill for life." Among his most gratifying moments are when he meets former students years later and hears them say that his class represented the first time anyone helped them take an idea and make it a reality.
Much of what Robinson has learned and accomplished is thanks to the input and inspiration of his mentor, Jerome Williams, the previous holder of the Prudential Chair in Business who died unexpectedly in 2021. "In that sense," Robinson says, "it's very emotional for me to be the next Prudential Chair, because I'd prefer that he was here." Williams, he says, always did work that was highly relevant to society. "I'll be forever indebted to his example and his legacy," he adds, "and I hope to be someone who can do the same thing for others." Given his two-plus decades of helping and inspiring others, Robinson has accomplished much of what Williams espoused, and he continues to change lives in the process.