The Black Camden Oral History Project, led by Kendra D. Boyd and Jesse Bayker, will tell the stories, through first-person accounts, of life and activism in the city, including the Black student protest movement at Rutgers University–Camden.
The best-known episode of Black student protest at Rutgers occurred on February 24, 1969, when members of the Black Organization of Students took over Rutgers University–Newark's Conklin Hall for three days, demanding, among other things, more minority representation among students, faculty, and staff. Less well known is the similar sense of outrage that had been brewing among Black students at Rutgers University–Camden. Two weeks earlier, on February 10, students associated with the Black Student Unity Movement issued a list of 24 demands, including the recruitment of more Black students, faculty, and staff members and providing them with services, resources, and a voice on campus. When the protestors felt that Rutgers president Mason W. Gross continued to be insufficiently attentive, the students barricaded themselves inside the College Center at Rutgers–Camden on February 26 until he issued a written statement acknowledging his intention to address their grievances.
What was the experience like for those students all those years ago, a story that has been only fleetingly told? What was it like to hail from the city of Camden, which was 40 percent Black, and attend Rutgers–Camden, which was 98 percent white? How did those students advocate for themselves and city residents? Their recollections, and those of others, lie at the heart of a new initiative called the Black Camden Oral History Project, which will compile testimonies tracing the history of Black life and activism in the city and on the campus. The project will also explore entrepreneurship and cooperative endeavors that were part of city life as well as local social and cultural institutions.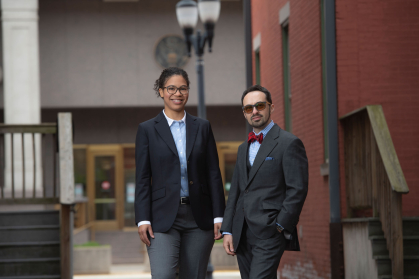 The project is being led by Kendra D. Boyd, an assistant professor in the Department of History at Rutgers–Camden, and Jesse Bayker, the research project manager and digital archivist at the Scarlet and Black Research Center, an arm of the Institute for the Study of Global Racial Justice at Rutgers University–New Brunswick. Boyd GSNB'17 and Bayker GSNB'19 will be leading the interview process. The interviews will be posted on the Black Voices at Rutgers website, and transcripts will reside on the Rutgers Oral History Archives website, all available to students, researchers, and the public.
The Black Camden Oral History Project will build on the history of the Black student protest movement at Rutgers conveyed in Scarlet and Black, Volume III: Making Black Lives Matter at Rutgers, 1945–2020 (Rutgers University Press, 2021), edited by Miya Carey, Marisa J. Fuentes, and Deborah Gray White. It is the latest volume tracing the history of race and African Americans at Rutgers. The other titles, also published by Rutgers University Press, are Scarlet and Black, Volume I: Slavery and Dispossession in Rutgers History (2016), edited by Fuentes and White, and Scarlet and Black, Volume II: Constructing Race and Gender at Rutgers, 1865–1945 (2020), edited by Boyd, Fuentes, and White. Collectively, the volumes "provide insight on the past history of exclusion as a way to move forward with inclusion," writes White, a Board of Governors Distinguished Professor of History at the School of Arts and Sciences, in the introduction to volume II. Rutgers Magazine discussed the new oral history project with Boyd and Bayker, including what they have learned thus far and what they hope to discover.
RUTGERS MAGAZINE: How are you sharing the workload for the Black Camden Oral History Project?
JESSE BAYKER: We conduct the interviews together and also the background research on interviewees or key events that they were involved in. Kendra is more involved with outreach and participant recruitment. I oversee more of the post-interview process, including designing the website, which will eventually merge the oral history transcripts, photographs, and digitized historical documents to illuminate the lives, activism, and legacy of Black Rutgers–Camden alumni and city residents.  
RM: What kind of team are you assembling to assist you in producing the testimonials?
KENDRA BOYD: We have received assistance from the Rutgers Oral History Archives (ROHA), which is the repository of oral histories. Master copies of interview recordings and transcripts will be preserved as part of the ROHA collection housed at Rutgers University Libraries' Special Collections and University Archives at Rutgers–New Brunswick. The staff at ROHA has also provided oral history training for Rutgers–Camden students who assist with the project. 
Support from the Committee on Institutional Equity and Diversity and the Mid-Atlantic Regional Center for the Humanities at Rutgers–Camden allowed us to hire the students to work on transcribing interviews, write biographical summaries, and generate lists of key subject words that are useful for indexing the interviews. We plan to get students involved in conducting the interviews, and I also plan to teach an engaged civic learning course related to the project. These courses advance the dual objectives of student learning and community development by integrating civic engagement into the curriculum.
RM: How is the Scarlet and Black Research Center, part of the Institute for the Study of Global Racial Justice at Rutgers, assisting the oral history project?
JB: My contribution to the Black Camden Oral History Project is done with the support of the Scarlet and Black Research Center, where I am the research project manager and digital archivist. One of the key functions of the center is to continue developing the Scarlet and Black Digital Archive, which documents Black history at Rutgers and features archival sources about African Americans in New Jersey. I curate our digital archive and create related digital tools such as Black Voices at Rutgers and the forthcoming New Jersey Slavery Records (which will be introduced this year). My contribution to the Black Camden Oral History Project intersects with this work.
RM: What more can you tell us about Black Voices at Rutgers?
JB: Black Voices at Rutgers is a digital hub for oral histories, and we are adding more interviews to the website as we find them at different Rutgers libraries. The website is not a repository per se; rather, Black Voices at Rutgers is a research tool that helps students and educators discover and access African American history interviews that are scattered across different repositories at Rutgers, such as ROHA, Special Collections and University Archives, and the Margery Somers Foster Center.
While doing research for Scarlet and Black, Volume III, I looked for oral histories of Black alumni, professors, and staff. The process was challenging: Rutgers holds thousands of oral history interviews in different collections, but it was often difficult to locate Black voices in a sea of predominantly white oral histories. So, Black Voices at Rutgers aims to be an index that can be searched by subject, place, time period, and so on. We have these amazing resources in our collections, but students don't always know how to find them. As a digital archivist, I'm always thinking about how we can make it easier for people to access these resources.
RM: The project's goal is to preserve the history of African American life and activism in Camden. Among the subjects to explore are civil rights and Black Power activism and community organizing; business, entrepreneurship, and cooperative endeavors; and social life and cultural institutions. From the standpoint of logistics, which of these topics do you think will present the biggest challenges to document?
KB: As a scholar of Black business history, I can say that in general it is difficult to research small businesses owned by African Americans. This will be the case with the history of Black Camden as well. The records of former small businesses are just not as likely to have been preserved, compared to the records of churches or social clubs. This reality is just one reason this oral history project is important. We want to capture people's memories about what businesses or co-ops used to exist, the people involved in them, and how they operated. Preserving these memories in perpetuity is one way to address gaps in the historical record and keep community histories alive.
The uncertain times we're living in certainly remind us that now is the time to record and preserve the important stories and contributions of living historical figures. The people we are interviewing, and hope to interview, are of a generation that is starting to retire, and that's a great time to reflect on the past. For those who passed through Rutgers–Camden in the 1960s and 1970s and are finishing their careers, they can reflect on what their trajectory has been—and how their activism and experiences at Rutgers shaped their lives.
RM: In documenting the histories through the personal recollections, do you have time parameters in mind?
KB: There is no limit on how far back in time we will cover. We go as far back as people's memories go, with only the natural constraint of people's lifespan. For now, we are emphasizing the '60s and '70s; however, because we are conducting life course interviews, we actually cover a longer span. We've interviewed people who talk about the 1950s and even the 1940s. For Rutgers alumni, we are interested to know about their lives before they arrived at the university and their trajectory after they left campus.
We also aim to capture city residents' earliest memories. We ask questions about what their neighborhood was like growing up, their K–12 educational experience, and other aspects of Black life in Camden such as church and social activities. In addition to people's direct memories, we've had interviewees recount family stories and information that has been passed down to them through an oral tradition. Many Black families in Camden settled here as the result of the Great Migration, and they trace their roots to places in the South. But some of our interviewees were able to share family stories that touch on Black history in Camden County as far back as the 1830s. South Jersey has a long and fascinating history when it comes to the African American struggle for freedom, and it's amazing to see how stories going all the way back to the era of slavery and the Underground Railroad are passed on from generation to generation.
RM: The Black Camden Oral History Project was inspired in part by Beacons of Light: The Black Student Protest Legacy at Rutgers–Camden, which was a day of panel discussions in 2016 about the history of student protest and desegregation at the university and in the community. Have you interviewed people who spoke at the symposium? 
JB: We recorded an oral history interview with Roy L. Jones CCAS'70, one of the key activists who participated in protest actions with the Black Student Unity Movement at Rutgers–Camden. He was one of the main organizers of the Beacons of Light symposium and has been very helpful in getting the oral history project off the ground. His oral history was our first interview for the project, and we learned a lot from him that helped shape the questions we are posing to other interviewees. We are working to recruit some of the other participants from Beacons of Light.
RM: Rutgers–Camden has been criticized by Black students and city residents for its indifference toward the community. How has that changed? 
KB: The relationship between Rutgers–Camden and the surrounding community continues to be a work in progress. However, much improvement has been made due to the hard work of leaders such as Nyeema Watson CCAS'00, GSC'15; as the vice chancellor for diversity, inclusion, and civic engagement at Rutgers–Camden, she has done a lot to make sure the university lives up to its mission of serving the public.
One thing we are learning from the interviews is the various ways the work of Black student activists from the 1960s and 1970s prompted the change we have seen over the last several decades with regard to the institution being more engaged with community members and stakeholders in Camden, forming partnerships within the city, and being purposeful in creating a culture of service to the community. As we conduct more interviews, we hope to learn more about the ways community and student activists pushed the university to be a better version of itself, how that process took place, and how other people created real change. Activism was just the starting point, and their efforts continued.
RM: Any other early surprises thus far?
KB: We've learned about Black students in the ROTC and military. This includes some of the racism they faced, but also the doors that these experiences opened for them. We've also learned more about efforts related to Black economic development in Camden and the ways Rutgers–Camden students and alumni participated in supporting Black businesses or worked to create affordable housing in the city.
JB: One of the more fascinating stories we learned about is an event that took place in spring 1971 when a group of aggrieved Black students, feeling that their concerns were being ignored by the university, stormed the library, overturning furniture and pushing books off the shelves. It was a brief, but dramatic, action; no one got hurt and no books were destroyed. The university came down hard on the protesters, expelling students and firing those who had been working on campus. Hundreds of Black students and community members rallied in protest, including 50 students from Rutgers–New Brunswick and Rutgers–Newark. At the administration's request, some of the participants were arrested and charged with inciting a riot. One interviewee for the Black Camden Oral History Project recalled losing his job and spending 10 days in jail, sleeping on the floor and sharing a cell with five guys, while the community raised funds for his bail—all for pushing over library books and calling the university racist.
The story had been documented primarily from the perspective of university administrators and staff; now we will be able to add a new dimension by recording the memories of the alumni who participated. And we are able to see how much the protestors risked in order to draw attention to the racism that Black students were facing. They risked their education, jobs, and even their freedom; they faced severe consequences for disrupting business as usual at the university.
Learn more about the Black Camden Oral History Project.