Alumnus Jonathan Ullman presides over a popular destination in Las Vegas, where details of the battle between organized crime and law enforcement can be discovered.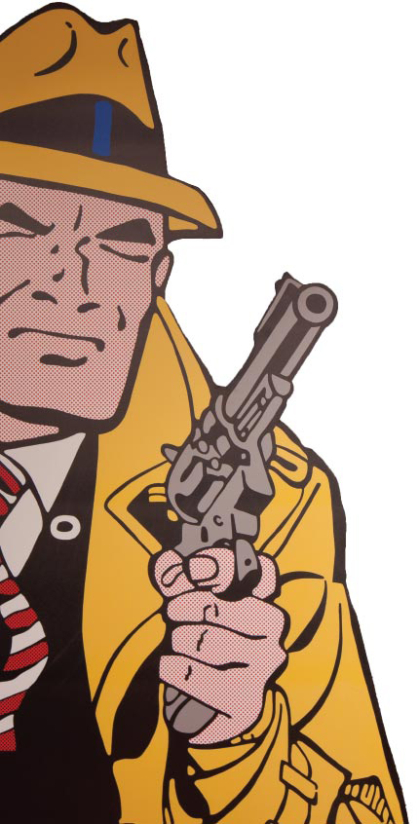 In November 2010, Jonathan Ullman was sitting at a table in a Las Vegas Starbucks and pondering his pending relationship with organized crime. His thoughts turned to Rutgers Business School–Newark and New Brunswick, where he had received a master's degree in business administration. He was recalling his coursework in subjects such as organizational behavior, business ethics, and strategic human resources, all of which would come in handy in his new role, he figured. Ullman RC'92, RBS'04 had a lot in front of him. He had just been named the founding administrator of The Mob Museum in Las Vegas. Ullman was the organization's only employee; his executive office, for the time being, was the table in Starbucks.
The Mob Museum: National Museum of Organized Crime and Law Enforcement, celebrating its 10th anniversary this year, has become a must-visit destination in Las Vegas, attracting 400,000 visitors annually and employing 150 people and scores of dedicated volunteers. "My role was to create the organization to operate the museum," says Ullman, today the CEO and president of the museum, who had 16 months to get the doors open after being hired by the museum's board of directors. "It was a very large project and a little daunting, for sure. I had a lot to learn about the subject. There weren't many reference points for creating a plan to launch a museum like this. But I was hired to figure this out. It's been big and exciting."
The museum is housed in a former U.S. Post Office and Courthouse, which opened in 1933 when Las Vegas, incorporated in 1905, was still young and pushing the boundaries of what was socially acceptable. The building, an excellent example of neoclassical architecture, was the setting in 1950 for the U.S. Senate Special Committee to Investigate Organized Crime in Interstate Commerce. Led by U.S. Senator Estes Kefauver of Tennessee, the hearings revealed the breadth of organized crime nationwide, particularly in Las Vegas where casinos had attracted crime families from across the country.
On four floors teeming with exhibits and interactive spaces, the museum traces the birth of organized crime in the late 1800s; its explosion during Prohibition in the early 20th century; the attraction of mobsters to Las Vegas casinos after gambling was legalized in 1931; and organized crime's incarnations today, from international drug cartels and human trafficking rackets to money laundering and cyber scams. As the museum demonstrates, law enforcement countered criminal activity every step of the way with its own resources, from wiretapping to advances in forensics to gang infiltration.
"If we had only told the story of mobsters, it would not have been an accurate historical portrayal," says Ullman. "Early on, we grappled more with the idea of how broadly we wanted to develop the story. The Mob Museum could have been just about Las Vegas and its genesis, which is very much tied to organized crime. But we decided on a national focus, too. Now, we are even telling the international story: 21st-century rackets, international crime groups, and the story of international law enforcement agencies."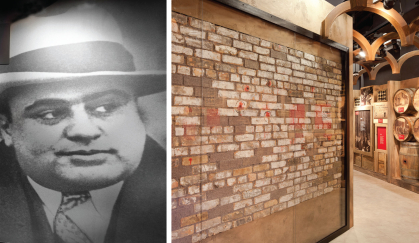 The Crime Lab, introduced after the museum's renovation in 2017, features interactive stations that invite visitors to try their hand at forensics, from fingerprint and DNA analysis to visiting a coroner's office. The Use of Force exhibit features an interactive experience called the Firearm Training Simulator. Visitors have to make the split-second decisions that law enforcement officers encounter daily as a trainer leads visitors through video training and live role-playing scenarios. Another exhibition features the actual brick wall, pocked with expended bullets, that was the setting for the St. Valentine's Day Massacre, which took place on February 14, 1929, in a Chicago factory at the height of Prohibition. Seven men associated with Bugs Moran's gang were slain allegedly by a rival gang led by Al Capone, although his guilt was never proven. The Mob Museum even includes a functioning speakeasy, the clandestine saloons that were a staple during Prohibition, and features a working distillery that produces moonshine, which guests can sample.
The museum doesn't glorify mobsters and organized crime; that notion has been reinforced in movies and books. "Thanks to Hollywood, people often imagine mobsters in this romantic sort of way," says Ullman. "Mobsters have this capacity for boldness: they don't answer to anyone while accruing great wealth and power. On the surface, that appears, to an extent, glamorous and exciting. If you expose yourself to this history, you come to see it rarely worked out well for these guys. Most mobsters don't retire and live on the beach. Most end up in prison—or worse."
As an undergraduate at Rutgers University–New Brunswick, Ullman majored in psychology and worked in a behavioral neuroscience lab, an experience that fascinated him. Shortly after he graduated, his father sent him a newspaper article about a new museum opening in Jersey City: the Liberty Science Center. The museum needed a part-time "exhibit explainer" for six months, paying $6.75 an hour. Ullman, who had loved going to museums as a kid growing up in Randolph, New Jersey, thought the part-time job would be a decent layover until he made his next move.
"Hey, I was a science guy," Ullman says. "All of a sudden, I was in this environment at the Liberty Science Center where one day I would be talking about biology and the next it was earth science or physics or something else. I just loved it and also the public component: helping student groups by providing these educational experiences and providing a fun and meaningful time that people could spend with their families and with friends."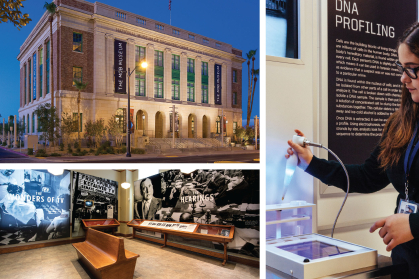 The six-month gig turned into a 14-year career at the Liberty Science Center, with Ullman ascending to vice president of experience integration in 2007. Rising through the ranks of the center, Ullman had developed an interest in management and strategic planning. He had enrolled part time at Rutgers Business School in Newark in 2001 to earn a graduate degree.
"I can't say enough about my experience at Rutgers Business School; it was phenomenal," says Ullman. "A couple of classes were specific to nonprofits; all of the fundamental coursework was readily applicable. It was tremendously helpful for me. A day does not go by that I don't think of something about that program and many of the professors."
These days, when he finds spare time from his executive demands, Ullman makes a point to walk through The Mob Museum to see how visitors are reacting to the exhibits. "How do we imagine and create experiences that will make it memorable for them as we fulfill the museum's educational goals?" he says. "We are pretty obsessive about seeking to present that captivating experience, and we cover a lot of ground because the history is broad. The staff—which is incredibly creative and dedicated—and I are always trying to figure out how to wow people."
Museum visitors routinely gasp in astonishment over the information and objects they encounter. Some of the guests—law enforcement officials and even former mobsters—have unique reactions. One exhibit features a black-and-white photograph of mobster Carmine "The Cigar" Galante, who was murdered in the late 1970s while dining on the terrace of a restaurant. The image is a morbid tableau of overturned tables and chairs and pooling blood, at the center of which is the slain Galante, who nonetheless has his omni-present cigar in his mouth. "A police officer came through the museum and was looking at the photograph," says Ullman. "He said he was there that day. A fellow officer had picked up the cigar, which was lying on the ground, and stuck it in Galante's mouth before the press photograph was taken. 'It wouldn't have been right not to have it there,' he said."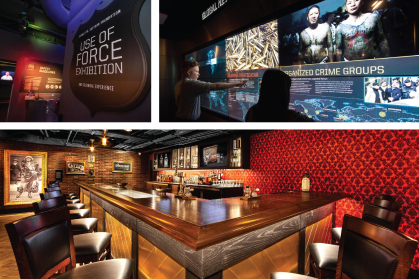 Another guest had been an inmate on death row at the Nevada State Prison before receiving a pardon. Viewing a museum display of one of the two chairs used in the prison's notorious gas chamber, he recalled that the small cells housing condemned inmates were just down a short corridor from the chamber. On the few occasions that they could get out to exercise, they were forced to use the idle gas chamber because it was the only room spacious enough to accommodate a handful of prisoners.
There are countless stories behind the acquisition of the objects, artifacts, and documents on display. "The artifacts we acquire, on both the criminal side and law enforcement side, have come to us in different ways." says Ullman. Some of them are donations by family members; others are acquired at auctions. Serendipity plays no small role. The brick wall featured in the St. Valentine's Day Massacre exhibit had been salvaged from the original warehouse and reassembled as part of a wall in a bar. The bar owner's niece was living in Las Vegas, and the museum was able to acquire the brick wall at the time of its opening. The Jaguar convertible belonging to John Gotti, the boss of the Gambino family, was obtained through his wife, Victoria DiGiorgio. The families of several prominent law enforcement officials—G-men—have contributed documents and artifacts as well.
"The challenge is continuously trying to find interesting objects and artifacts to enhance the story," Ullman says. "So, we come at the display from a few angles. It's about the content and the storytelling and whether we are doing right by that."
The history imparted by the exhibits is complemented by a program of guest speakers such as screenwriter Nicholas Pileggi, who wrote Goodfellas and Casino, and Rick Smith, the president and CEO of Axon, which manufactures tasers and body cameras for police officers as part of its mission to promote nonlethal ways to enforce the law.
Never one to be satisfied, Ullman, working with his board of directors, donors, and other key players, is making plans for the next 10 years of the museum's existence. Fortunately, the museum is situated on a large parcel of property that is suitable for development, which will allow The Mob Museum to build a new structure to complement the existing historic building in order to present new exhibit experiences and outdoor programming and house a proper theater. 
"The future is bright for us," says Ullman. "We map out the direction we want to head in, strategize as an organization, and put in an immense effort to raise capital as well as support from the community. Once we have the foundation in place, we can execute on our mission of advancing the public's knowledge of organized crime and law enforcement."