A Commitment to Public Service
Rutgers Summer Service Internship Initiative, in its inaugural season, invites students to appreciate the value of public service.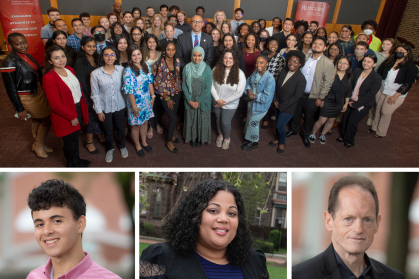 This summer, 100 sophomores and juniors have the opportunity to serve in an internship at a nonprofit organization or direct-service government office. Known as the Rutgers Summer Service Internship (RSSI) Initiative, the program is an invitation for students to develop career skills, expand their knowledge of civic engagement, and appreciate the value of public service. RSSI students also earn up to $5,000, receive tuition remission for a 3-credit asynchronous course, and participate in a meet-and-greet and academic symposium events with Rutgers president Jonathan Holloway.
"Through this initiative, we will be giving Rutgers students the chance to support critical social services, to contribute to solutions for our most complex problems, to understand life in America from a different perspective, and to explore how they can strengthen our democracy," Holloway said when he announced the initiative in the fall during his inauguration as Rutgers' 21st president.
The initiative is coordinated by the Eagleton Institute of Politics, Rutgers–New Brunswick Office of Career Exploration and Success, Rutgers–Newark Career Development Center, and Rutgers–Camden Career Center.
When Holloway announced the RSSI Initiative, he called on Rutgers to be a leader in its commitment to public service, complementing its investment in research and providing access to higher education to those from modest backgrounds. "I believe that education, paired with public service, can do amazing things," Holloway said. "And given the events of this past year in our political landscape, I do not think it hyperbolic to say that education paired with public service can save democracy."