A Celebration of Black Queens
Alumnus Malcolm Manning's stunning portraits garner the attention of Oprah.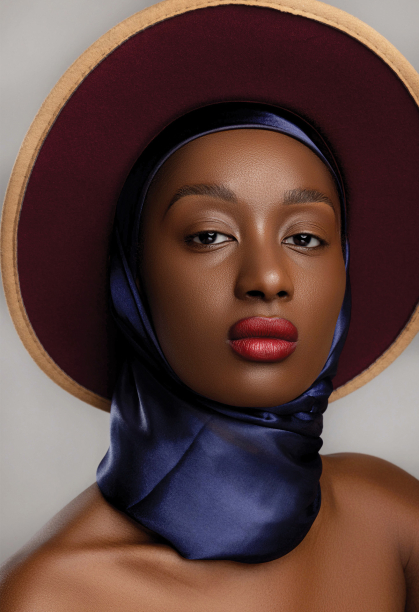 When Malcolm Manning looks through the viewfinder of his camera and beholds the woman who will be the subject of his portrait, he sees a story unique to her. As a Black man raised in Newark, New Jersey, whose mother insisted on photographing his every move on the basketball court, Manning SEBS'21 also sees his mother. And he sees strength. Resilience. Pain. Grace. Love. Magic. "I find joy in capturing all their different features that make them into the beautiful creations that they are," says Manning, who graduated in May with a major in exercise science and intends to become a physical therapist. "Black queens will be celebrated because they deserve to be." His tweet of his photography last December to drum up some work caught the attention of the queen of queens, Oprah Winfrey, who responded days later with her own tweet expressing an interest in commissioning Manning to photograph a story for her new website.  Until that moment arrives, he is biding his time, he says: "I am perfecting my craft so that when I get to her, I can give this opportunity my all."
An Interview With Malcolm Manning
RUTGERS MAGAZINE: When did you first pick up a camera?
MALCOLM MANNING: I played basketball growing up. My mom would come to the games and take pictures. We had a cheap little camera, but it would capture some decent action shots. In a room full of hundreds of people, for some reason I never ceased to lock eyes with my mom whenever she had that camera to her face capturing my special moments. I believe these moments were God highlighting to me part of the call on my life. Once I graduated high school and stopped playing organized basketball, my mom stopped taking pictures. I picked up that camera. At first, I would just use it to take pictures of my friends and myself for social media. As time went on, my love for taking pictures grew. It felt natural. I brought the camera with me everywhere, captured every moment possible, and haven't stopped since.
RM: What subjects were you choosing to photograph?
MM: At first, I chose to capture anything. I did a lot of freestyle capturing. I would go out to eat with a few friends and one of them would say, "Hey, Malcolm, can you take this picture of me?" I was that person and found joy in it. Once I understood that I had a gift, I went from leisurely taking pictures to intentionally capturing art, and that changed everything.
RM: How did you come to settle on portraiture?
MM: I was on a study abroad trip in Paris and sitting in an art history class. We were exploring and studying different pieces of art and different sets of photographs. I began to ponder how I would have taken that picture and what I would have added or taken out. I realized that I had not only a creative side, but also an eye for portraiture. I could look at a picture and see a story behind it, and those were heartfelt moments that opened me to even more possibility. I have been heavily influenced by modern and contemporary artists, such as Jean-Michel Basquiat. Being that I am detail-oriented, my mind went to a thousand different places in wondering what I could do as a professional. After committing myself, I did just that. Today, my art homes in on beauty, ability, and impact.
RM: You seem to have an affinity for photographing women of color? What attracts you to photographing them in particular?
MM: When I look at my mom and other women of color:
I see strength.
I see resilience.
I see pain.
I see grace.
I see love.
I see magic.
But above all else, I see a story, one worth capturing. As a Black man, I find joy in being a part of their stories that I will put on display. I find joy in capturing all their different features that make them into the beautiful creations that they are. I cannot imagine a life of art without the most art-filled human beings in the world. I have come to understand that Black people are not always portrayed in modern art but that narrative changes with me. Black queens will be celebrated because they deserve to be.
RM: You are also interested in urban street photography. Why so?
MM: I think of my work as art, and urban street photography is part of that vision. It is an opportunity to explore, to learn, to be challenged, to pay attention to detail, and to capture mastery. Since I was a child, fashion and culture have been embedded in me; with urban street photography, I get to thoroughly explore that side of me. All that is required to execute in this area is vision and technical skills.
RM: You were commissioned to do some work for Oprah. Can you explain the circumstances surrounding that rare opportunity?
MM: The moment of being noticed by Oprah was a moment that I didn't see coming, yet it seems like I was prepared. I had decided to make a tweet, confident in my work and eager to share it with my followers. A small part of me wondered if someone in the media would notice it. But never in a million years would I have thought Oprah Winfrey would be that person. It was a very shocking moment for me, and being asked to work for her was an honor. As of today, we have exchanged contact information and all the pieces to the puzzle are still being put together, but I am excited. In the meantime I am perfecting my craft so that when I get to her, I can give this opportunity my all. For those waiting, I simply say the time is coming and stay tuned. 
RM: You graduated in May. Are you dedicating yourself full time to photography?
MM: My college career was one amazing experience. I learned so much about myself. I discovered gifts, I discovered passions, and I discovered my purpose. I majored in exercise science and aspire to be a physical therapist. But I am following the wave and going wherever life takes me.
For further information, visit airmcm.myportfolio.com.